Body Type Hype Podcast – Episode Four
Topic(s): Celebrity Body Types, Genetics, & The Four Body Types
Host: Marc Nelson, lead scientific researcher at Fellow One Research (Gen X)
Co-Host: Turbo Ryer, fitness trainer, nutritionist & life coach (Gen Z)
---
Episode Overview: The discussion focuses on Celebrity Body Types, genetics, and The Four Body Types, specifically Body Type Three (BT3) Rebel Wilson's recent significant weight loss yet continued serious skinny fat (cellulite, normal weight obesity, etc.) issues even though she lost 80+ pounds and, according to mainstream scientists and medical doctors, once within safe BMI is a Standard Scientific Human Body Anatomy Book Body Type One (BT1) with all muscles and muscle mass fully developed. 
---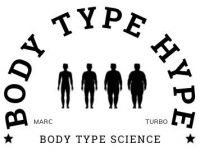 Body Type Hype Podcast episode four discusses Celebrity Body Types and genetics relative to The Four Body Types. It is true that some celebrities have a tendency to use plastic surgery, liposuction, butt lifts, and other such procedures to enhance their appearance. But most certainly not all.
Rebel Wilson recently lost 80+ pounds. Yet, she is likely still a Body Type Three (BT3) as the skinny fat (cellulite, thin fat, loose skin, saggy skin, and normal weight obesity) remains readily evident on her upper legs, thighs, and stomach, no less, even after losing all that weight. According to mainstream scientists and medical doctors, every human being is a Standard Scientific Human Body Anatomy Book Body Type One (BT1) with all muscles/muscle mass fully developed once within their safe BMI.
Rebel Wilson Celebrity Body Type & Genetics
The fact is, for countless people in the world like Rebel Wilson, that is simply not true — they are not a Standard BT1
when within safe BMI. Some people say they just lost muscle/mass during the weight loss process. However, there is no scientific evidence that shows when losing weight SAFELY — meaning you are NOT starving the body and denying it the resources it needs to function — that DEFAULT muscle/mass is lost, especially in people under 40. The human body will always first burn calories consumed and stored fat for energy before it uses a very valuable resource like muscle. If you lose muscle/mass during weight loss, you are most likely doing something wrong.
For someone like Rebel Wilson, she simply did not have the muscle/mass to begin with because of her genetics. In place of that muscle/mass is skinny fat, which for her has probably always been there genetically. The more skinny fat you have on your body, the more prone you are to adding fat mass and the harder it likely will be to keep excess fat weight off in the long run. This is due in part to the fact that one pound of muscle mass burns six calories per day but one pound of skinny fat/fat only burns two to three calories, which directly affects metabolism.
Body Type Hype Podcast Episode Four – Genetics, Celebrity Body Types, The Four Body Types
Whether you are a rich and famous star like Rebel Wilson or an average everyday person, the fact is there currently is no way to get rid of the genetic bane that is skinny fat including cellulite. The best you can do is reduce it with proper cardio and weightlifting exercises, diet, and lifestyle choices. There are some FDA-approved reduction tools and services, or the worst-case option of having surgery for those with excess loose and saggy skin.
Properly adding muscle to your body will help, but is not easy to do nor maintain in the long run. Moreover, once you stop doing the repetition exercises, you will begin to lose the added muscle/mass and return to your default muscle/mass (as well as skinny fat). Understanding your real scientific body type using The Four Body Types science (including the Scientific Body Type Quiz and Scientific Weight Loss Program Diary) as your guide is the best way to figure out the most effective diet, exercise, and lifestyle routine for your specific body type to truly maintain your health in the short and long term.
You can also listen on Spotify, Apple Podcasts, and Google Podcasts.
---
---