TAKE QUIZ NOW
Fellow One Research's The Four Body Types Body Type Shape Quiz Calculator (women/female and men/male) calculates a scientifically diverse array of carefully chosen variables. Relevant scientific variables like diet, exercise, lifestyle, metabolism (metabolic rate), posture (spinal/vertebrae extension), muscle & muscle mass, genetics, and the like formulate the Fellow One Research Combined Average (FORCA) Health Score. The FORCA Health Score is an average of both the Basic Fellow One Research Calculated (FORC) Health Score and Research Participant Basic Self-Determined (SD) Health Score.
Body Mass Index (BMI) is also calculated, separately. BMI can be compared to FORCA, as appropriate. When accurately completed, the body type shape quiz /test identifies which of The Four Body Types each specific individual research participant is relative to their specific human body shape, vertebrae, and muscle mass, no less. Moreover, slow/decreased, normal/average, fast/increased for both active (FORMA Metabolic Rate Score) and passive/resting (FORMR Metabolism Score) metabolism are calculated using adjusted Mifflin-St Jeor BMR (Basal Metabolic Rate) and Harris-Benedict Activity equations/formulas.
In the near future, research participants will be able to take a more advanced quiz to precisely calculate their specific body type shape. This advanced quiz/test will use a comprehensive set of scientifically weighted variables to reckon more definitive calculations and results. Be sure to check back regularly to learn more about Fellow One Research's The Four Body Types Advanced Body Type Shape Quiz Calculator.
Body Type Shape Quiz – The Three Body Types: Endomorph, Ectomorph, Mesomorph & Hormone Body Types
Most people have heard of the three body types: endomorph, ectomorph, and mesomorph. Just as most people learn quickly
that there is no real rhyme or reason as to why they might be one of those three body types. Why? Because those unfounded body types are based solely on arbitrary shapes like an apple or a pear. All one has to do is take any of the useless free three body type shape quizzes online to verify how baseless they are from a common-sense point of view, let alone scientifically.
Hormone body types are no better. Yes, it is a fact that many different hormones affect the human body (man/men or woman/women) in many different ways. This includes obesity and the weight gain & loss management and maintenance roller coaster ride. The main four hormone body types that people push are the Adrenal, Thyroid, Liver, and Ovary body types.
But that leads to the first obvious question: with roughly 50 different circulating hormones in the human body why do only 4 hormones affect body type? In other words, why those four specifically? The fact is, with little if any rhyme or reason, hormone body types and any related quizzes just do not add up to explain human body shape.
Fellow One Research's Body Type Shape Quiz Calculator – The Four Body Types & Calculated Scientific Variables 
The Four Body Types research focuses on the structure and development, or lack thereof, of the female and male human body. More to the point, the vertebrae and spinal column in direct relation to the level of development of muscles and muscle mass (including weak, poor, or undeveloped muscle). Any scientifically accepted anatomy book has a universally acknowledged and approved view of a fully and properly developed human body; known as a Body Type One, seen here: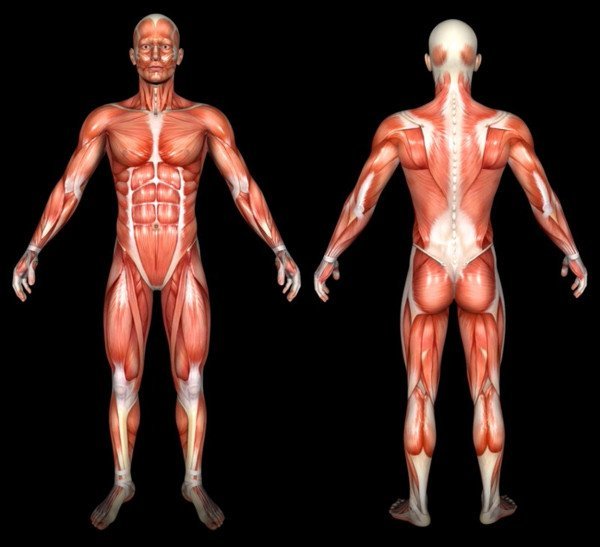 A Body Type One (BT1), also known as an athletic body type, has all 200-plus bones along with 33 vertebrae fully developed and extended (relative to the 24 Moveable & Two Fixed Bones, meaning a BT1 has Zero/0 Vertebrae Undeveloped).  As well, a BT1 has all 640 or so muscles and muscle mass, including tendons, ligaments, and the like, all fully and properly developed. These important variables are taken into account, along with diet, exercise (cardio and resistance/weightlifting/isometrics/gravity training), lifestyle, posture, metabolism, fat/obese/obesity (childhood and adult), skinny fat/thin fat/normal weight obesity, genetics, and such to achieve as accurate a FORCA Health Score, as well as BMI, as possible.
General Breakdown – Body Type One, Two, Three, and Four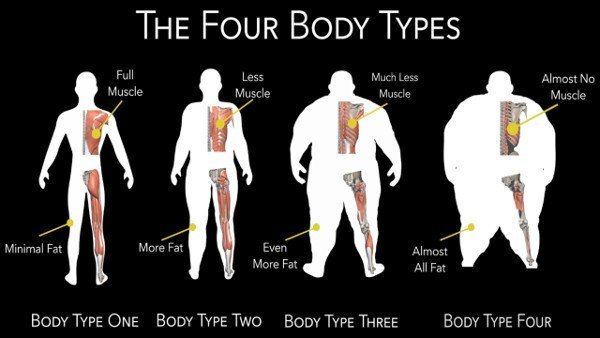 Body Type One (BT1) – All 33 Vertebrae Fully Developed (Posture & Muscle Mass), relative to the 24 Moveable & Two Fixed Bones (0 Vertebrae Undeveloped)
Body Type Two (BT2) – Between 32 and 22 Vertebrae Fully Developed (Posture & Muscle Mass), relative to the 24 Moveable & Two Fixed Bones (1-8 Vertebrae Undeveloped)
Body Type Three (BT3) – Between 21 and 11 Vertebrae Fully Developed (Posture & Muscle Mass), relative to the 24 Moveable & Two Fixed Bones (9-17 Vertebrae Undeveloped)
Body Type Four (BT4) – Between 10 to 0 Vertebrae Fully Developed (Posture & Muscle Mass), relative to the 24 Moveable & Two Fixed Bones (18-26 Vertebrae Undeveloped)
SIGN-UP
NOW for the Fellow One Research, The Four Body Types; Body Type Shape Quiz Calculator 
---
---
---
---