Podcast Host: Walter Hego, OPWG Book Author. Body Type One.
Panelist #1: Gnosis, Researcher at Fellow One Research. Body Type Four.
Panelist #2: Sarah O'Sullivan, Teacher & Musician. Body Type Two.
---
OPWG Podcast Episode One Overview
This weeks Over Privileged White Guy (OPWG) Podcast Episode One (1) focuses on The Four Body Types, specifically the Body Type One's Classic Arch (both male and female bodies, see pictures below) and especially its effects on the lower vertebrae. Guest Panelist Sarah O'Sullivan reveals her Body Type Two and it's lack of the Arch relative to her lumbar vertebrae and the correlation between her lack of lumbar vertebrae extension and thus lack of spinal extension/posture in the lumbar area of her body which goes hand-in-hand with her lack of specific lumbar muscle mass development in relation to each of those individual lumbar vertebra. On top of The Four Body Types, discussion also includes an overview of the lower chakras, how charkra one is male energy, chakra two is female energy, and charkra three involves self-confidence and the enteric brain/gut feeling.
---
Female Body Type One Dimples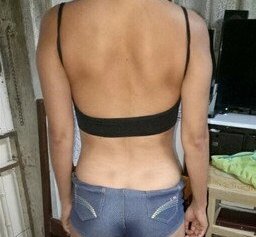 ---
Male Body Type One Dimples
---
---
---