---
---
Celebrity Body Types: Kendall Jenner (Kendall Nicole Jenner)
---
The Four Body Types Scientific Identification: Body Type One, BT1 (Possible Body Type Two)
Female/Woman
Genetically Underdeveloped Vertebrae (Muscles/Muscle Mass): None/0 (Possibly Lumbar and Sacrum)
Date of Birth: November 3, 1995
Age: 27 (as of 2022)
Unscientific/Nonsense Body Types Rough Correlations: Ectomorph, Kibbe/Dramatic Classic, Hormone/Ovary
---
---
Celebrity Kendall Jenner shows offs her Body Type One (BT1) shape
figure/physique while taking time off at the beach with her boyfriend, NBA star
Devin Booker. The full
development of her vertebrae (posture) and muscles/muscle mass is currently not in debate. The candid images reveal no real signs of skinny fat (cellulite, thin fat, loose skin, saggy skin, crepey skin, normal weight obesity) at her young age. 
Science recognizes that one (1) pound of muscle burns six (6) calories daily but one (1) pound of fat/skinny fat only burns two (2) to three (3) calories, which directly affects metabolism (the more skinny fat and fat, the slower the metabolism). Having all those developed vertebrae, muscles, and muscle mass assists greatly in terms of metabolism/metabolic rate (BMR), over the years helping keep any excess fat weight at bay. Genetics/genes/DNA are important, but diet, exercise, lifestyle, BMI, and basal metabolic rate (BMR) also matter.
As the years pass, it will be interesting to see if Kendall Jenner is actually a Body Type Two (BT2) shape figure/physique like her famous sisters Kim Kardashian, Khloe Kardashian, Kourtney Kardashian, and Kylie Jenner. Did she somehow avoid the famed Jenner-Kardashian Gene which affects the sacrum vertebra and relative muscles/mass, no less? Or is the fact that she has yet to have children along with her youthful age concealing a lack of muscle/mass in relation to her sacrum vertebra and possibly a few lumbar vertebrae? Time will tell.
---
---
---
Kendall Jenner Figure/Shape  – BT1
Model Kendall Jenner enjoys time off at the ocean in her Body Type One shape/figure with friends and family. She began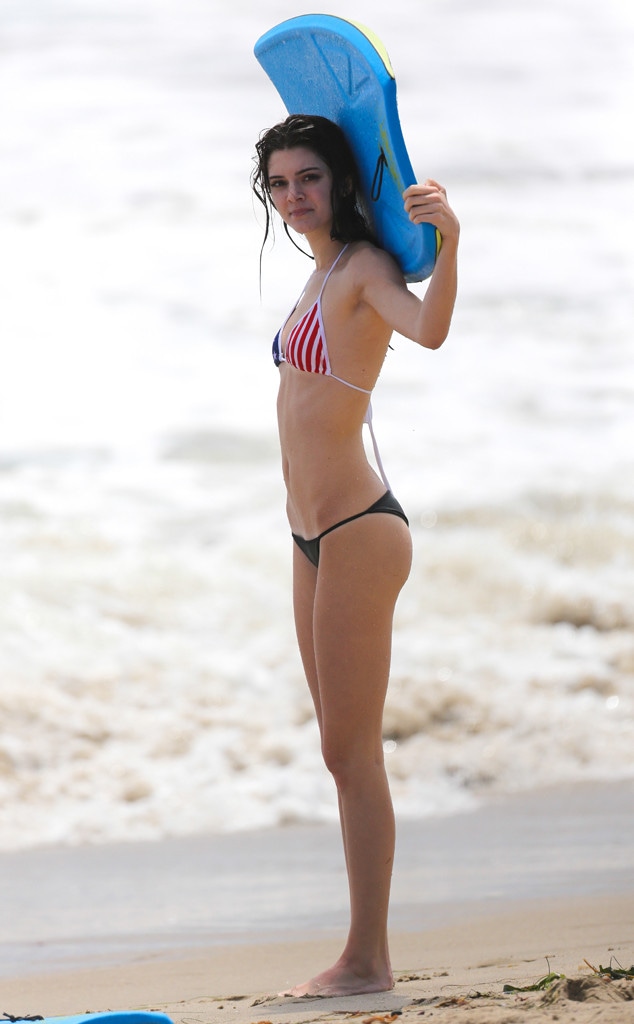 modeling at age 14 and rose to stardom through the hit EOnline reality television
show Keeping Up with the Kardashians. The daughter of Kris Jenner and Caitlyn
Jenner, her siblings include Kylie Jenner, Kim Kardashian, Khloe Kardashian, and Kourtney Kardashian.Her current net worth is estimated at $45 million. You can catch her on social media including Instagram, Facebook, and Twitter. See more actress, media personality, socialite, model, and Hollywood star Kendall Jenner celebrity Body Type One (BT1) photos on Google.
Review the Body Type Science Data or take the Scientific Body Type Quiz/Test for women and men.  
---