---
---
Celebrity Body Types: Paulina Porizkova
---
The Four Body Types Scientific Identification: Body Type One, BT1 (Possible Body Type Two)
Female/Woman
Genetically Underdeveloped Vertebrae (Muscles/Muscle Mass): None/0 (Possibly Sacrum)
Date of Birth: April 9, 1965
Age: 58 (as of 2023)
Unscientific/Nonsense Body Types Rough Correlations: Mesomorph, Kibbe/Flamboyant Natural, Hormone/Ovary
Learn How 

The Four Body Types

Determines A Celebrity Body Type Like Paulina Porizkova
---
---
---
---
Celebrity Paulina Porizkova shows off her Body Type One (BT1) figure/shape at the beach on vacation with friends and family including her ex-husband Ric Ocasek. The fully
developed vertebrae (posture) and muscles/muscle mass have become more debatable as she has aged, which is normal as
human cellular regeneration and metabolism decline.
The candid images reveal some signs of skinny fat (cellulite, thin fat, loose skin, saggy skin, crepey skin, normal weight obesity) on her body, notably
on her upper legs. 
Science recognizes that onepound of muscle burns six calories daily but one pound of fat/skinny fat only burns two to three calories. Which directly affects metabolism (the more skinny fat and fat, the slower the metabolism). Having all those developed vertebrae, muscles, and muscle mass assists greatly in terms of metabolism/metabolic rate (BMR), an advantage that a fully developed BT1 offers, along with aging gracefully.
Diet, exercise, lifestyle, metabolism, and BMI matter, but so do genes/genetics/DNA. It will be interesting to see how well Paulina Porizkova manages and maintains her body shape figure/physique as she continues to age. Is she perhaps a Body Type Two (BT2) with an underdeveloped sacrum vertebra?
---
---
---
Paulina Porizkova Figure/Shape- BT1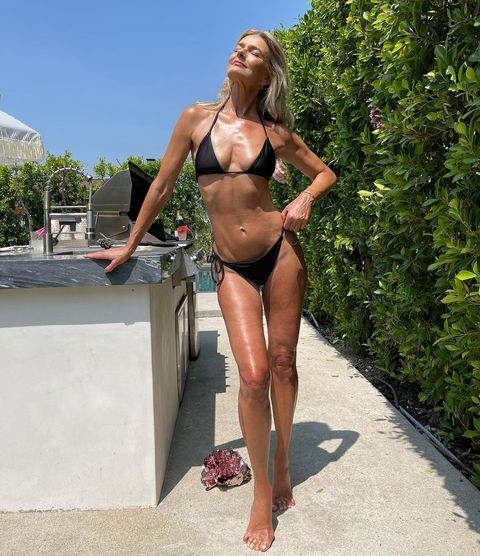 Sports Illustrated Swimsuit model Paulina Porizkova poses in a bikini on holiday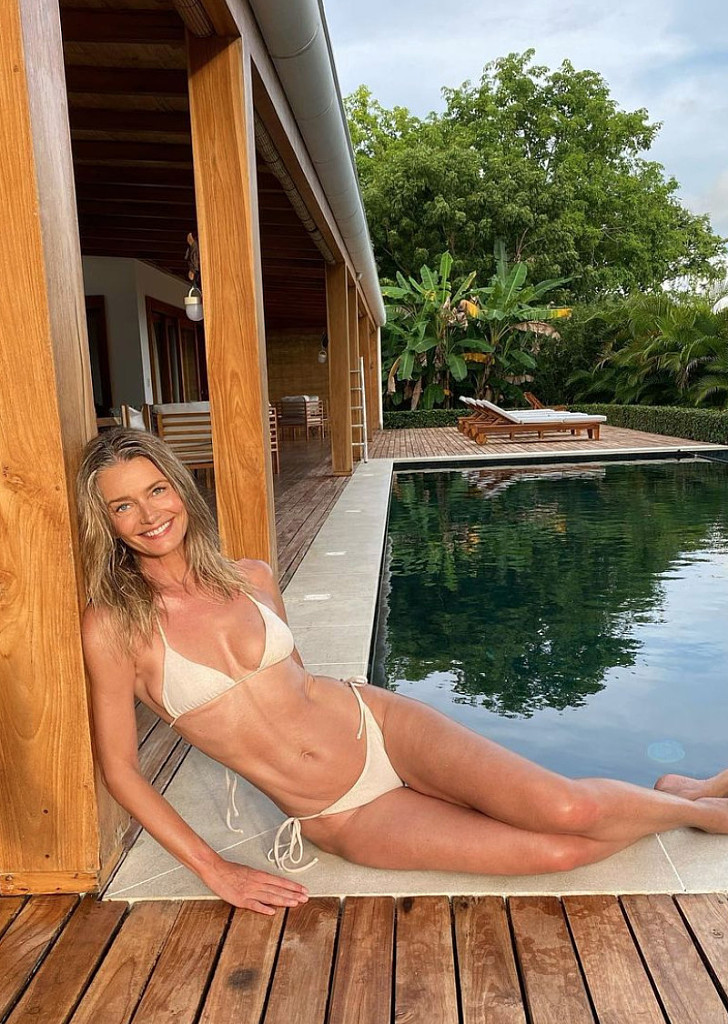 and while at a photoshoot, displaying her Body Type One shape/figure. Her modeling work began at age 13 when her photos found their way to famed model scout John Casablancas, who subsequently invited her to Paris. She has campaigned for Chanel, Versace, Hermes, Christian Dior, Oscar De La Renta, Mikimoto, Perry Ellis, Laura Biagiotti, Anne Klein, Ellen Tracy, Barneys New York, Ann Taylor, Guerlain, and Revlon and walked the runway for Calvin Klein.
As well, she has appeared on numerous magazine covers around the world including Vogue, Elle, Harper's Bazaar, Self, Cosmopolitan, and Glamour. As an actress and TV personality, she has been on Saturday Night Live (SNL), a judge on America's Next Top Model, and a participant on Dancing with the Stars while appearing in 5 episodes of As the World Turns, on the second season of Celebrity Ghost Stories, and a sixth season episode of Desperate Housewives, to name a few. Moreover, she has been credited with small parts in the films Anna (1987), Her Alibi (1989), Arizona Dream (1993), and Knots (2004).
Author Paulina Porizkova Body Type One

As a writer, she co-authored the children's book The Adventures of Ralphie the Roach and wrote the novel A Model
Summer. More recently, she gave up on aging naturally and chose to have plastic surgery
done on her face. Over her long career, Paulina Porizkova's demanding modeling and acting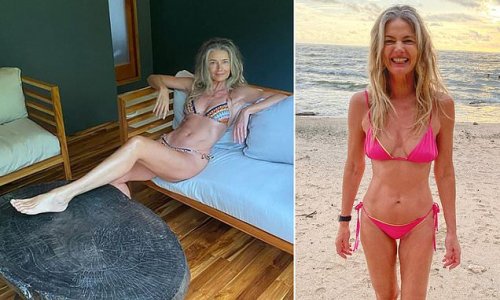 responsibilities help increase her metabolism, thus burning more calories to keep any excess fat at bay.
Her estimated net worth is $12 million. You can catch her on social media including Instagram, Facebook, and Twitter. See more model, actress, television personality, and author Paulina Porizkova Celebrity Body Type One (BT1) photos on Google. Review the scientific Body Type Data or take the Body Type Quiz/Test for women and men.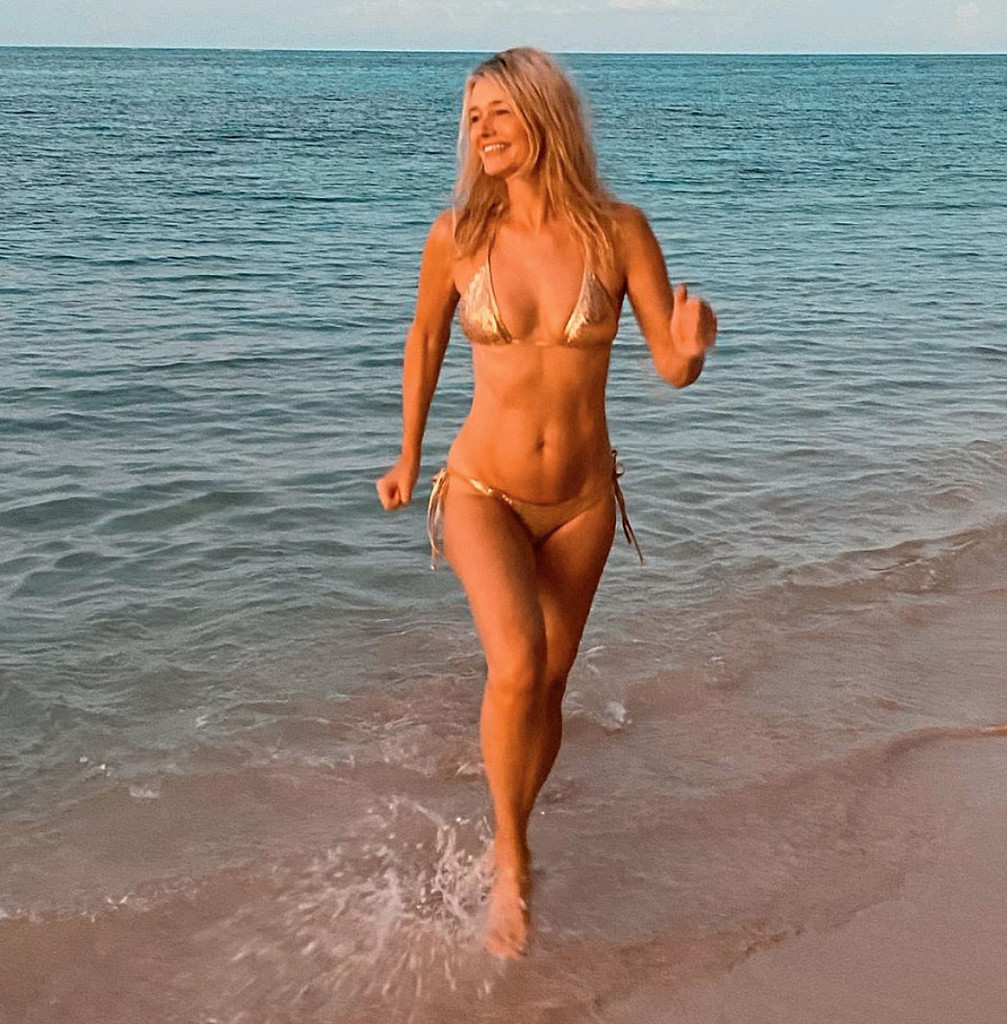 ---