---
---
Celebrity Body Types: Amber Heard (Amber Laura Heard)
---
The Four Body Types Scientific Identification: Body Type One, BT1 (Possible Body Type Two)
Female/Woman
Genetically Underdeveloped Vertebrae (Muscles/Muscle Mass): None/0 (Possibly Lumbar)
Date of Birth: April 22, 1986
Age: 37 (as of 2023)
Unscientific/Nonsense Body Types Rough Correlations: Mesomorph, Kibbe/Soft Classic, Hormone/Ovary
Learn How 

The Four Body Types

Determines A Celebrity Body Type Like Amber Heard
---
---
Celebrity Amber Heard shows off her Body Type One (BT1) shape figure/physique while acting. The candid images reveal no real signs of skinny fat (cellulite, thin fat, loose skin, saggy skin, crepey skin, normal weight obesity) anywhere on her body. However, the full development of her vertebra (posture) and muscles/muscle mass is debatable, particularly her lumbar vertebrae relative to her lower back, love handles, and stomach.
Science recognizes that one pound of muscle burns six calories daily, but one pound of fat/skinny fat only burns two to three calories. Which directly affects metabolism (the more skinny fat and fat, the slower the metabolism). Having so many developed vertebrae, muscles, and muscle mass assists greatly in terms of metabolism/metabolic rate (BMR), including aging gracefully.
Genetics/genes/DNA are important, but diet, exercise, metabolism, BMI, and lifestyle also matter. As she continues to age, it will be interesting to see how well Amber Heard maintains her body shape figure/physique. Is she really a Body Type Two (BT2) with a slightly underdeveloped lumbar vertebra or several?
---
---
---
Amber Heard Figure/Shape – BT1
Hollywood star actress Amber Heard displays her Body Type One shape/figure on the red carpet. Her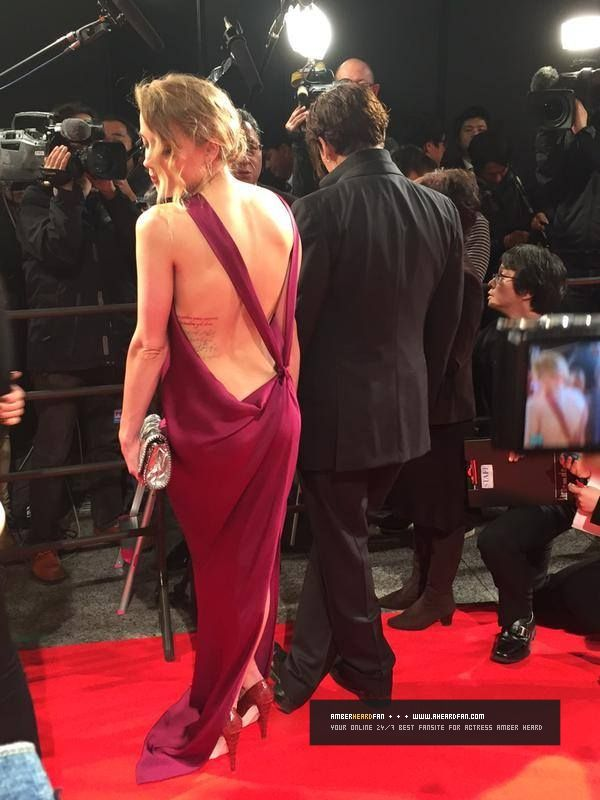 entertainment career began in 2004 with appearances in music videos for Kenny Chesney's song There Goes My Life and Eisley's single I Wasn't Prepared as well as bit parts in
the sports drama film Friday Night Lights and episodes on The WB television series The Mountain and Jack & Bobby. More substantial supporting roles followed in the movies Drop Dead Sexy (2005), North Country (2005), Side FX (2005), Price to Pay (2006), and Alpha Dog (2006). After guest-starring in an episode of the CBS police procedural crime drama television series Criminal Minds, she landed her first leading role in the unconventional 2006 slasher film All the Boys Love Mandy Lane.
Her star continued to rise with performances in the films Spin (2007), Remember the Daze (2007), Never Back Down (2008), The Informers (2008), Pineapple Express (2008), The Joneses (2009), Zombieland (2009), And Soon the Darkness (2010, also co-producer), The Ward (2010), Drive Angry (2011). The Rum Diary (2011), Syrup (2013, also executive producer), Machete Kills (2013), 3 Days to Kill (2014), The Adderall Diaries (2015), One More Time (2015), Magic Mike XXL (2015), and The Danish Girl (2015). She also appeared in television series episodes for The O.C. (FOX, 2006), Californication (Showtime, 2007), Hidden Palms (The CW, 2007), The Cleveland Show (FOX, 2010, voice), Top Gear (BBC, 2011, cameo), The Playboy Club (NBC, 2011), and Overhaulin'(Discovery, 2015).  
Star Hollywood Actress Amber Heard Body Type One
Joining the DC Extended Universe franchise in 2017 playing Mera, she followed the lackluster motion picture Justice League with a starring role alongside lead Jason
Momoa in the 2018 hit flick Aquaman. Other movie credits
include Her Smell (2108), London Fields (2018), Gully (2019), and Zack Snyder's Justice
League (2021) along with the CBS television series The Stand (2020). Her next upcoming movie is Aquaman and the Lost Kingdom (2023). Amber Heard's demanding acting responsibilities help with maintaining her body shape figure by increasing her metabolic rate, thus burning more calories to keep excess fat weight at bay. She dated Tasya van Ree from 2008 to 2012, although she stated, "I don't label myself one way or another."
Her drama-filled divorce from ex-husband Johnny Depp and subsequent losing legal court battle involving defamation was widely reported on in the mainstream media. She also dated Elon Musk in 2017. Moreover, she is an active philanthropist and activist, supporting same-sex marriage, gender, and diverse women's rights initiatives through the American Civil Liberties Union (ACLU), Children's Hospital Los Angeles (CHLA), #GirlGaze Project, and Syrian American Medical Society (SAMS), to name a few.
Her estimated net worth is $6 million. You can catch her on social media including Instagram and Twitter. See more producer and Hollywood star actress Amber Heard celebrity Body Type One (BT1) photos on Google.
Review the Body Type Science Data or take the Scientific Body Type Quiz/Test for women and men.  
---