---
Celebrity Body Types: Gal Gadot (Gal Gadot-Varsano)
---
The Four Body Types Scientific Identification: Body Type One, BT1
Female/Woman
Genetically Underdeveloped Vertebrae (Muscles/Muscle Mass): None/0
Date of Birth: April 30, 1985
Age: 38 (as of 2023)
Unscientific/Nonsense Body Types Rough Correlations: Mesomorph, Kibbe/Dramatic, Hormone/Ovary
Learn How 

The Four Body Types

Determines A Celebrity Body Type Like Gal Gadot
---
---
Celebrity Gal Gadot shows off her Body Type One (BT1) shape figure/physique while on vacation and at the beach with friends and family including her husband Jaron
Varsano. The candid images reveal no signs of skinny fat (cellulite, thin fat, loose skin, saggy skin, crepey skin, normal weight obesity) anywhere on her body, even after giving birth to three kids. The full development of her vertebra (posture) and muscles/muscle mass is obvious.
Science recognizes that one pound of muscle burns six calories daily, but one pound of fat/skinny fat only burns two to three calories. Which directly affects metabolism (the more skinny fat and fat, the slower the metabolism). Having so many developed vertebrae, muscles, and muscle mass assists greatly in terms of metabolism/metabolic rate (BMR), including aging gracefully.
Genetics/genes/DNA are important. But diet, exercise, metabolism, BMI, and lifestyle also matter. It will be interesting to see how well Gal Gadot maintains her body shape figure as she continues to age.
---
---
---
Gal Gadot Figure/Shape – BT1
A-list Hollywood star actress Gal Gadot displays her Body Type One shape/figure at the ocean. Her career began at age 18 when she was crowned
Miss Israel in 2004. After serving in the Israel Defense Forces as a combat fitness instructor for two years,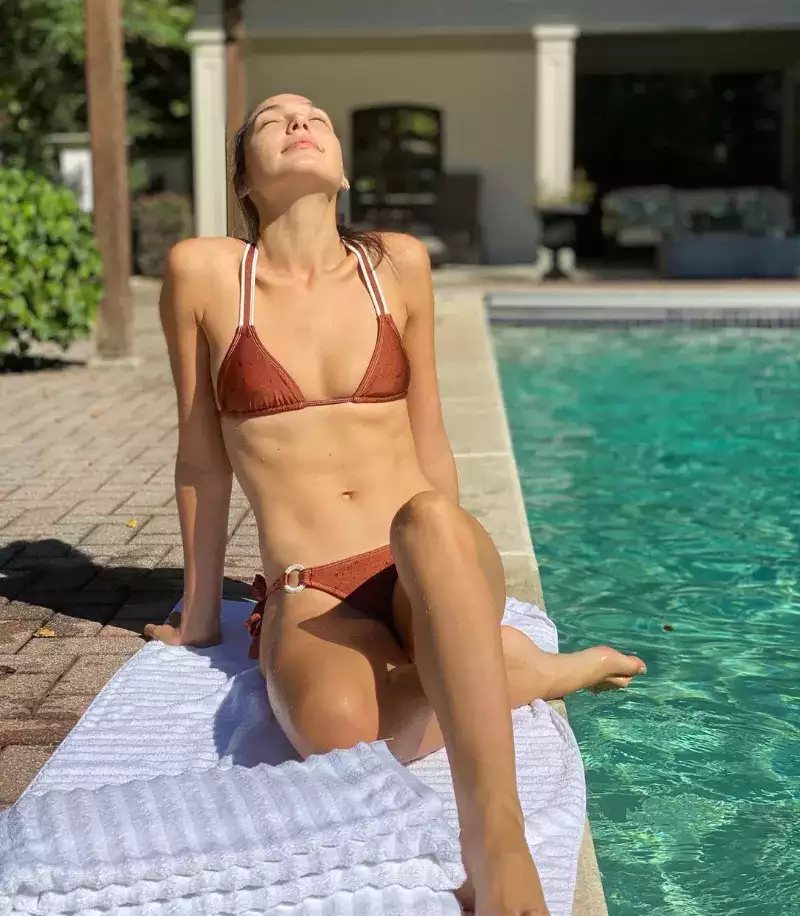 she commenced studying at IDC Herzliya while building her modeling and acting experience. Her first major Hollywood film part as Gisele Yashar in the Fast & Furious (2009) flick was reprised in several subsequent installments of The Fast Saga including Fast Five (2011), Fast & Furious 6 (2013), and Furious 7 (2015).
An avid martial artist, her black belt in both karate and krav maga helped her land a part in the DC Extended Universe movie Batman v Superman: Dawn of Justice (2016), leading to her starring performance in Wonder Woman (2017) which skyrocketed her to global fame. Other superhero motion pictures since have included Wonder Woman 1984 (2020) and Zack Snyder's Justice League (2021). To date, she has acted in the diverse films Date Night (2010), Knight and Day (2010), Kicking Out Shoshana (2014), Criminal (2016), Keeping Up with the Joneses (2016), Triple 9 (2016), Ralph Breaks the Internet (2018, voice), Between Two Ferns: The Movie (2019, cameo), Red Notice (2021, Netflix), and the mystery Death on the Nile (2022). Her upcoming movies are Heart of Stone (2023), Snow White (2024), Wonder Woman 3 (TBD), and Cleopatra (TBD).
A-List Hollywood Actress

Gal Gadot

Body Type One
Considered to be the "biggest Israeli superstar" by local media, she made Time magazine's list of the 100 most influential people in the world in 2018. Moreover, she has placed twice in the annual rankings of the world's highest-paid actresses. Gal Gadot's demanding producer and acting responsibilities help with maintaining her body shape figure by increasing her metabolic rate, thus burning more calories to keep excess fat weight at bay. Eventually venturing into silver screen production, she started the company Pilot Wave with her husband Jaron "Yaron" Varsano in 2019. It is reported she is working on an Apple TV+ limited series project about actress and inventor Hedy Lamarr as well as a Warner Bros. historical thriller film following the life of WWII humanitarian Irena Sendler. In 2020, she co-produced the sequel film Wonder Woman 1984.
Model Gal Gadot Body Shape
In terms of modeling, in 2007 she was in the Maxim photo shoot "Women of the Israel Defense Forces". Over the
years she has represented Miss Sixty, Huawei smartphones, Captain Morgan rum, Gucci fragrances, Vine Vera skincare, Jaguar cars, Gucci's Bamboo perfume brand, and fashion brand Castro. Aside from gracing the covers of the New York Post, Cosmopolitan, Glamour, Bride Magazine, Entertainment Weekly, UMM, Cleo, Fashion, Lucire, and FHM (place number one on their "100 Sexiest Women in the World" list), she became a brand ambassador/spokesperson for Revlon and Reebok in 2018 while replacing Jennifer Aniston for Smartwater in 2020.
Her estimated net worth is $30 million. You can catch her on social media including Instagram, Facebook, and Twitter. See more model, spokesperson, producer, and A-list Hollywood star actress Gal Gadot celebrity Body Type One (BT1) photos on Google.
Review the Body Type Science Data or take the Scientific Body Type Quiz/Test for women and men.
---