---
---
Celebrity Body Types: Salma Hayek (Salma Valgarma Hayek Jiménez, Salma Hayek Pinault)
---
The Four Body Types Scientific Identification: Body Type Two, BT2
Female/Woman
Genetically Underdeveloped Vertebrae (Muscles/Muscle Mass): 1 to 8; Sacrum (Possibly Lumbar)
Date of Birth: September 2, 1966
Age: 56 (as of 2022)
Unscientific/Nonsense Body Types Rough Correlations: Endomorph, Kibbe/Theatrical Romantic, Hormone/Ovary
Learn How The Four Body Types Determines A Celebrity Body Type Like Salma Hayek
---
---
---

Celebrity Salma Hayek shows off her Body Type Two (BT2) shape figure/physique while taking time off at the beach. After giving birth, the full development of her sacrum vertebra and related
muscles/muscle mass is debatable. The candid images reveal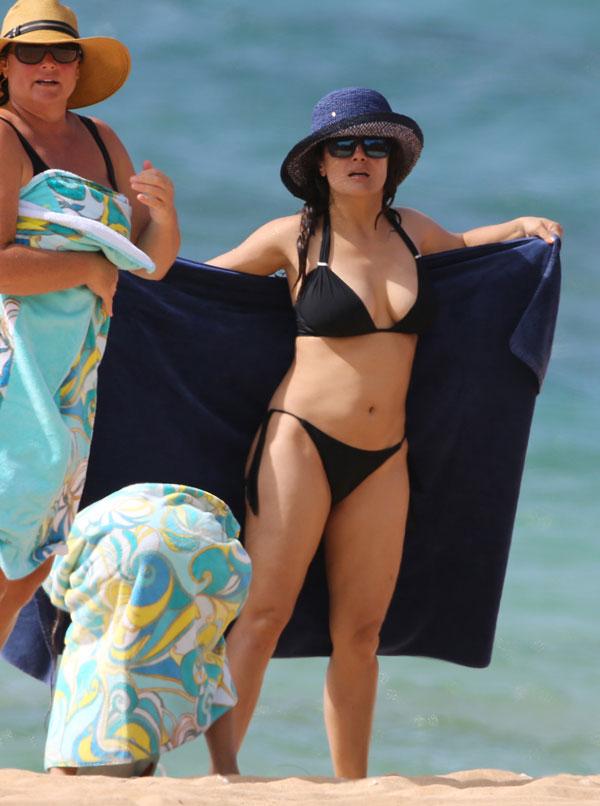 some skinny fat (cellulite, thin fat, loose skin, saggy skin crepey skin, normal weight obesity) on no less than her upper legs and buttocks indicating she most likely has at least a slightly underdeveloped sacrum vertebra and possibly a lumbar vertebra(e).
Science recognizes that one pound of muscle mass burns six calories daily, but one pound of skinny fat/fat burns only two to three calories daily. Which directly affects metabolism (the more skinny fat and fat, the slower the metabolism). The mostly developed vertebrae, muscles, and muscle mass across the majority of her BT2 is an advantage that Body Type Three (BT3) and Body Type Four (BT4) human bodies (female or male) generally lack.
Diet, exercise, lifestyle, metabolism, and BMI matter. But so do genes/genetics/DNA. As she continues to age, it will be interesting to see how well Salma Hayek maintains her body shape figure/physique.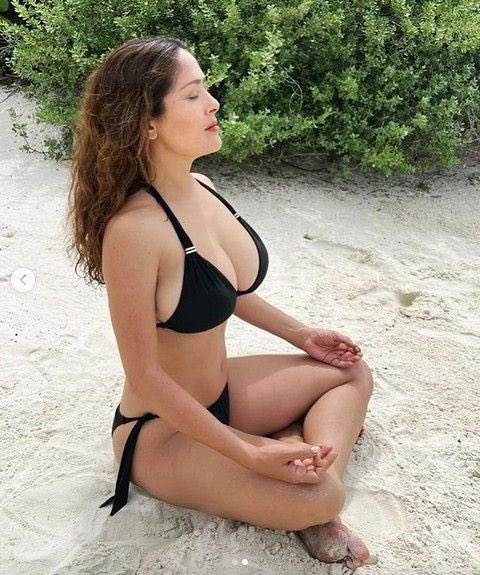 ---
---
---
Salma Hayek Figure/Shape – BT2
Academy Award-nominated and Emmy Award-winning actress Salma Hayek enjoys time off in
her Body Type Two shape/figure with friends and family including her husband François-Henri Pinault. Her entertainment career started when she was 22, with starring roles in the Mexican television series telenovela Teresa (1989–1991) and the romantic drama El Callejón de los Milagros (1995, Ariel Award nomination). Debuting in the Hollywood film My Crazy Life/Mi Vida Loca (1993) led to further parts in the popular movies Desperado (1995), From Dusk till Dawn (1996), Wild Wild West (1999), and Dogma (1999).
Rising to fame with her portrayal of painter Frida Kahlo in the biographical film Frida (2002), which she also produced, she became the first Mexican actress to be nominated for the Academy Award for Best Actress. As her career evolved she has focused more on producing while starring in a diverse range of acting and voice roles.
Actress

Salma Hayek Body Type Two
The list includes Roadracers (1994), Four Rooms (1995), Fair Game (1995, Fled (1996), Follow Me Home (1996), Fools
Rush In (1997), The Hunchback (1997), Breaking Up (1997), Welcome to Hollywood (1998), The Faculty (1998), 54 (1998), The Velocity of Gary (1998), Timecode (2000), Chain of Fools (2000), Hotel (2001), Once Upon a Time in Mexico (2003), Spy Kids 3: Game Over (2003), After the Sunset (2004), Lonely Hearts (2006), Bandidas (2006), Ask the Dust (2006), Across the Universe (2007), Cirque du Freak: The Vampire's Assistant (2009), Grown Ups (2010), Puss in Boots (2011), Savages (2012), The Pirates! (2012), Here Comes the Boom (2012), Grown Ups 2 (2013), How to Make Love Like an Englishman (2014), Tale of Tales (2015), Septembers of Shiraz (2015), Sausage Party (2016), 11th Hour (2016), The Hitman's Bodyguard (2017), Beatriz at Dinner (2017), How to Be a Latin Lover (2017), Drunk Parents (2018), The Hummingbird Project (2019), The Roads Not Taken (2020), Like a Boss (2020), House of Gucci (2021), Bliss (2021), and Eternals (2021). Her upcoming movies include Puss in Boots: The Last Wish (2022).  
With four Emmy Award nominations, she won the Daytime Emmy Award for Outstanding Directing in a Children Special for The Maldonado Miracle (2004) while being nominated for Outstanding Children's Series. She received two Primetime Emmy Award nominations for the ABC television comedy-drama Ugly Betty (2006–10) for Outstanding Guest Actress in a Comedy Series as well as Outstanding Comedy Series. Moreover, she produced and played Minerva Mirabal in the Showtime film In the Time of the Butterflies (2001) and guest-starred on the NBC comedy series 30 Rock (2009–2013).
Producer Salma Hayek Body Shape
Her list of accolades is numerous. They include being the recipient of the Glamour magazine Woman of the Year Award in 2001, the Producers Guild of America Celebration of Diversity Award in 2003, the Harvard Foundation Artist of the Year Award in 2006, and the Franca Sozzani Award at the Venice Film Festival in 2018 along with being appointed Knight (Chevalier) of the National Order of the Legion of Honour (highest French order of merit) in 2011 and being honored with a star on the Hollywood Walk of Fame in 2021. Salma Hayek's body shape figure benefits from her demanding movie star and production career which helps increase her metabolism, thus burning more calories to keep any excess fat at bay.
She is estimated to have a net worth of $200 million. You can catch her on social media including Instagram, Facebook, and Twitter. See more producer and A-list star Hollywood actress Salma Hayek celebrity Body Type Two (BT2) photos on Google.
Review the Body Type Science Data or take the Scientific Body Type Quiz/Test for women and men.  
---