---
---
Celebrity Body Types: Stephen Curry (Steph Curry, Wardell Stephen Curry II)
---
The Four Body Types Scientific Identification: Body Type One, BT1
Male/Man
Genetically Underdeveloped Vertebrae (Muscles/Muscle Mass): None/0
Date of Birth: March 14, 1988
Age: 34 (as of 2022)
Unscientific/Nonsense Body Types Rough Correlations: Mesomorph, Hormone/Liver
---
---
Celebrity Steph Curry displays his Body Type One (BT1) shape physique/figure while taking time off at the beach with friends and family including his wife Ayesha Curry. He is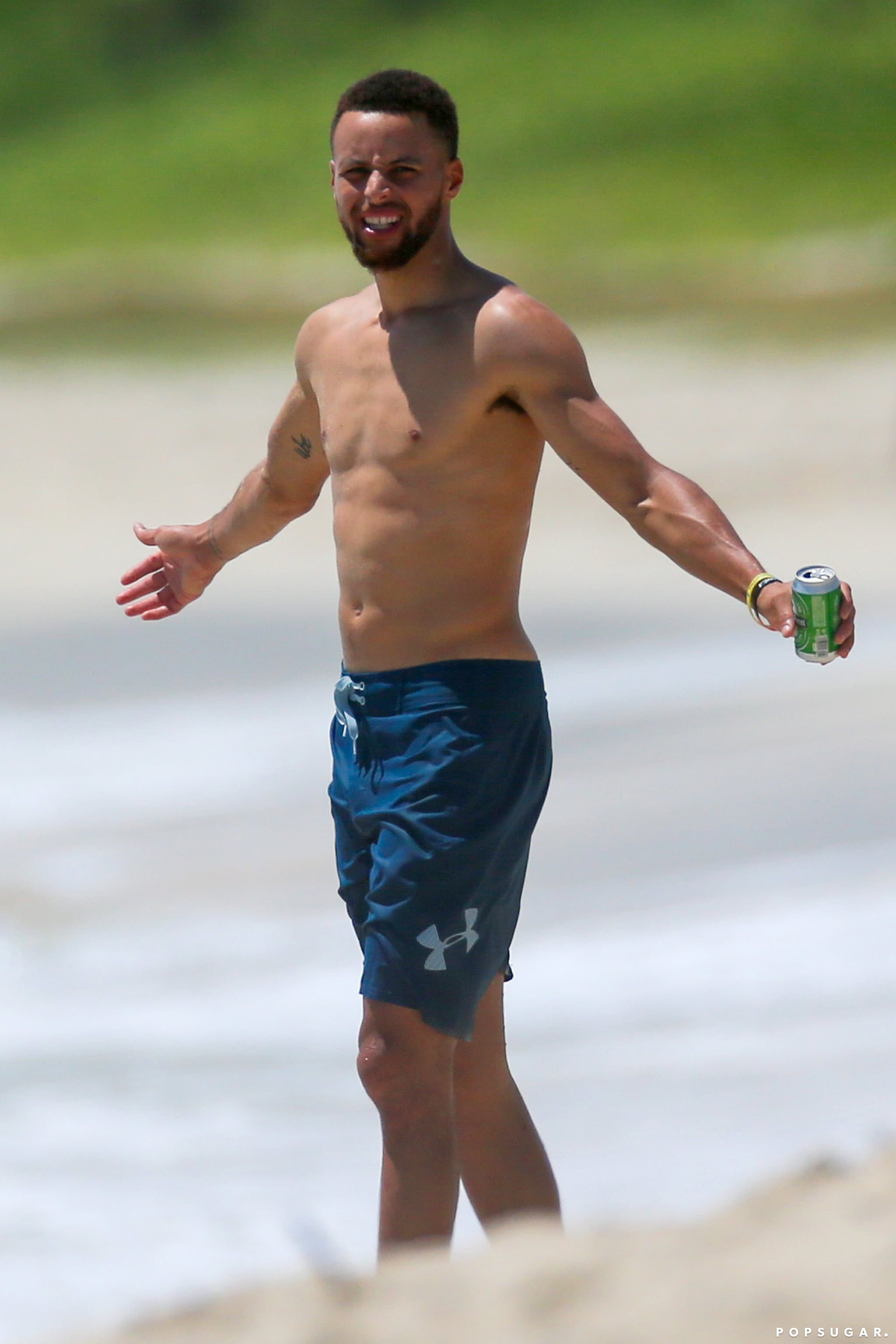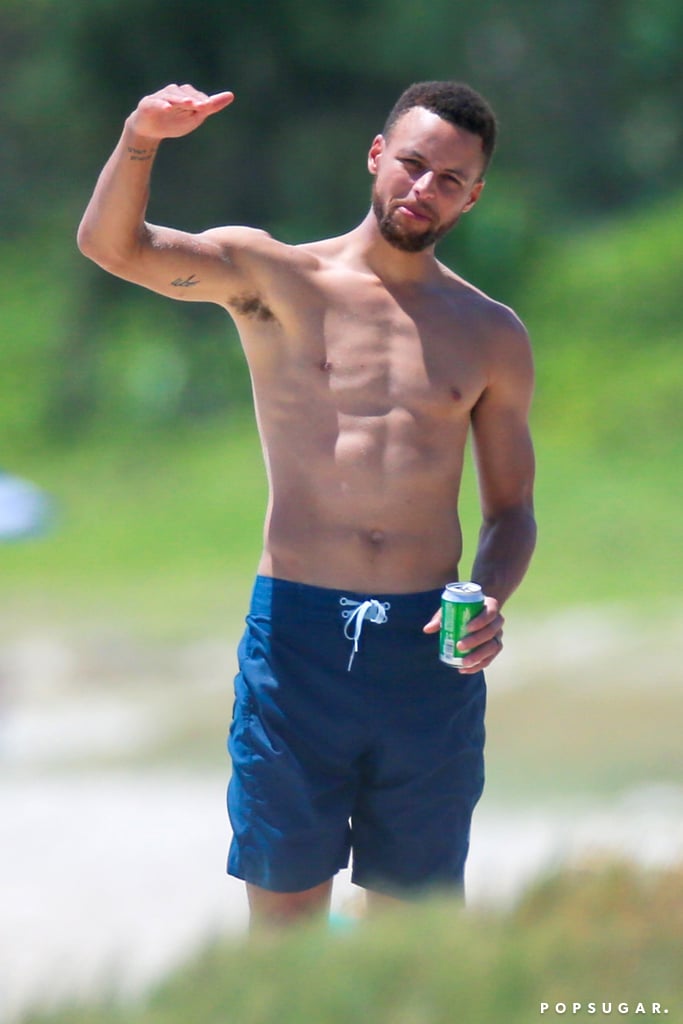 showing no signs of skinny fat (cellulite, thin fat, loose skin, saggy skin, crepey skin, normal weight obesity) anywhere on his body. The fully developed vertebrae (posture) and muscles/muscle mass are obvious.
Science recognizes that one pound of muscle burns six calories per day, but one pound of skinny fat/fat only burns two to three calories. Which directly affects metabolism (the more skinny fat and fat, the slower the metabolism). Having a strong metabolism because of all that muscle and muscle mass, no less, is an advantage that a fully developed BT1 typically offers, including aging gracefully.
Diet, exercise, lifestyle, metabolism, and BMI matter. But so do genes/genetics/DNA. As he continues to age, it will be interesting to see how well Steph Curry successfully maintains his body shape physique/figure.
---
---
---
Steph Curry Physique – BT1
NBA superstar basketball player Steph Curry shows off his Body Type One shape/physique during his
vacation at the ocean. Stephen Curry began his basketball career in college with the Davidson Wildcats, setting career scoring records forDavidson and the Southern Conference as well as the single-season NCAA record for most three-pointers made during his sophomore year while being twice named conference player of the year. As the Golden State Warriors seventh overall pick in the 2009 NBA draft, he is widely considered one of the greatest basketball players of all time (G.O.A.T.).
One of the best shooters in NBA history, he is credited with revolutionizing the sport by making three-point shots significantly more common. During the 2012–13 season, he set the NBA record for three-pointers made in a regular season with 272. He skyrocketed to fame in the 2014–15 season, winning his first league MVP award and the Warriors' first championship since 1975 along with setting a new three-point record with 286. The following season, upon leading the league in scoring shooting above 50–40–90, setting a new three-point record with 402, he became the first player ever to be elected MVP by a unanimous vote. That same year, the Warriors broke the NBA record for the most wins in a season, subsequently losing the championship to the Cleveland Cavaliers in seven games.  
Superstar NBA Basketball Player Steph Curry Body Type One 
He successfully helped the Warriors win back-to-back titles in 2017 and 2018, failing in a three-peat bid to the Toronto Raptors in 2019. Missing the playoffs the next two seasons, he set the NBA record for career three-pointers in 2021, passing Ray Allen. He won his fourth championship with the Warriors against the Boston Celtics in 2022 and was named Finals MVP. Staying in shape by actively playing professional basketball helps increase his metabolic rate by encouraging the burning of more calories which keeps any excess fat weight at bay, thus allowing Steph Curry to maintain his physique.
Not to be outdone, he played for the United States national team in the 2007 FIBA Under-19 World Championship, capturing the silver medal. In 2010, he played for the United States at the 2010 FIBA World Championship (known later as FIBA Basketball World Cup), going undefeated to win the gold medal. He was a leader on the undefeated team at the 2014 FIBA Basketball World Cup, scoring 10 points in the final game. He withdrew from consideration for the 2016 Olympics in Brazil due to ankle and knee ailments.  

G.O.A.T Steph Curry Body Shape
His long list of achievements includes being an eight-time NBA All-Star and eight-time All-NBA selection, including four times on the first team. As well, he has been named the NBA Most Valuable Player (MVP) twice, won four NBA championships, received an NBA Finals MVP Award, and an NBA All-Star Game MVP Award. Moreover, with an NBA record-setting combined 484 three-pointers made in the 2013–14 season, 525 in 2014-15, and 678 in 2015–16, he and teammate Klay Thompson earned the "Splash Brothers" nickname. His father is former NBA player Dell Curry and his older brother is current NBA player Seth Curry.
He is an active philanthropist, donating to United Nations Foundation Nothing But Nets campaign to combat malaria and East Oakland Youth Development Center, while opening the Eat. Learn. Play. Foundation in Oakland, CA to help "end childhood hunger, increase access to quality education, and provide safe spaces for children to stay active." Furthermore, as a businessman he founded the production company Unanimous Media, signing a film and TV deal with Sony Pictures Entertainment in 2018 focused on faith and family-friendly content. He has also been an executive producer on diverse projects. 
His net worth is estimated at $170 million. You can catch him on social media including Instagram, Facebook, and Twitter. See more producer, businessman, and superstar G.O.A.T professional NBA basketball player Steph Curry celebrity Body Type One (BT1) photos on Google.
Review the Body Type Science Data or take the Scientific Body Type Quiz/Test for women and men.  
---