---
---
Celebrity Body Types: Eva Longoria (Eva Jacqueline Longoria Bastón)
---
The Four Body Types Scientific Identification: Body Type Two, BT2
Female/Woman
Genetically Underdeveloped Vertebrae (Muscles/Muscle Mass): 1 to 8; Sacrum (Possibly Lumbar)
Date of Birth: March 15, 1975
Age: 48 (as of 2023)
Unscientific/Nonsense Body Types Rough Correlations: Endomorph, Kibbe/Soft Natural, Hormone/Ovary
Learn How 

The Four Body Types

Determines A Celebrity Body Type Like Eva Longoria
---
---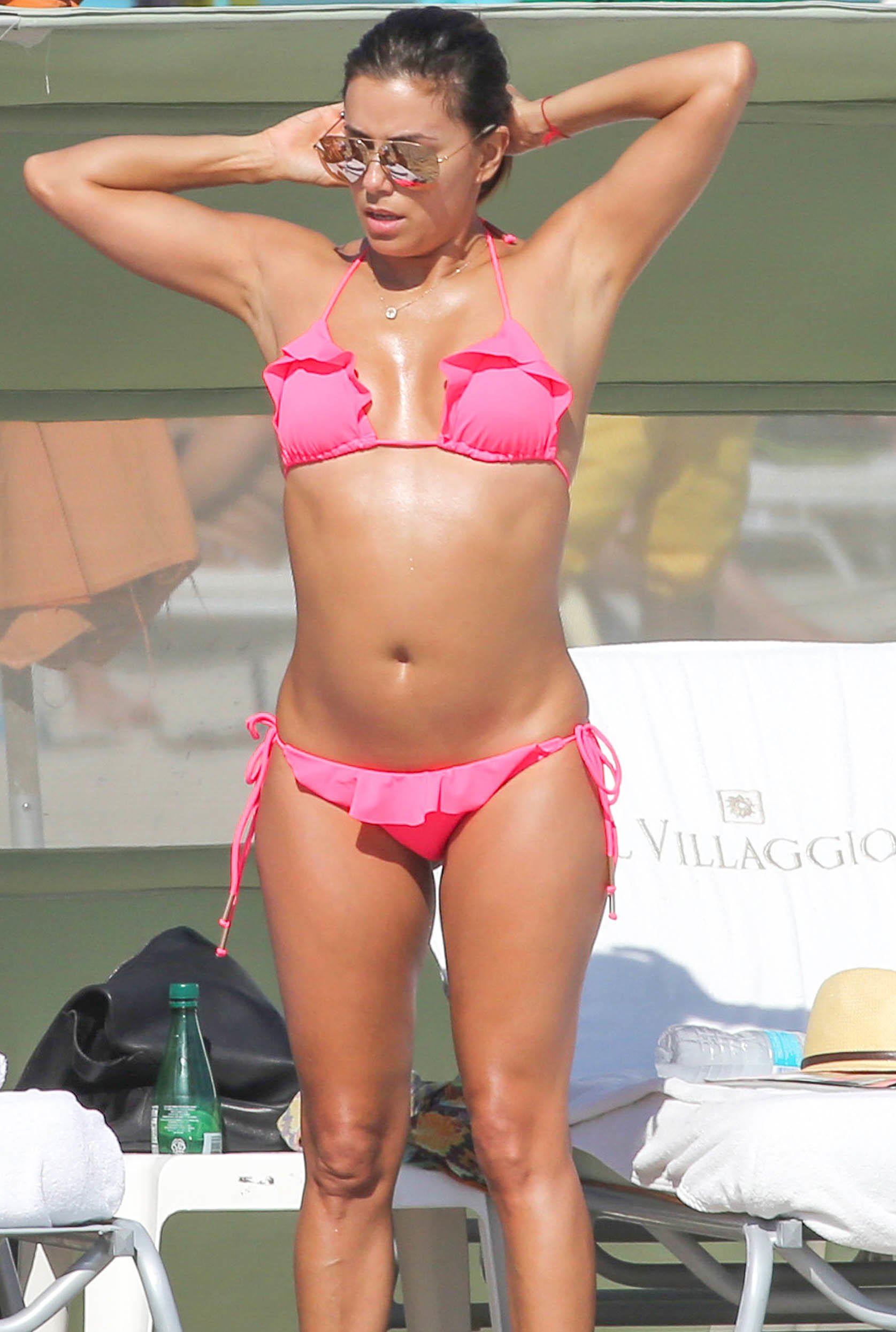 Celebrity Eva Longoria shows off her Body Type Two (BT2) shape figure/physique while taking time off at
the beach. The full development of her sacrum
vertebra and related muscles/muscle mass is debatable. The
candid images reveal some skinny fat (cellulite, thin fat, loose skin, saggy skin, crepey skin, normal weight obesity) on no less than her upper legs and buttocks indicating she most likely has at least a slightly underdeveloped sacrum vertebra and maybe a lumbar vertebra or several.
When she was younger she might have been considered a Body Type One (BT1). Science recognizes that one pound of muscle mass burns six calories daily, but one pound of skinny fat/fat burns only two to three calories daily. Which directly affects metabolism (the more skinny fat and fat, the slower the metabolism). The mostly developed vertebrae, muscles, and muscle mass across the majority of her BT2 is an advantage that Body Type Three (BT3) and Body Type Four (BT4) human bodies (female or male) generally lack.
Diet, exercise, lifestyle, metabolism, and BMI matter, but so do genes/genetics/DNA. It will be interesting to see how well Eva Longoria maintains her body shape figure/physique as she continues to age, especially after giving birth to two children. Is she really a Body Type One?
---
---
---
Eva Longoria Figure/Shape – BT2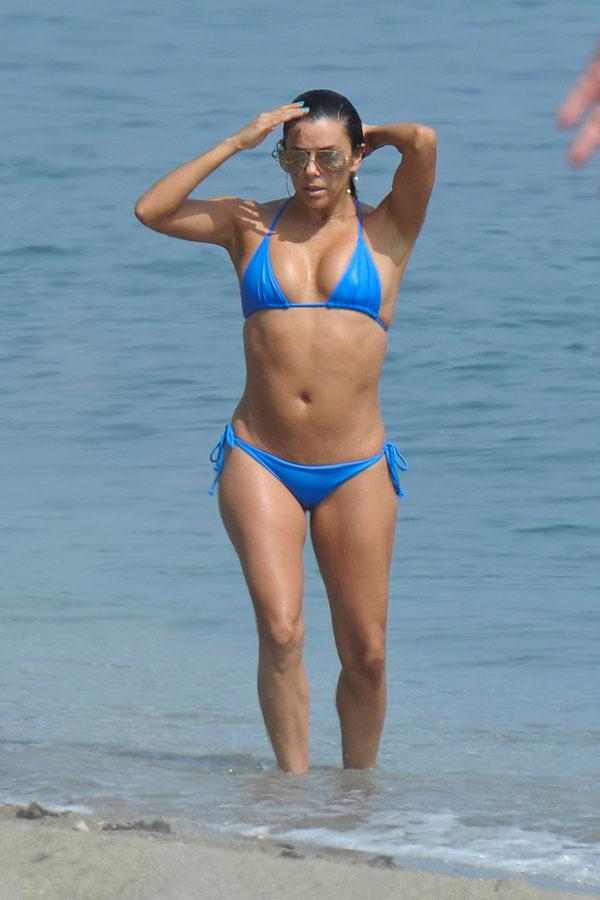 Star Hollywood actress Eva Longoria enjoys time off in her Body Type Two shape/figure with
friends and family including her husband José Bastón. A graduate of Texas A&M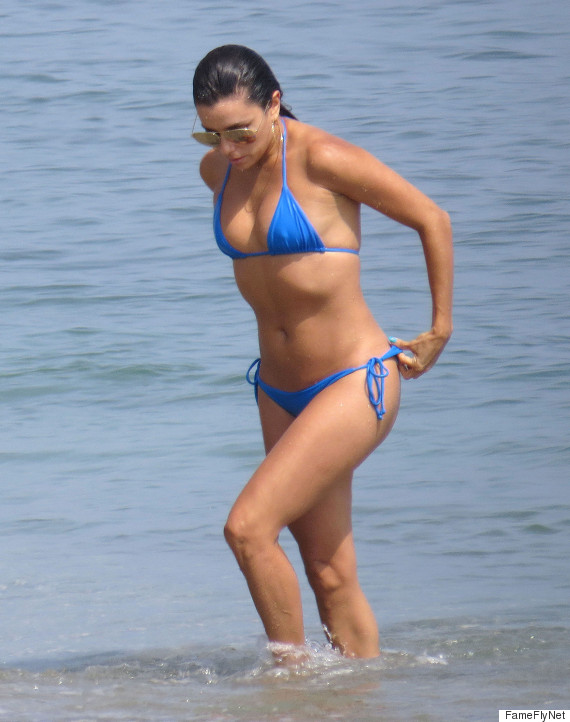 University-Kingsville with a Bachelor of Science degree in kinesiology, her professional
entertainment career began in 1998 when she won the title of Miss Corpus Christi USA. Subsequently, she entered a talent contest that led her to Los Angeles where she was spotted and signed by a theatrical agent. While auditioning for movie roles, she worked as a headhunter. Her first television appearance came after meeting executive producer Gary Ghiaey at a political reception in Los Angeles, leading to a part in a 1999 episode of the popular FOX series Beverly Hills, 90210.
That same year, being a guest actress on the ABC soap opera General Hospital brought her breakthrough role as Isabella Braña in the CBS soap opera The Young and the Restless in 2001. Departing in early 2003, she then landed a diverse set of work on the show Dragnet (Dick Wolf revival), the film Señorita Justice, and the television movie The Dead Will Tell.
Her rise to fame was solidified with her casting as Gabrielle Solis in the hit ABC comedy-drama Desperate Housewives, lasting from 2003 to 2014. Over the years, she has portrayed an array of different characters in numerous series including Saturday Night Live (NBC), George Lopez (ABC), Childrens Hospital (The WB), Welcome to the Family (NBC), The Simpsons (FOX), Brooklyn Nine-Nine (FOX, NBC), Maya & Marty ((NBC), Decline and Fall (BBC One), Empire (FOX), Jane the Virgin (The CW), Grand Hotel (BC), and The Proud Family: Louder and Prouder (Disney), to name some.  
Producer, Director, & Star Hollywood Actress Eva Longoria Body Type Two
She is also credited for the motion pictures Harsh Times (2005), The Sentinel (2006), The Heartbreak Kid (2007),
Over Her Dead Body (2008), Lower Learning (2008), Without Men (2011), Arthur Christmas (2011, voice), For Greater Glory (2012), Foodfight! (2012, voice), The Baytown Outlaws (2012), Crazy Kind of Love (2012), A Dark Truth (2013), In a World… (2013), Frontera (2014), Any Day (2015), Visions (2015), Lowriders (2016), Un Cuento de Circo & A Love Song (2016), Overboard (2018), Dog Days (2018), Dora and the Lost City of Gold (2019), Sylvie's Love (2020), The Boss Baby: Family Business (2021, voice), and Unplugging (2022).
Her upcoming movies are All-Star Weekend and Aristotle and Dante Discover the Secrets of the Universe, release to be determined.
As well, she produced the shows and documentaries The Harvest, Ready for Love, Mother Up, Devious Maids, Food Chains, Telenovela, and Grand Hotel along with the film John Wick (2014). Her director responsibilities include the TV series Devious Maids, Jane the Virgin, Telenovela, Black-ish, The Mick, LA to Vegas, Grand Hotel, The Expanding Universe of Ashley Garcia, and Why Women Kill as well as her movie debut Flamin' Hot (2022). Moreover, she was in music videos for Ricky Martin, Jamie Foxx, Jessica Simpson, Tony Parker, Alejandro Sanz, and Enrique Iglesias. Eva Longoria's body shape figure benefits from her demanding producer, director, and actress responsibilities which helps increase her metabolism, thus burning more calories to keep any excess fat at bay. Her ex-husbands are Tony Parker and Tyler Christopher.  
Businesswoman Eva Longoria Body Shape
In terms of being a businesswoman, she opened the short-lived restaurant Beso in Hollywood in 2008 and
Las Vegas in 2009. She authored the book Eva's Kitchen: Cooking with Love for Family and Friends in 2011. Not to be outdone, she then paired with Iron Chef
Michael Symon for the PepsiCo promotion for a Lay's potato chips contest called "Do Us A Flavor". 
She received her master's degree in 2013 from California State University-Northridge in Chicano Studies, focusing on Latinas in STEM Careers. In 2015, she teamed up with sportswear manufacturer Sunrise Brands to create a women's apparel collection. Opening her own production company called UnbeliEVAble Entertainment, in 2016 she signed a two-year deal with Universal Pictures and in 2020 a three-year deal with 20th Television. In 2017, she launched her clothing line website. Finally, she is an active philanthropist, including her organization Eva's Heroes, a charity that helps young adults with developmental disabilities.
She is estimated to have a net worth of $80 million. You can catch her on social media including Instagram, Facebook, and Twitter. See more former businesswoman, author, producer, director, and star Hollywood actress Eva Longoria celebrity Body Type Two (BT2) photos on Google.
Review the Body Type Science Data or take the Scientific Body Type Quiz/Test for women and men.  
---