---
---
Celebrity Body Types: Amy Adams (Amy Lou Adams)
---
The Four Body Types Scientific Identification: Body Type One, BT1 (Possible Body Type Two)
Female/Woman
Genetically Underdeveloped Vertebrae (Muscles/Muscle Mass): None/0 (Possibly Lumbar and/or Sacrum)
Date of Birth: August 20, 1974
Age: 48 (as of 2022)
Unscientific/Nonsense Body Types Rough Correlations: Ectomorph, Kibbe/Flamboyant Natural, Hormone/Ovary
---
---
Celebrity Amy Adams shows off her Body Type One (BT1) shape figure/physique during her vacation with
friends and family including her husband Darren Le Gallo. The candid images reveal no
obvious signs of skinny fat (cellulite, thin fat, loose skin, saggy skin, crepey skin, normal weight obesity) anywhere on her body, although there are hints of possible cellulite on her upper back legs, no less.
As she has aged, the full development of her vertebra (posture) and muscles/muscle mass has become more debatable. 
Science recognizes that one pound of muscle burns six calories daily, but one pound of fat/skinny fat only burns two to three calories. Which directly affects metabolism (the more skinny fat and fat, the slower the metabolism). Having so many developed vertebrae, muscles, and muscle mass assists greatly in terms of metabolism/metabolic rate (BMR), including aging gracefully.
Genetics/genes/DNA are important. But diet, exercise, metabolism, BMI, and lifestyle also matter. It will be interesting to see how well Amy Adams maintains her body shape figure/physique as she continues to age. Is she really a Body Type Two (BT2) with a slightly underdeveloped lumbar and/or sacrum vertebra?
---
---
---
Amy Adams

Figure/Shape – BT1
Academy Award-nominated and Emmy Award-nominated star Hollywood actress Amy Adams displays her Body
Type One shape/figure while acting. After realizing she was not cut out to be a ballerina, her entertainment career began as a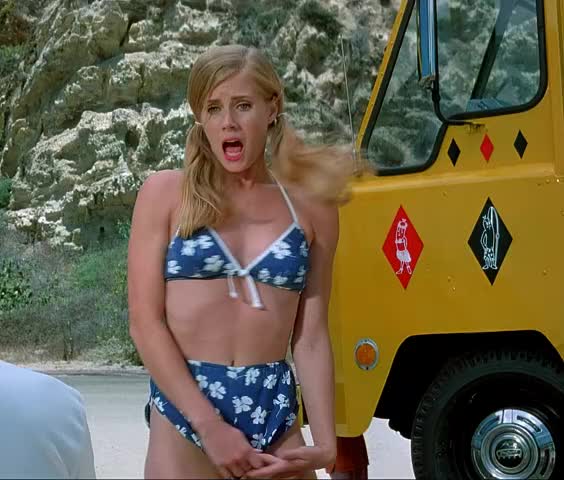 dancer in dinner theaters in Boulder & Denver Colorado's Heritage Square Music Hall and Country Dinner Playhouse as well as the Minneapolis-based Chanhassen Dinner Theater. Expanding her horizons, her first film was the black-and-white short satire The Chromium Hook.
That led to a successful Hollywood audition for a part in the movie Drop Dead Gorgeous (1999). After overcoming stereotypical roles as "the bitchy girl" in the Fox television series Manchester Prep and the 2000 direct-to-video film Cruel Intentions 2, she appeared in Psycho Beach Party (2000) and the TV shows That '70s Show (FOX), Charmed (The WB), Buffy the Vampire Slayer (The WB), Smallville (The EB), and The West Wing (NBC). Her star continued to rise with supporting performances in the 2002 motion pictures The Slaughter Rule, Pumpkin, and Serving Sara.
Academy Award & Emmy Award-Nominated Star Hollywood Actress Amy Adams Body Type One
Finally breaking through with her first high-profile part in the Steven Spielberg comedy-drama Catch Me If You Can alongside Leonardo DiCaprio, positive critical acclaim followed. After a disappointing run on
the CBS show Dr. Vegas and a minor role in The Last Run
(2004), she rebounded with Junebug (2005, Academy Award-nominated for Best Supporting Actress). Upon overcoming heavy competition for the coveted part in Disney's musical romantic comedy Enchanted (2007), her star skyrocketed to fame. 
Over the years, she has had diversely successful roles in the likes of Charlie Wilson's War (2007), Sunshine Cleaning (2008), Miss Pettigrew Lives for a Day (2008), Doubt (2008, Academy Award-nominated for Best Supporting Actress), Night at the Museum: Battle of the Smithsonian (2009), Julie & Julia (2009), Leap Year (2010), Love & Distrust (2010), The Fighter (2010, Academy Award-nominated for Best Supporting Actress), The Muppets (2011), On the Road (2012), The Master (2012, Academy Award-nominated for Best Supporting Actress), Trouble with the Curve (2012), Man of Steel (2013), American Hustle (2013, Academy Award-nominated for Best Actress), Lullaby (2014), Batman v Superman: Dawn of Justice (2016), Arrival (2016), Nocturnal Animals (2016), Justice League (2017), Vice (2018, Academy Award-nominated for Best Supporting Actress), Hillbilly Elegy (2020), Zack Snyder's Justice League (2021), The Woman in the Window (2021), Dear Evan Hansen (2021), and Disenchanted (2022). Her next upcoming movie is Nightbitch (2023).
Moreover, she appeared on episodes of the NBC hit show The Office, hosted Saturday Night Live (SNL) in 2008 and 2014, had a cameo on Sesame Street (PBS), and appeared in eight episodes of the HBO series Sharp Objects (2019 Emmy Award-nominated for Outstanding Limited Series and Outstanding Lead Actress in a Limited Series or Movie). As well, she has had live stage performances in Into the Woods at Delacorte Theater in 2012 and The Glass Menagerie at Duke of York's Theatre in 2022.
Amy Adams Body Shape
Along with being nominated for six Academy Awards and two Primetime Emmy Awards, her
accolades include winning two Golden Globe Awards for Best Actress in a Comedy or Musical, being named one of the 100 most influential people in the world by Time magazine in 2014, and being featured on the 2014 Forbes Celebrity 100 list. Her philanthropic interests include supporting brain cancer charities (Snog and Headrush, etc.) as well as charities that help sexually abused children, children's education, and employment and mental health services to former foster youth (The RightWay Foundation, etc.). Amy Adams' demanding acting responsibilities help with maintaining her body shape figure by increasing her metabolic rate thus burning more calories to keep excess fat weight at bay.    
She has an estimated net worth of $60 million. You can catch her on social media including Instagram, Facebook, and Twitter. See more star Hollywood actress Amy Adams celebrity Body Type One (BT1) photos on Google.
Review the Body Type Science Data or take the Scientific Body Type Quiz/Test for women and men.
---