---
---
Celebrity Body Types: Dakota Johnson (Dakota Mayi Johnson)
---
The Four Body Types Scientific Identification: Body Type One, BT1 (Possible Body Type Two)
Female/Woman
Genetically Underdeveloped Vertebrae (Muscles/Muscle Mass): None/0 (Possibly Lumbar and/or Sacrum)
Date of Birth: October 4, 1989
Age: 33 (as of 2022)
Unscientific/Nonsense Body Types Rough Correlations: Ectomorph, Kibbe/Soft Classic, Hormone/Ovary
---
---
Celebrity Dakota Johnson shows off her Body Type One (BT1) shape figure/physique during her vacation. The candid images reveal no real signs of skinny fat (cellulite, thin fat, loose skin, saggy skin, crepey skin, normal weight
obesity) anywhere on her body. The full development of her vertebra (posture) and muscles/muscle mass is currently not in
debate.
Science recognizes that one pound of muscle burns six calories daily, but one pound of fat/skinny fat only burns two to three calories. Which directly affects metabolism (the more skinny fat and fat, the slower the metabolism). Having so many developed vertebrae, muscles, and muscle mass assists greatly in terms of metabolism/metabolic rate (BMR), including aging gracefully.
Genetics/genes/DNA are important. But diet, exercise, metabolism, BMI, and lifestyle also matter. As she continues to age, it will be interesting to see how well Dakota Johnson maintains her body shape figure/physique. Is she really a Body Type Two (BT2) with a slightly underdeveloped lumbar and/or sacrum vertebra?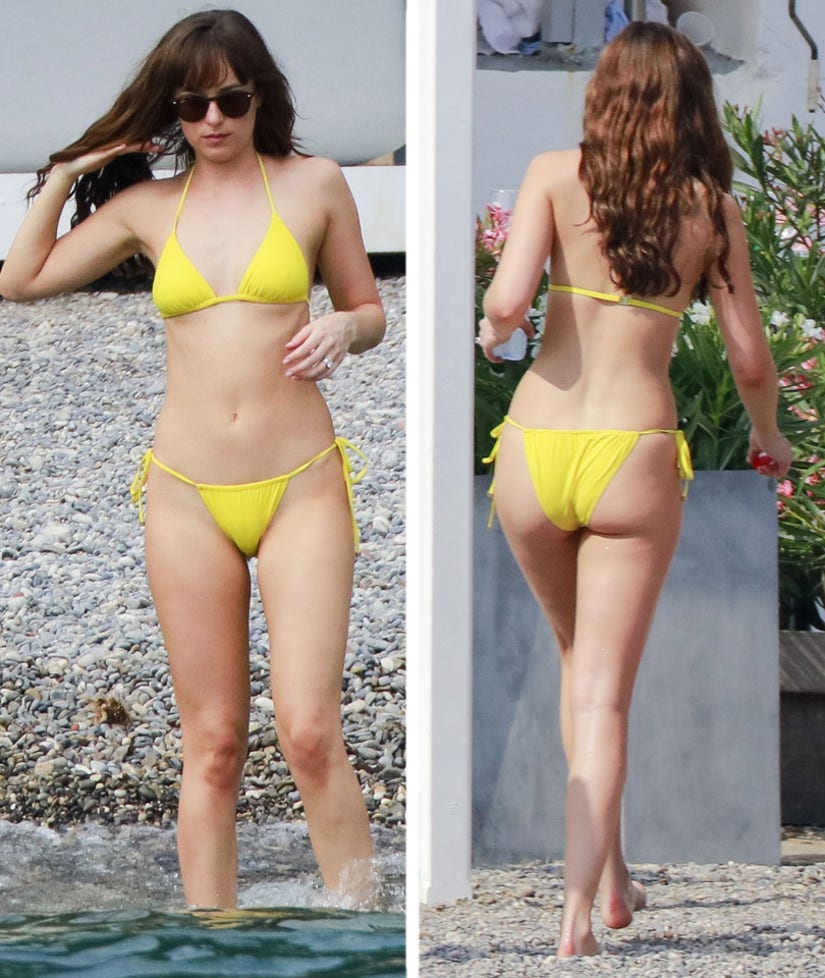 ---
---
---
Dakota Johnson

Figure/Shape – BT1
Star Hollywood actress Dakota Johnson displays her Body Type One shape/figure while taking time off at the ocean with friends and family including her partner Chris Martin. The daughter of Melanie Griffith and Don
Johnson, although they discouraged her from pursuing acting
until she graduated high school, her debut minor film role came in the 1999 dark comedy Crazy in Alabama alongside her mother. She began modeling at age twelve after taking part in a celebrity children's Teen Vogue photoshoot, overcoming depression in the process. Upon graduating high school, her failed Juilliard matriculation led to her auditioning for roles in Los Angeles, where she subsequently landed a bit part in the hit movie The Social Network (2010).
Her breakthrough performance as Anastasia Steele in the erotic romantic drama Fifty Shades franchise (Fifty Shades of Grey/2015, Fifty Shades Darker/2017, Fifty Shades Freed/2018) received positive critical acclaim. Over her successful career to date, she has appeared in the motion pictures Beastly (2011), For Ellen (2012), Goals (2012), 21 Jump Street (2012), The Five-Year Engagement (2012), Date and Switch (2014), Need for Speed (2014), Cymbeline (2015), Chloe and Theo (2015), Black Mass (2015), A Bigger Splash (2015), How to Be Single (2016), Suspiria (2018), Bad Times at the El Royale (2018), Wounds (2019), The Peanut Butter Falcon (2019), Our Friend (2019), The Nowhere Inn (2020, cameo), The High Note (2020), The Lost Daughter (2021), Am I OK? (2022, producer), Cha Cha Real Smooth (2022, producer), and Persuasion (2022, Netflix). 
Actress, Producer, & Director

Dakota Johnson

Body Type One
She has upcoming movie roles in The Disappearance of Shere Hite (2023) and the Sony Spider-Man Universe film Madame Web (2024). In terms of television, she had a recurring role in 16 episodes on the FOX series Ben and Kate (2012-2013) and appeared on the popular NBC show The Office for its 2013 finale. In 2015, she hosted Saturday Night Live (SNL) while also appearing in its 40th anniversary special. 
With the intention of developing film and television projects, she joined forces with former Netflix development executive Ro Donnelly and founded the production company TeaTime Pictures. Her first directorial gig was for the Coldplay music video "Cry Cry Cry" featuring her boyfriend Chris Martin. Dakota Johnson's demanding acting and producing responsibilities help with maintaining her body shape figure by increasing her metabolic rate thus burning more calories to keep excess fat weight at bay.    
Businesswoman Dakota Johnson Body Shape
As a businesswoman, in 2020 she become an investor and co-creative director for the sexual wellness brand Maude. Moreover, she was named a brand ambassador for the luxury fashion brand Gucci, appearing in a January 2023 advertising campaign promoting their leather handbags. However, the People for the Ethical Treatment of Animals (PETA) called on her to reconsider as the products are produced from python and alligator leather (which is illegal in California). Her philanthropy has involved a 2018 collaboration with 300 women in Hollywood to set up the Time's Up initiative to protect women from harassment and discrimination, no less.
She has an estimated net worth of $14 million. You can catch her on social media including Instagram, Facebook, and Twitter. See more businesswoman, producer, director, and star Hollywood actress Dakota Johnson celebrity Body Type One (BT1) photos on Google.
Review the Body Type Science Data or take the Scientific Body Type Quiz/Test for women and men.
---