---
---
Celebrity Body Types: Amy Schumer (Amy Beth Schumer)
---
The Four Body Types Scientific Identification: Body Type Two, BT2 (Possible Body Type Three)
Female/Woman
Genetically Underdeveloped Vertebrae (Muscles/Muscle Mass): 1 to 8; Thoracic, Lumbar, & Sacrum (Possible Cervical)
Date of Birth: June 1, 1981
Age: 42 (as of 2023)
Unscientific/Nonsense Body Types Rough Correlations: Endomorph, Kibbe/Soft Natural, Hormone/Ovary
---
---
Celebrity Amy Schumer shows off her genetic scientific Body Type Two (BT2) shape figure/physique while on vacation with friends and family including her husband Chris Fischer. The full development of her sacrum,
lumbar, and thoracic vertebrae and related muscles/muscle
mass is debatable, especially after giving
birth. The candid
images reveal at least some skinny fat
(cellulite, thin fat, loose skin, saggy skin, crepey skin, normal weight obesity) on no less than her upper legs, buttocks, lower back, love handles, stomach, and upper arms, indicating she most likely has at least a slightly underdeveloped sacrum vertebra as well as multiple lumbar and thoracic vertebrae. Maybe even a cervical vertebra(e).
Science recognizes that one pound of muscle mass burns six calories daily, but one pound of regular fat (white fat/yellow fat/excess fat) and/or skinny fat only burns two to three calories daily. Which directly affects metabolism (the more skinny fat and/or regular fat, the slower the metabolism). The mostly developed vertebrae, muscles, and muscle mass across the majority of her BT2 is an advantage that Body Type Three (BT3) and Body Type Four (BT4) human bodies (female or male) generally lack.
Diet, exercise, lifestyle, metabolic rate (BMR), and BMI matter. But so do genes/genetics/DNA. As she continues to age, it will be interesting to see how well Amy Schumer maintains her body shape figure/physique as her metabolism further slows. Is she really a Body Type Three (BT3)?
---
---
---
Amy Schumer Figure/Shape – BT2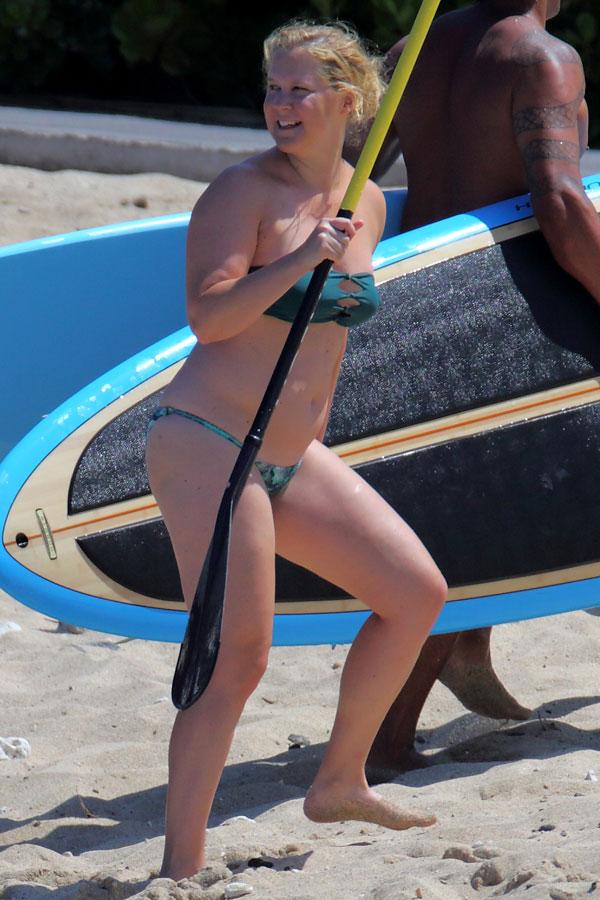 Emmy Award-winning, Grammy Award-nominated, and Tony Award-nominated star Hollywood actress and comedian Amy Schumer enjoys time off in her Body Type Two shape/figure. She began her entertainment career after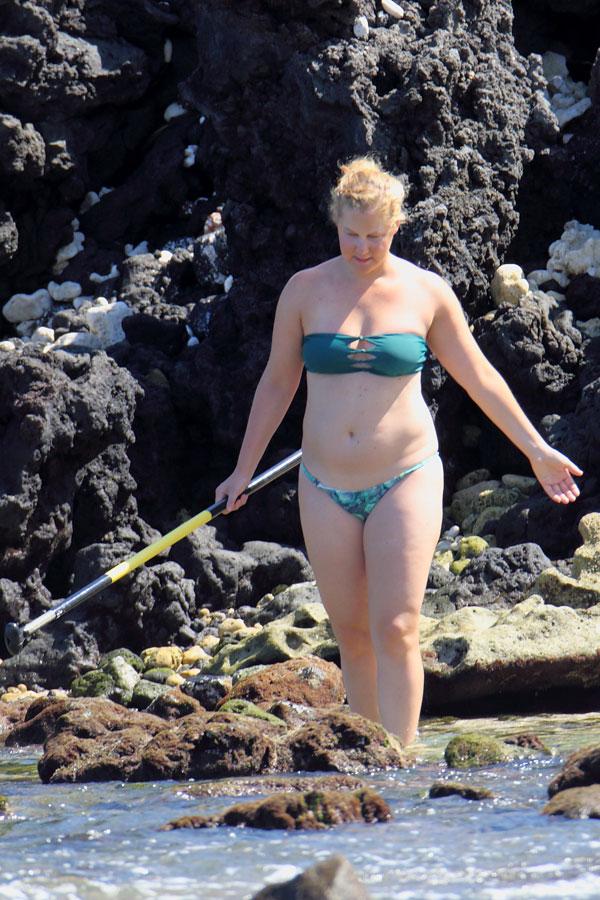 graduating with a degree in theater from Towson University in 2003.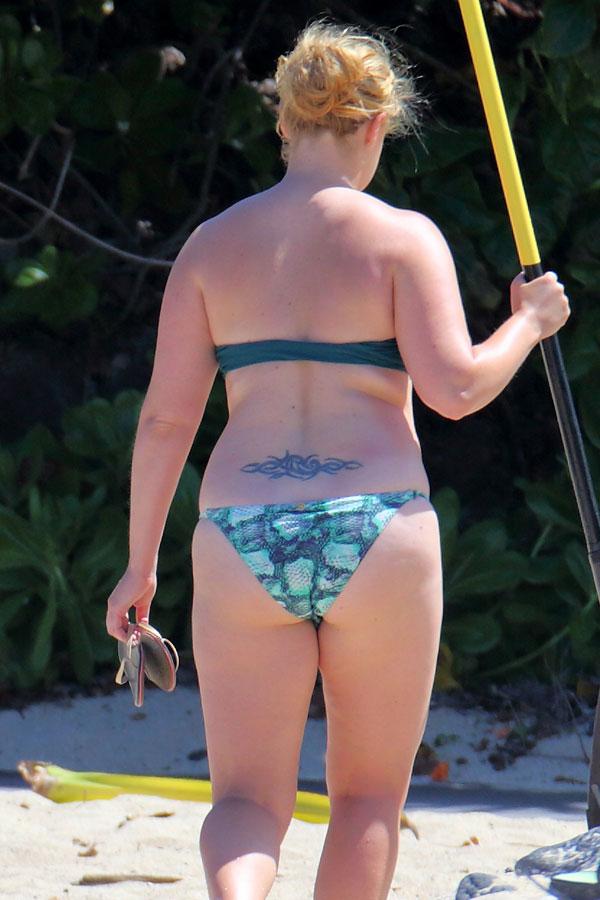 Returning to New York City, she paid her dues studying at the William Esper Studio while working as a bartender, waitress,
and pedicab driver (during a short relocation to Santa Barbara, California). Her debut Off-Off-Broadway role came in the black comedy Keeping Abreast.
In 2004, she started doing stand-up comedy, with her first performance at the Gotham Comedy Club. In 2007, she recorded the Live at Gotham episode for Comedy Central. That same year, she appeared on the NBC series Last Comic Standing, her self-proclaimed "big break," and placed fourth. As her star continued to rise, she co-starred in the Comedy Central reality show Reality Bites Back (2008), appeared in an advertising campaign for Butterfinger (2009), was a recurring guest on the Fox News late-night program Red Eye w/ Greg Gutfeld (2007-2012), and headlined her own Comedy Central Presents special in 2010. 
Star Hollywood Actress Amy Schumer Body Type Two
Over the years, she has been credited with appearances on episodes of the television shows Cupid (2009, ABC), 30 Rock (2009, NBC), John Oliver's New York Stand-Up Show (2010, Comedy Central), Curb Your Enthusiasm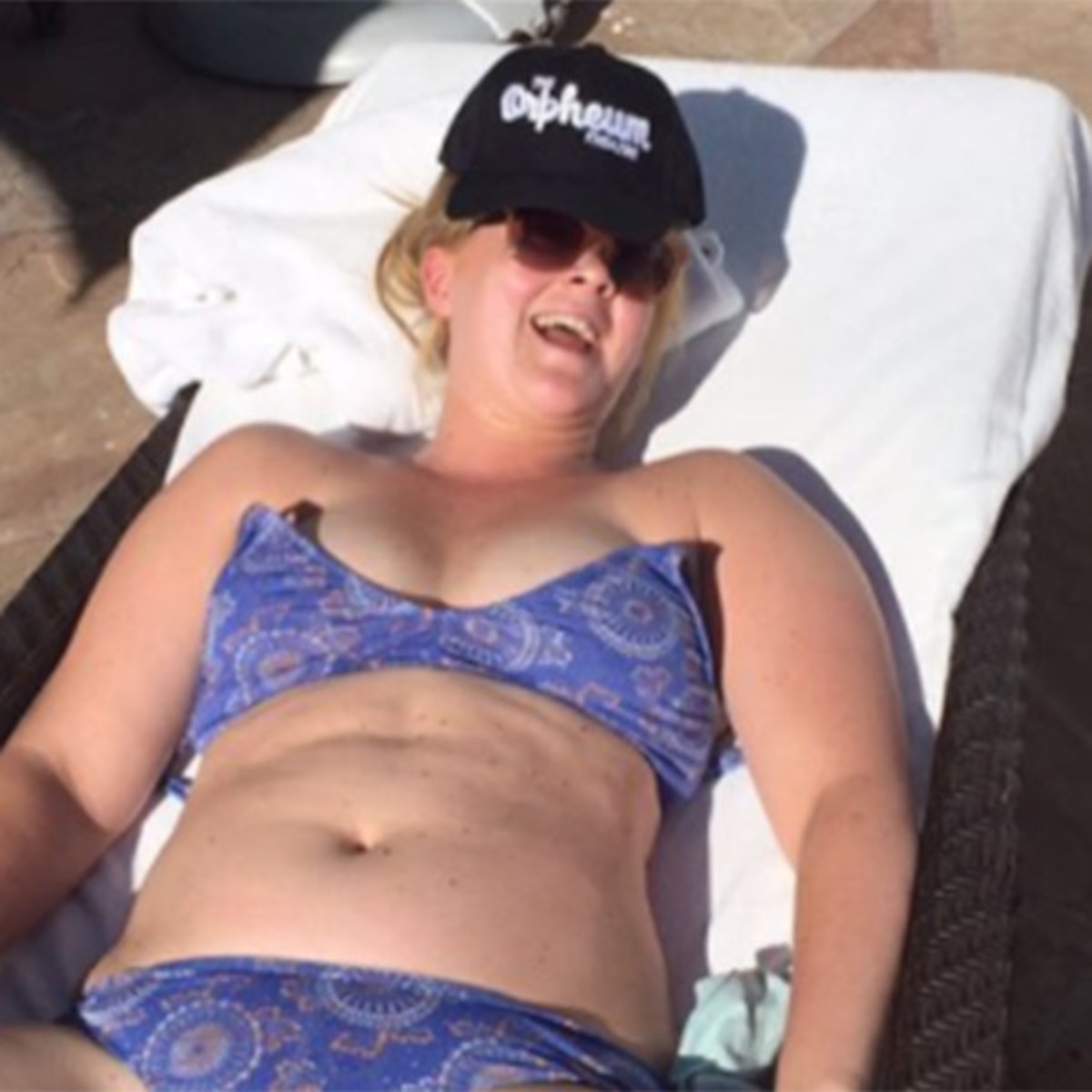 (2011, HBO), Comedy Central Roast of Charlie Sheen (2011), Delocated (2012), Comedy Central Roast of Roseanne Barr (2012), The Eric Andre Show (Adult Swim, 2012), Girls (HBO, 2013-14), Inside Amy Schumer (Comedy Central, 2013-16, creator, writer, executive producer, director, Primetime Emmy Award winner for Outstanding Variety Sketch Series), as the host of the legendary NBC series Saturday Night Live (SNL, 2015 & 2022), Amy Schumer: Live at the Apollo (2015), The Simpsons (FOX, 2016), Family Guy (FOX, 2016), Bob's Burgers (FOX, 2016), Amy Schumer: The Leather Special (2017, Netflix), Crashing (HBO, 2019), Amy Schumer: Growing (Netflix, 2019), Amy Schumer Learns to Cook (Food Network, 2020, creator and executive producer), Expecting Amy (HBO, 2020, creator and executive producer), host of the 94th Academy Awards (ABC, 2022), Only Murders in the Building (Hulu, 2022), and her most recent project Life & Beth (Hulu, 2022-present, creator, writer, director, and executive producer), no less. 
She also appeared On Broadway in the 2016-17 play Meteor Shower (Tony Award-nominated for Best Actress in a Play). Expanding her horizons, she ventured into motion pictures in 2012 with her incipient part in the full-length comedy film Price Check. Her first starring role in the movie Trainwreck (2015, writer) led to lead roles in Snatched (2017) and I Feel Pretty (2018). Moreover, she had diverse roles in the films Seeking a Friend for the End of the World (2012), Thank You for Your Service (2017), The Humans (2021), Bros (2022), and Trolls Band Together (2022, voice). Her next upcoming movie is Unfrosted: The Pop-Tart Story (TBD). Not to be outdone, you can hear her on her podcast Amy Schumer Presents: 3 Girls, 1 Keith.
Stand-Up Comedian Amy Schumer Body Shape
Her long list of accomplishments includes the 3 comedy albums Cutting (2011, Comedy Central Records), Live at the Apollo (2016, Maverick Records), and the LP The Leather Special (2017, Netflix), 5 comedy videos, the audiobook The Girl with the Lower Back Tattoo (2016, Gallery Books, The New York Times Non-Fiction Best Seller), and 7 compilation appearances. In terms of accolades, she has no less than 13 Primetime Emmy Award nominations along with 1 win for Inside Amy Schumer, 2 Grammy Award nominations, and 1 Tony Award nomination.
She has been candidly open about her weight loss and weight gain experiences and being real about Ozempic and liposuction. Amy Schumer's body shape figure benefits from her demanding acting and live comedy touring schedule which likely helps increase her metabolism, thus burning more calories to keep any excess fat at bay. Romantically, she has been linked to Ben Hanisch, Nic Nemeth, and Anthony Jeselnik.
Her net worth is estimated at $45 million. You can catch her on social media including Instagram, TikTok, and Twitter. See more writer, producer, director, star Hollywood actress, and comedian Amy Schumer celebrity Body Type Two (BT2) photos on Google.
Review the Body Type Science Data or take the Scientific Body Type Quiz/Test for women and men.  
---