---
---
Celebrity Body Types: Drew Barrymore (Drew Blythe Barrymore)
---
The Four Body Types Scientific Identification: Body Type Two, BT2
Female/Woman
Genetically Underdeveloped Vertebrae (Muscles/Muscle Mass): 1 to 8; Lumbar (Possibly Sacrum and/or Thoracic)
Date of Birth: February 22, 1975
Age: 48 (as of 2023)
Unscientific/Nonsense Body Types Rough Correlations: Ectomorph, Kibbe/Romantic, Hormone/Ovary
---
---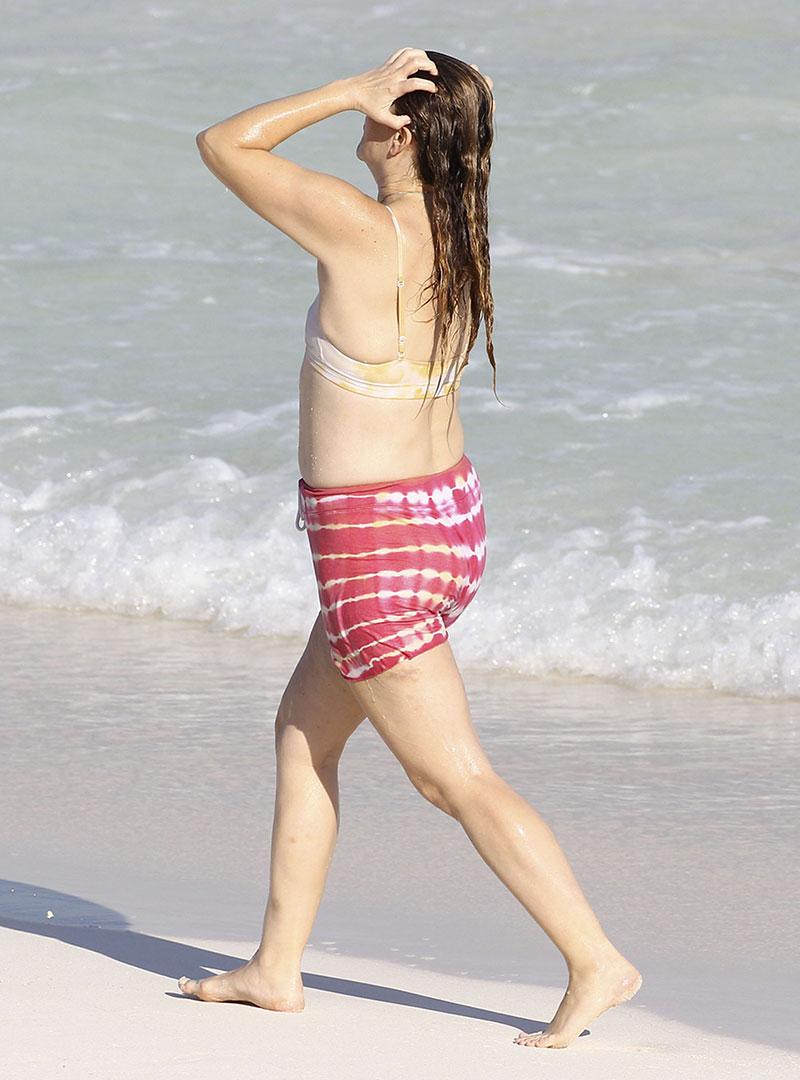 Celebrity Drew Barrymore shows off her Body Type Two (BT2) shape figure/physique while taking time off at the beach. The full development
of her lumbar vertebra(e) and related muscles/muscle
mass is debatable. The candid
images reveal some skinny fat (cellulite, thin fat, loose skin, saggy skin, crepey skin, normal
weight obesity) on no less than her lower back indicating she most likely has at least a slightly underdeveloped lumbar vertebra or several along with maybe her sacrum vertebra and perhaps a thoracic.
In her younger years, she probably would have been considered a Body Type One (BT1). Science recognizes that one pound of muscle mass burns six calories daily, but one pound of skinny fat/fat burns only two to three calories daily. Which directly affects metabolism (the more skinny fat and fat, the slower the metabolism). The mostly developed vertebrae, muscles, and muscle mass across the majority of her BT2 is an advantage that Body Type Three (BT3) and Body Type Four (BT4) human bodies (female or male) generally lack.
Diet, exercise, lifestyle, metabolism, and BMI matter, but so do genes/genetics/DNA. It will be interesting to see how well Drew Barrymore maintains her body shape figure/physique as she continues to age, especially after giving birth to two children. Is she really a Body Type One (BT1)?
---
---
---
Drew Barrymore Figure/Shape – BT2
Seven-time Emmy Award-nominated actress and daytime talk show host Drew Barrymore enjoys
time off in her Body Type Two shape/figure with friends and family. Following in the footsteps of previous successful family actors, she rose to fame as a very young child in 1982 with her role in Steven Spielberg's blockbuster
hit E.T. the Extra-Terrestrial. Her highly
publicized childhood in the spotlight was marked by drug and alcohol abuse, as described in her autobiography Little Girl Lost.
Starring in a diverse cornucopia of successful films in her long career, the list includes Bogie (1980), Altered States (1980), Firestarter (1984), Irreconcilable Differences (1984), Cat's Eye (1985), Babes in Toyland (1986), A Conspiracy of Love (1987), Far from Home (1989), See You in the Morning (1989), Motorama (1991), Waxwork II: Lost in Time (1992), No Place to Hide (1992), Sketch Artist (1992), Guncrazy (1992), Poison Ivy (1992), Doppelganger (1993), The Amy Fisher Story (1993), Wayne's World 2 (1993), Bad Girls (1994), Inside the Goldmine (1994), Boys on the Side (1995), Batman Forever (1995), Mad Love (1995), Scream (1996), Everyone Says I Love You (1996), Best Men (1997), Wishful Thinking (1997), Ever After: A Cinderella Story (1998), The Wedding Singer (1998), Home Fries (1998), Never Been Kissed (1999), Charlie's Angels (2000), Skipped Parts (2000), Freddy Got Fingered (2001), Riding in Cars with Boys (2001), Donnie Darko (2001), Confessions of a Dangerous Mind (2002), Charlie's Angels: Full Throttle (2003), Duplex (2003), 50 First Dates (2004), Choose or Lose Presents: The Best Place to Start (2004), Fever Pitch (2005), Music and Lyrics (2007), Lucky You (2007), Whip It (2009, directorial debut), He's Just Not That Into You (2009), Everybody's Fine (2009), Grey Gardens (2009), Going the Distance (2010), Big Miracle (2012), Blended (2014), Miss You Already (2015), and The Stand In (2020).  
Talk Show Host Drew Barrymore Body Type Two
In terms of television appearances, she has hosted Saturday Night Live (SNL) six times (the youngest person ever to host at 7 years, 8 months and 29 days), done voiceovers on the Simpsons and Family
Guy, narrated the NBC show First Dates (2017), and was in the Netflix series Santa Clarita Diet (2017-2019), to name a few. She is the founder of the production company Flower Films. Her movies worldwide have a box office gross of more than $2.3 billion. In 2006, she placed eighth on the top ten list of salaries, commanding 10 to 12 million dollars per flick. Taking a hiatus from acting, she currently hosts The Drew Barrymore Show (2021-2022, Emmy Award-nominated both years for Outstanding Entertainment Talk Show and Outstanding Entertainment Talk Show Host) on CBS's Paramount Plus.
As a businesswoman, she launched a range of cosmetics in 2013, from make-up to perfume and eyewear. Other business ventures include wines, cookware, and clothing. Moreover, in 2015 E. P. Dutton published a collection of her autobiographical essays in the book Wildflower. Drew Barrymore's body shape figure benefits from her demanding acting and talk show host schedule which helps increase her metabolism, thus burning more calories to keep any excess fat at bay. Her ex-husbands are Will Kopelman, Tom Green, and Jeremy Thomas.
She is estimated to have a net worth of $125 million. You can catch her on social media including Instagram, Facebook, and Twitter. See more businesswoman, author, director, producer, talk show host, and A-list superstar Hollywood actress Drew Barrymore celebrity Body Type Two (BT2) photos on Google.
Review the Body Type Science Data or take the Scientific Body Type Quiz/Test for women and men.  
---