---
---
Celebrity Body Types: Halle Berry (Halle Maria Berry)
---
The Four Body Types Scientific Identification: Body Type One, BT1 (Possible Body Type Two)
Female/Woman
Genetically Underdeveloped Vertebrae (Muscles/Muscle Mass): None/0 (Possibly Sacrum)
Date of Birth: August 14, 1966
Age: 56 (as of 2022)
Unscientific/Nonsense Body Types Rough Correlations: Ectomorph, Kibbe/Soft Gamine, Hormone/Ovary
Learn How The Four Body Types Determines A Celebrity Body Type Like Halle Berry
---
---
Celebrity Halle Berry shows off her Body Type One (BT1) shape figure/physique while at the beach with her
friends and family. The fully developed vertebrae (posture) and muscles/muscle
mass have become more debatable as she has aged. The candid images reveal no
obvious signs of skinny fat (cellulite, thin fat, loose skin, saggy skin, crepey skin, normal weight obesity) when she was younger, but in her mid-50s there are more noticeable indications on her upper legs and buttocks (in part due to a slowing metabolism).
Science recognizes that one pound of muscle burns six calories daily but one pound of fat/skinny fat only burns two to three. Which directly affects metabolism (the more skinny fat and fat, the slower the metabolism). Having all those developed vertebrae, muscles, and muscle mass helps greatly in terms of metabolism/metabolic rate (BMR) and aging gracefully.
Genetics/genes/DNA are important. But diet, exercise, metabolic rate (BMR), BMI, and lifestyle also matter. It will be interesting to see how well Halle Berry maintains her body shape figure/physique as the years continue to pass and her metabolism further slows. Is she really a Body Type Two (BT2), with a slightly underdeveloped sacrum vertebra, no less?
---
---
---
Halle Berry Figure/Shape – BT1
Academy Award-winning actress Halle Berry enjoys time off at the ocean in her Body Type One shape/figure. Her
demanding acting responsibilities help
her burn more calories thus increasing her metabolism to assist with keeping any excess fat weight at bay. She
has had to stay in shape for all those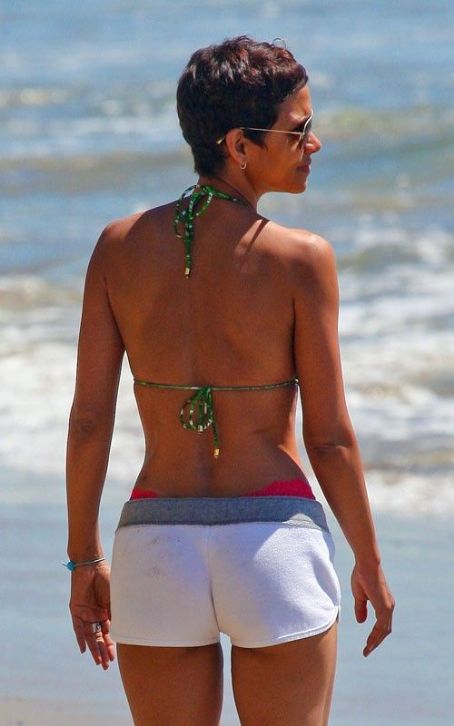 superstar Hollywood movie roles over the years including the huge James Bond (Pierce Brosnan) hit, Die Another Day. She won the Best Actress Oscar for Monster's Ball. John Wick: Chapter 4 (2023) is her next upcoming movie. 
Her ex-husbands include Olivier Martinez, Eric Benét, and David Justice, respectively. Grammy-award-winning American singer, songwriter, and record producer Van Hunt is her current partner.
She has an estimated net worth of $90 million. You catch her on social media including Instagram, Facebook, and Twitter. See more A-list Hollywood star actress Halle Berry celebrity Body Type One (BT1) photos on Google.
Review the Body Type Science Data or take the Scientific Body Type Quiz/Test for women and men.  
---