---
---
Celebrity Body Types: Jay Cutler (Jay Christopher Cutler)
---
The Four Body Types Scientific Identification: Body Type One, BT1
Male/Man
Genetically Underdeveloped Vertebrae (Muscles/Muscle Mass): None/0
Date of Birth: April 29, 1983
Age: 39 (as of 2022)
Unscientific/Nonsense Body Types Rough Correlations: Mesomorph, Hormone/Adrenal
Learn How 

The Four Body Types

Determines A Celebrity Body Type Like Jay Cutler
---
---
Celebrity Jay Cutler displays his Body Type One (BT1) shape physique/figure while taking time off at the beach
with his family including his ex-wife Kristin Cavallari. The fully developed vertebrae (posture) and muscles/muscle mass are not currently in debate,
although the definition has become fainter with age. At his age, he is showing no real signs of skinny fat (cellulite, thin fat, loose skin, saggy skin, crepey skin, normal weight obesity) anywhere on his body, although perhaps a bit of excess fat.
One pound of muscle burns six calories per day, but one pound of skinny fat/fat only burns two to three calories. Which directly affects metabolism (the more skinny fat and fat, the slower the metabolism). Having a strong metabolism because of all that muscle and muscle mass, no less, is an advantage that a fully developed BT1 offers, including aging gracefully.
Diet, exercise, lifestyle, metabolism, and BMI matter, but so do genes/genetics/DNA. It will be interesting to see how well Jay Cutler successfully maintains his muscular body shape physique/figure as he continues to age. Is he really a Body Type Two (BT2) with a slightly underdeveloped lower lumbar vertebra or two?  
---
---
---
Jay Cutler Physique – BT1
Former NFL quarterback Jay Cutler shows off his Body Type One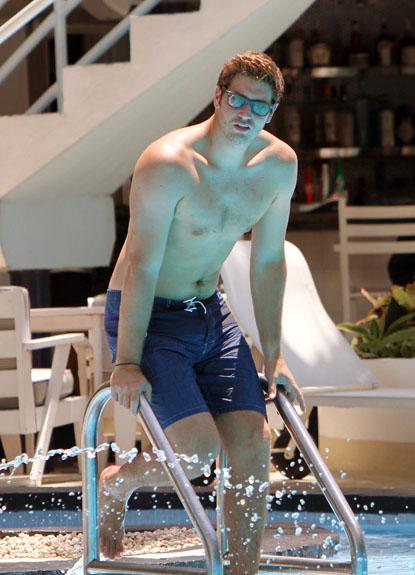 shape/physique during vacation time at the ocean and at the pool. His football career started in college at SEC member Vanderbilt where he won SEC Offensive Player of the Year in 2005. After
being selected by the Denver Broncos in the 2006 NFL Draft first round as the 11th Pick, he spent three seasons with the Broncos making the Pro Bowl in 2008. He was traded to the Chicago Bears in 2009, playing eight seasons including winning the 2011 NFC Divisional game against the Seattle Seahawks and then losing the NFC Championship to the Green Bay Packers.
Upon being released by Chicago in 2017 and initially retiring to be a sportscaster for the NFL on Fox's television broadcasts, he returned for one more season with the Miami Dolphins. After playing for 12 seasons, he officially retired from the NFL following the 2017 season. The demanding nature of his pro-football career assisted with increasing his metabolism to burn more calories. Thus, helping Jay Cutler maintain his physique by keeping any excess fat at bay. Transitioning to reality television, he was on his ex-wife Kristin Cavallari's show Very Cavallari (2018-2020) and is reportedly still doing Uncut With Jay Cutler (2021 to present) while continuing to pursue an NFL sportscaster job.
He is estimated to have a net worth of $30 million. You can catch him on social media including Instagram and Twitter. See more former NFL professional quarterback and Hollywood reality TV star Jay Cutler celebrity Body Type One (BT1) photos on Google.
Review the Body Type Science Data or take the Scientific Body Type Quiz/Test for women and men.
---