---
---
Celebrity Body Types: Katy Perry (Katheryn Elizabeth Hudson)
---
The Four Body Types Scientific Identification: Body Type Two, BT2
Female/Woman
Genetically Underdeveloped Vertebrae (Muscles/Muscle Mass): 1 to 8; Sacrum (Possibly Lumbar)
Date of Birth: October 25, 1984
Age: 38 (as of 2022)
Unscientific/Nonsense Body Types Rough Correlations: Ectomorph, Kibbe/Soft Natural, Hormone/Ovary
Learn How The Four Body Types Determines A Celebrity Body Type Like Katy Perry
---
---
Celebrity Katy Perry shows off her Body Type Two (BT2) shape figure/physique while taking time off at the ocean. The full
development of her sacrum vertebra and related muscles/muscle mass is debatable. The
candid images reveal some skinny fat (cellulite, thin fat, loose skin, saggy skin, crepey skin, normal weight
obesity) on no less than her upper legs indicating she most likely has at least a slightly underdeveloped sacrum vertebra and
possibly a lower lumbar vertebra(e) or two.
Science recognizes that one pound of muscle mass burns six calories daily, but one pound of skinny fat/fat burns only two to three calories daily. Which directly affects metabolism (the more skinny fat and fat, the slower the metabolism). The mostly developed vertebrae, muscles, and muscle mass across the majority of her BT2 is an advantage that Body Type Three (BT3) and Body Type Four (BT4) human bodies (female or male) generally lack.
Diet, exercise, lifestyle, metabolism, and BMI matter. But so do genes/genetics/DNA. After giving birth, it will be interesting to see how well Katy Perry maintains her body shape figure/physique as she continues to age.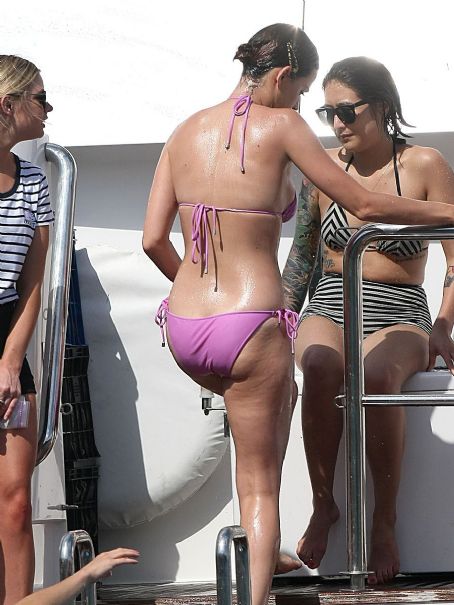 ---
---
---
Katy Perry Figure/Shape – BT2
Thirteen-time Grammy Award-nominated singer and songwriting musician Katy Perry enjoys a day at the beach in
her Body Type Two shape/figure with friends and family including her husband
Orlando Bloom. At age 16, she initially pursued a career in gospel music, commercially releasing her unsuccessful debut album Katy
Hudson (2001) under Red Hill Records. Moving to Los Angeles at 17 and venturing into mainstream music, she adopted the stage name "Katy Perry" (mother's maiden name) and recorded an unreleased album titled Fingerprints with Java Records and then Columbia Records before being dropped. 
Signing with Capitol Records in April 2007. she rose to fame with her second album One of the Boys (2008), a pop-rock record showcasing the singles I Kissed a Girl and Hot n Cold, both respectively reaching #1 and #3 on the U.S. Billboard Hot 100. She has achieved nine number one songs on the Billboard Hot 100 (I Kissed A Girl, Part Of Me, Dark Horse, Firework, Roar, Teenage Dream, E.T., California Gurls, Last Friday Night (T.G.I.F.)) and three number one albums on the Billboard 200 (Teenage Dream, Prism, Witness). Considered the "Queen of Pop" of her time, she has released six studio albums including Katy Hudson (2001), One of the Boys (2008), Teenage Dream (2010), Prism (2013), Witness (2017), and Smile (2020). She has seven extended plays (EP), 39 singles (four as a featured artist), and 11 promotional singles.
The Recording Industry Association of America (RIAA) confirms sales of 17 million albums in the United States along with 109.5 million digital singles, making her the sixth best-selling digital singles artist in the United States. To date, worldwide she has sold over 143 million records (48 million album units and 135 million singles), which makes her one of the best-selling music artists of all time.   
Body Shape Figure – Katy Perry, Body Type Two
With six of her singles selling over 5 million — Hot n Cold, California Gurls, Firework, E.T., Roar, and Dark Horse —
Katy Perry is the current record holder for the most 5-million-selling singles in the United States. She also holds the =record for
the most 6-million-selling songs for Firework, Roar, and Dark Horse. All three received Diamond song certifications from the RIAA making her the first artist to accomplish such a feat.
Moreover, 21 songs have achieved RIAA certification and three studio albums have also been certified Platinum or multi-Platinum. Katy Perry's body shape figure benefits from her demanding live music concert touring which helps increase her metabolism, thus burning more calories to keep any excess fat at bay. As a movie actress, she had roles in the films Get Him to the Greek (2010), The Smurfs (2011, voice), The Smurfs 2 (2013, voice), and Ferdinand (207, voice). Russell Brand is her ex-husband.
Her net worth is estimated at $330 million. You can catch her on social media including Instagram, Facebook, and Twitter. See more television personality, singer, songwriter, and Hollywood star musician Katy Perry celebrity Body Type Two (BT2) photos on Google.
Review the Body Type Science Data or take the Scientific Body Type Quiz/Test for women and men.  
---