---
---
Celebrity Body Types: Lionel Messi (Lionel Andrés Messi, Leo Messi)
---
The Four Body Types Scientific Identification: Body Type One, BT1
Male/Man
Genetically Underdeveloped Vertebrae (Muscles/Muscle Mass): None/0
Date of Birth: June 24, 1987
Age: 35 (as of 2022)
Unscientific/Nonsense Body Types Rough Correlations: Mesomorph, Hormone/Liver
---
---
Celebrity Lionel Messi displays his Body Type One (BT1) shape physique/figure while taking time off at the ocean with friends
and family including his wife Antonela Roccuzzo. He is showing no signs of skinny fat (cellulite, thin
fat, loose skin, saggy skin, crepey skin, normal weight obesity) anywhere on his body. The fully developed vertebrae (posture) and muscles/muscle mass are obvious.
Science recognizes that one pound of muscle burns six calories per day, but one pound of skinny fat/fat only burns two to three calories. Which directly affects metabolism (the more skinny fat and fat, the slower the metabolism). Having a strong metabolism because of all that muscle and muscle mass, no less, is an advantage that a fully developed BT1 typically offers, including aging gracefully.
Diet, exercise, lifestyle, metabolism, and BMI matter. But so do genes/genetics/DNA. As he continues to age, it will be interesting to see how well Lionel Messi successfully maintains his body shape physique/figure.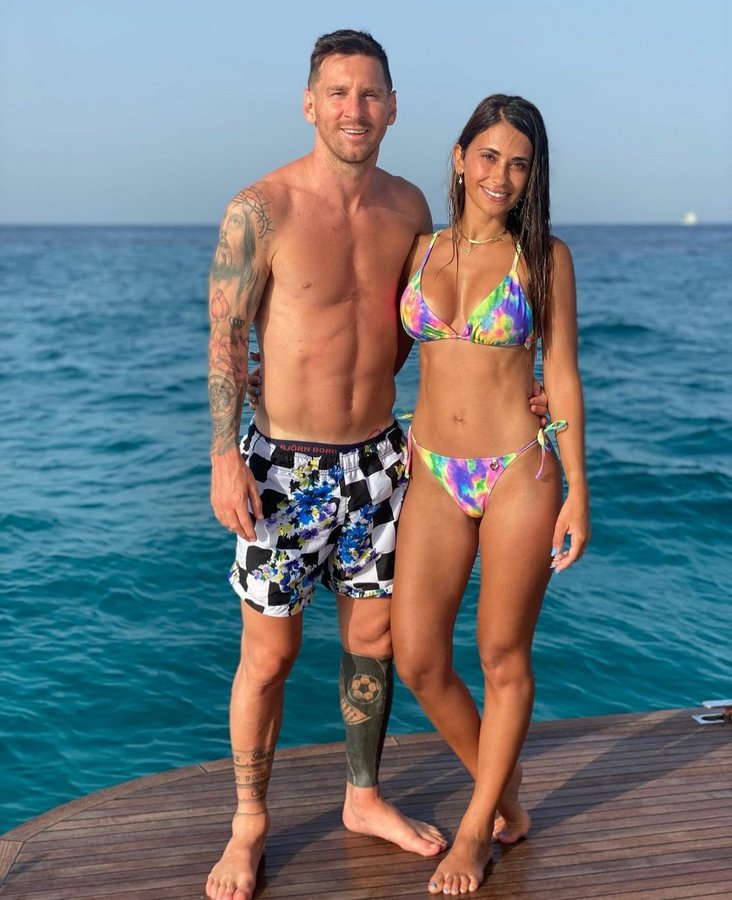 ---
---
---
Lionel Messi Physique/Figure – BT1
Greatest of All Time (G.O.A.T) international superstar soccer/football player Lionel Messi shows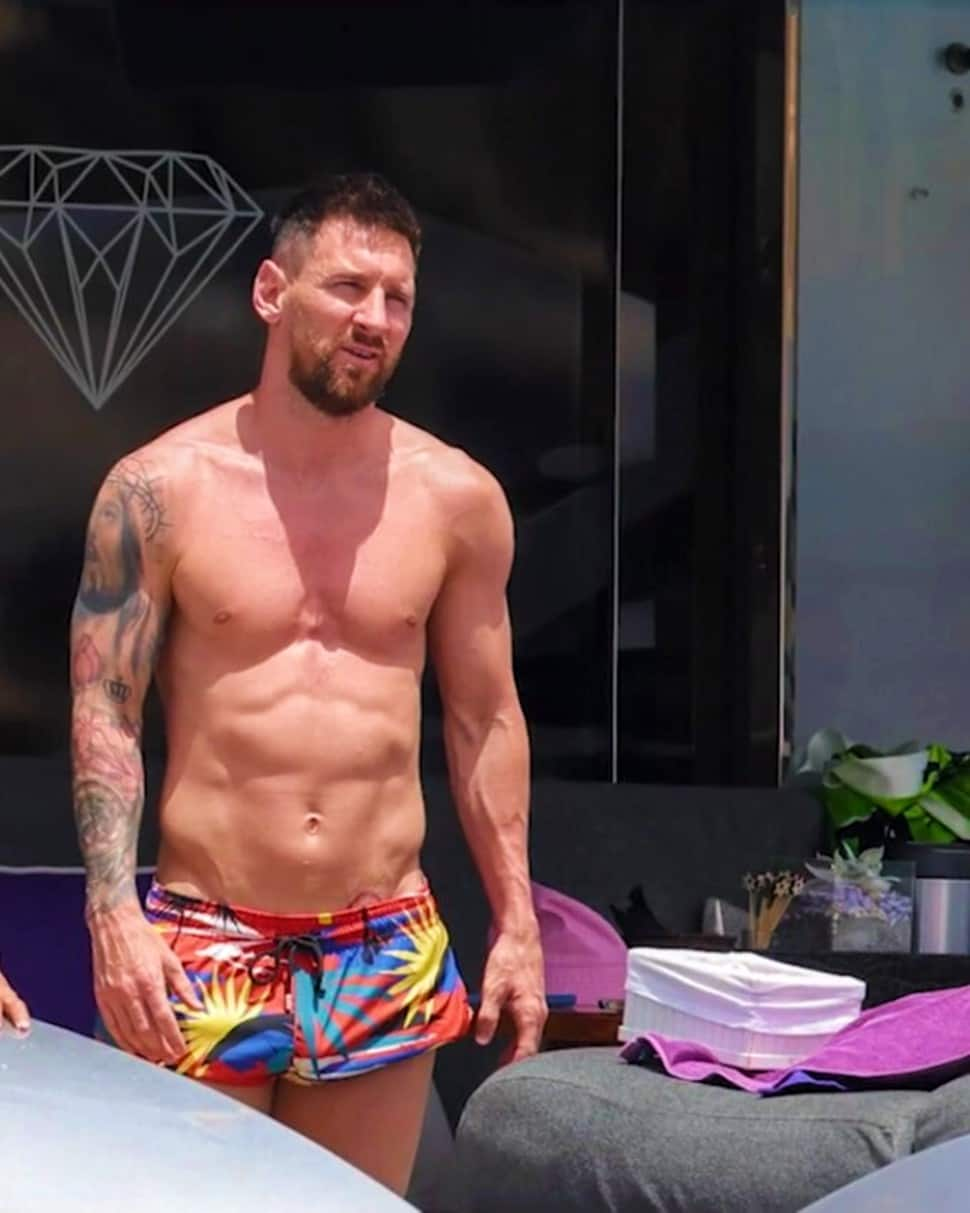 off his shape/physique during his vacation. His career began at the very young age of six, when he joined the Argentinian Rosario club to play for Newell's Old Boys, scoring nearly 500 goals as a member of the practically unbeatable "The Machine of '87" (named for the year of their birth) team while regularly entertaining the crowds by performing ball tricks during half-time at home games.
Overcoming a growth hormone deficiency and beating the odds to move to Spain to sign with FC Barcelona's youth academy, La Masia, in 2000, he enrolled in the Royal Spanish Football Federation (RFEF) in 2002. He eventually became an integral part of Barcelona's greatest-ever youth team, Cadetes A or "Baby Dream Team," with 36 goals in 30 games (2002-2003), going on to win both the Spanish and Catalan cups. After paying his dues and working his way up through FC Barcelona's ranks, in 2005 he signed his first La Liga senior team player contract, debuting against Juventus.  
G.O.A.T Professional Soccer/Football Player Lionel Messi Body Type One
Over his successful world-class futbol career, he has played for only one other professional club, his current team Paris Saint-Germain FC (PSG). His long list of accolades includes winning 10 La Liga titles, seven Copa del Rey titles, and four UEFA Champions Leagues along with accepting a record seven Ballon d'Or awards, a record six European Golden Boots/Shoes, and in 2020 was named to the Ballon d'Or Dream Team. Moreover, he holds the records for the most goals in La Liga (474), most goals in a La Liga and European league season (50), most hat-tricks in La Liga (36) and the UEFA Champions League (8), most assists in La Liga (192) and a La Liga season (21), most goals by a player for a single club (672), and has scored over 750 career goals for club and country.
In terms of the Argentinian National Team, as the captain he won the 2021 Copa América (and Golden Ball and Golden Boot) on his way to finally capturing the elusive 2022 FIFA World Cup title, beating defending champion France (PKs, 3-3 tie) — scoring two goals in the process of what many are calling the greatest World Cup final ever played. Of his numerous international accomplishments, he is the youngest Argentinian to play and score in a FIFA World Cup (2006), he won the Olympic gold medal at the 2008 Summer Olympics, the 2014 FIFA World Cup Golden Ball, the 2015 Copa América Golden Ball, and has the most assists in Copa América (17). He also holds the national record for appearances, is Argentina's all-time leading goalscorer, and holds the record for most international goals by a South American male (98).
Businessman Lionel Messi Figure/Body Shape
As a businessman, he has endorsed the sportswear company Adidas since 2006 as well as Pepsi and
Konami. France Football reports that he was the world's highest-paid footballer for five years out of six between 2009
and 2014. Furthermore, he was ranked the world's highest-paid athlete by Forbes in 2019 and 2022 and was among Time magazine's 100 most influential people in the world in 2011 and 2012.
His demanding football/soccer responsibilities help increase his metabolic rate by encouraging the burning of more calories which keeps any excess fat weight at bay, thus allowing Lionel Messi to maintain his physique/figure. In 2020, he was awarded the Laureus World Sportsman of the Year, becoming the first footballer and the first team sport athlete to win the award. In that same year, he became the second footballer and second team-sport athlete to surpass $1 billion in career earnings. As an avid philanthropist, he generously gives to many causes including worldwide poverty and hunger, health, and youth football in Argentina, donating to United Nations Children's Fund (UNICEF) while opening the Leo Messi Foundation, to name just a few. 
His net worth is estimated at $600 million. You can catch him on social media including Instagram, Facebook, and Twitter. See more G.O.A.T superstar world-class professional football/soccer player Lionel Messi celebrity Body Type One (BT1) photos on Google.
Review the Body Type Science Data or take the Scientific Body Type Quiz/Test for women and men.  
---