---
---
Celebrity Body Types: Lucy Hale (Karen Lucille Hale)
---
The Four Body Types Scientific Identification: Body Type One, BT1
Female/Woman
Genetically Underdeveloped Vertebrae (Muscles/Muscle Mass): None/0
Date of Birth: June 14, 1989
Age: 34 (as of 2023)
Unscientific/Nonsense Body Types Rough Correlations: Mesomorph, Kibbe/Soft Gamine, Hormone/Ovary
---
---
Celebrity Lucy Hale shows off her genetic scientific Body Type One (BT1) shape figure/physique while taking time
off with friends and family. The candid images reveal no real signs of skinny fat (cellulite, thin fat, loose skin, saggy skin, crepey skin, normal weight obesity) anywhere on her body. The full development of her vertebra (posture) and muscles/muscle mass is currently not in debate. 
Science recognizes that one pound of muscle burns six calories daily,
but one pound of regular fat (white fat/yellow fat/excess fat) and/or skinny fat only burns two
to three calories. Which directly affects metabolism (the more skinny fat and/or regular fat, the slower the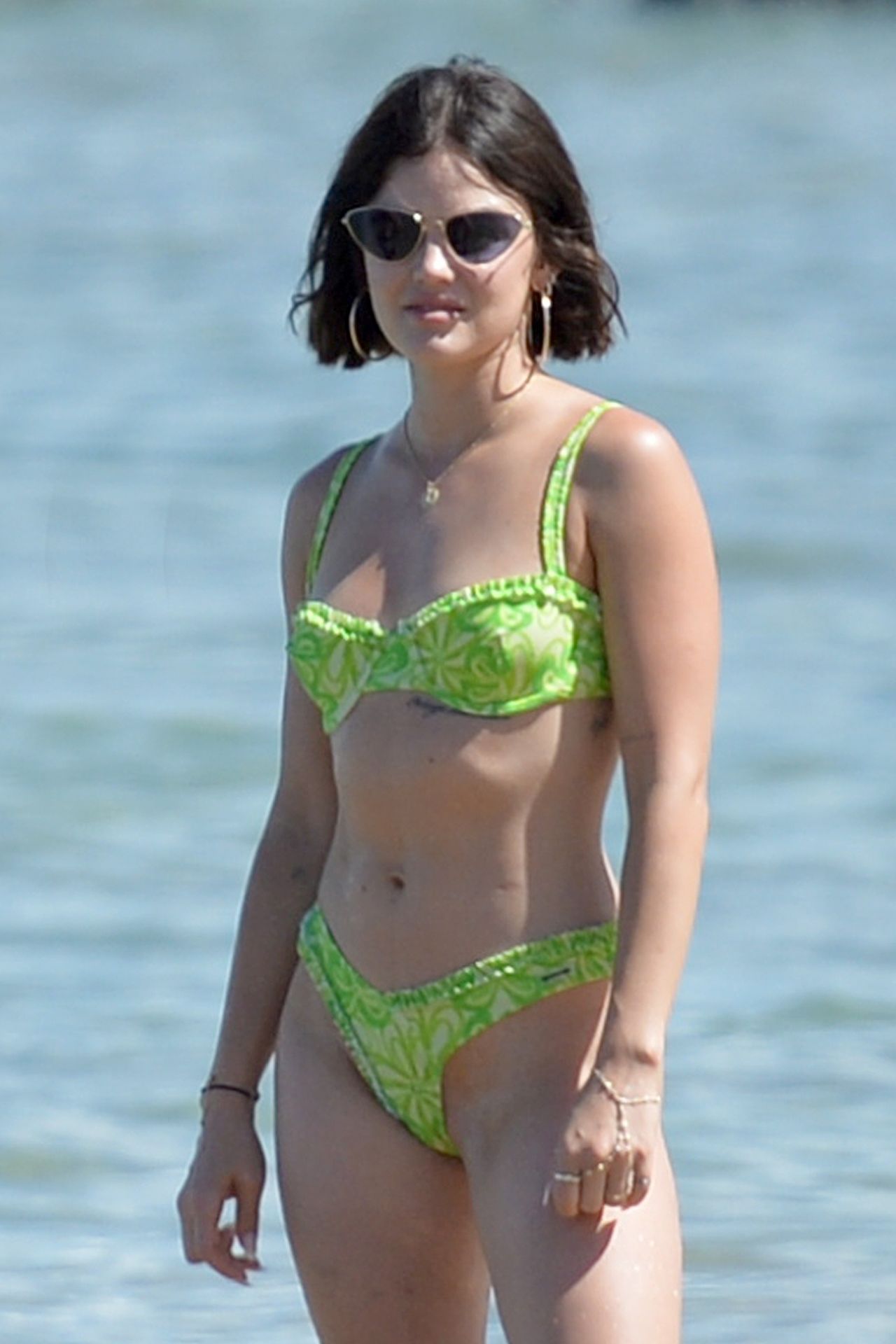 metabolism). Having so many developed vertebrae, muscles, and muscle mass assists greatly in terms of metabolism/metabolic rate (BMR), including aging gracefully.
Genetics/genes/DNA are important, but diet, exercise, metabolism, BMI, and lifestyle also matter. It will be interesting to see how well Lucy Hale maintains her body shape figure/physique as she continues to age. Is she really a Body Type Two (BT2), with perhaps a slightly underdeveloped sacrum vertebra and skinny fat on her buttocks and upper legs?
---
---
---
Lucy Hale Figure/Shape – BT1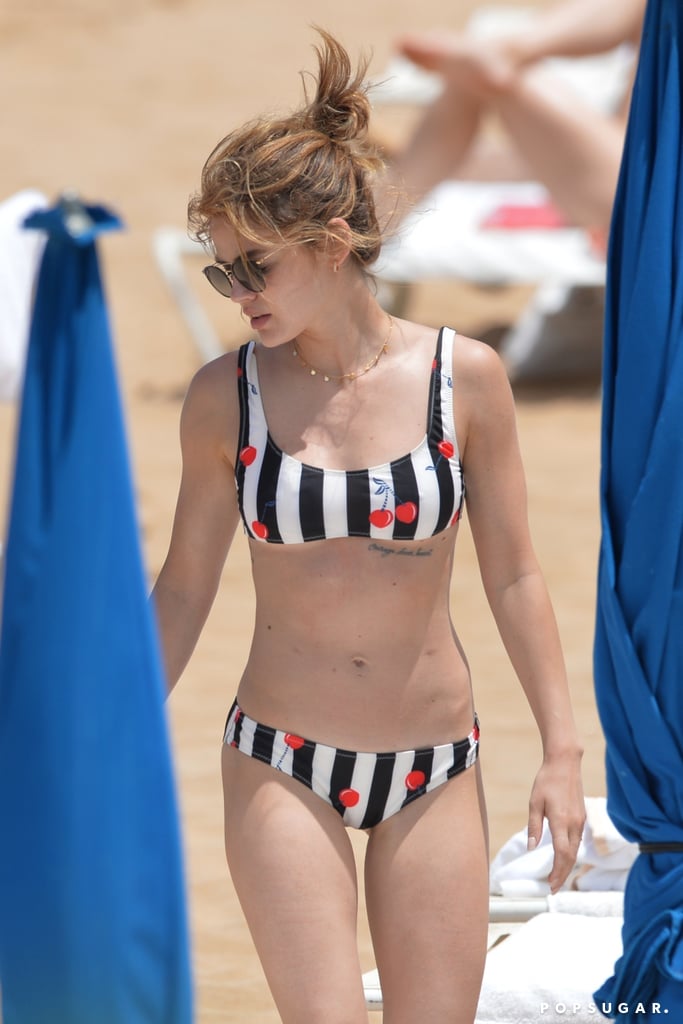 Star Hollywood actress Lucy Hale displays her Body Type One shape/figure during her vacation. Her entertainment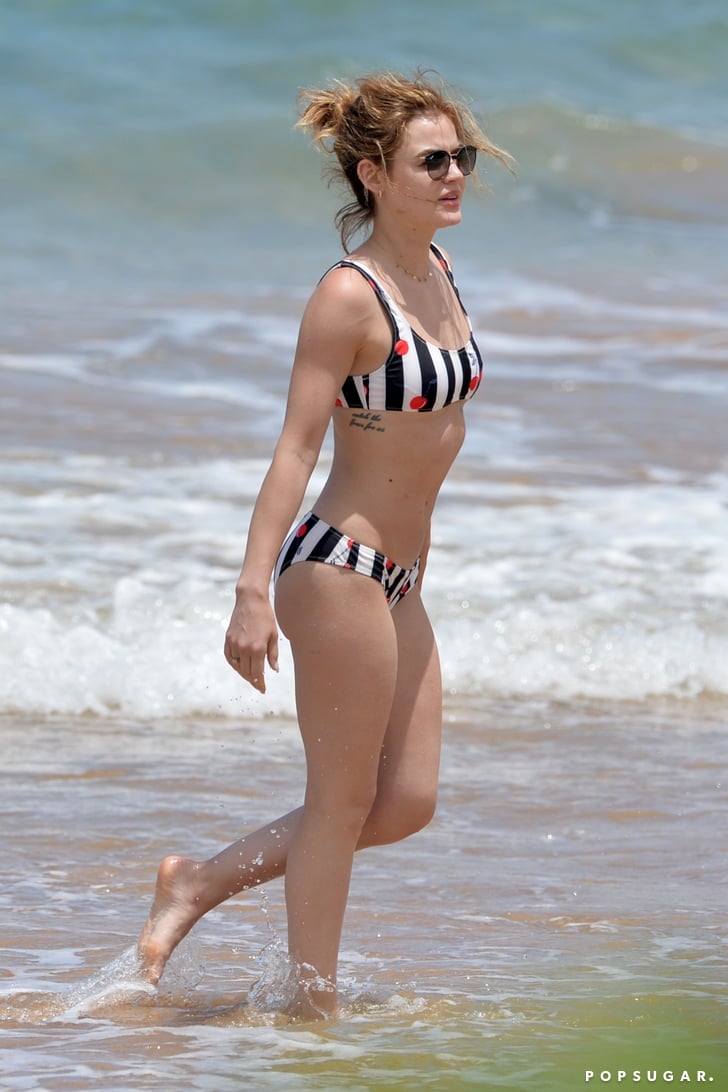 career began in 2003 as a singing contestant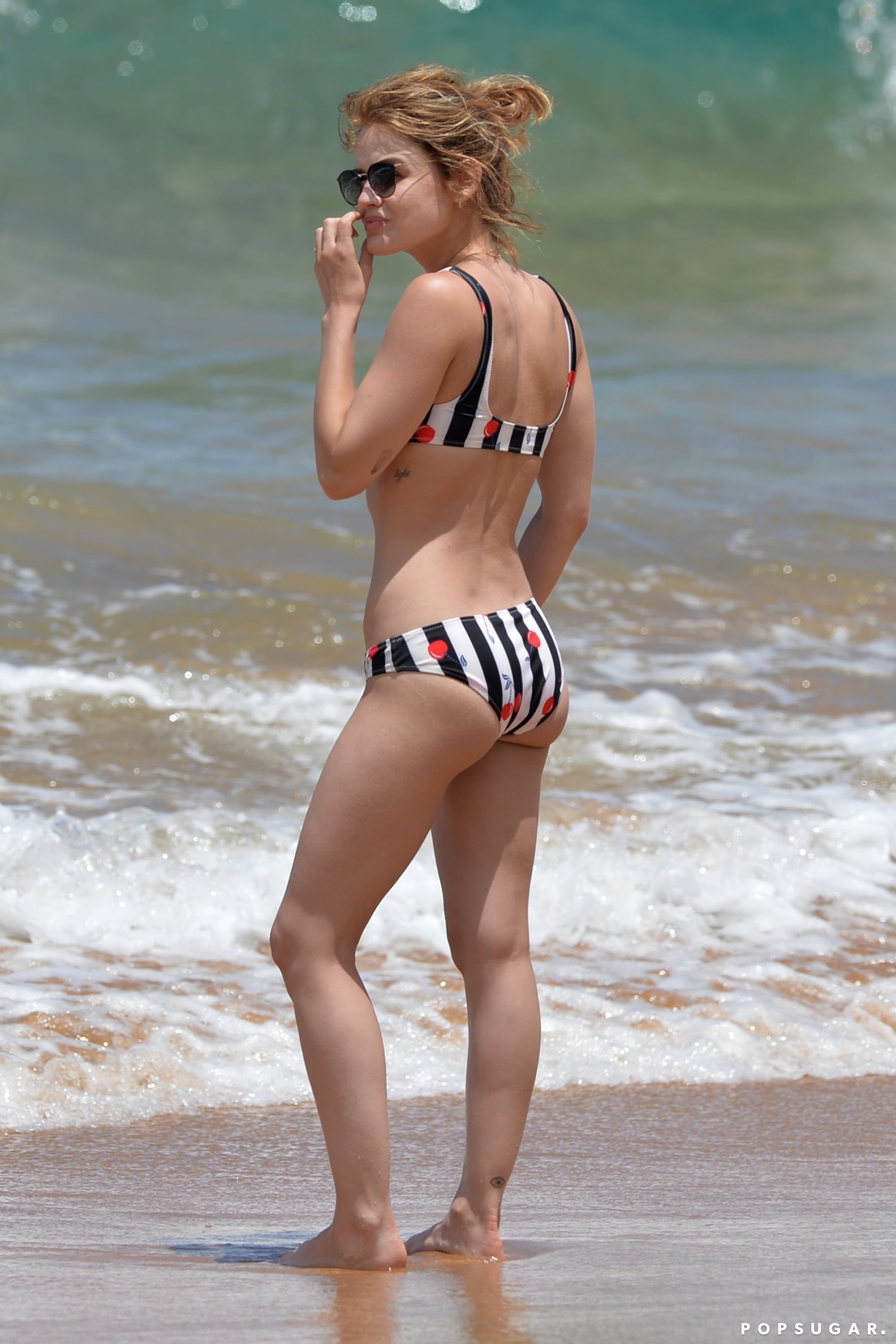 on the Fox reality television show American Juniors, finishing in fourth place. A short-lived collaboration with the top 5 finishers (Chauncey Matthews, Danielle White, and Tori & Taylor Thompson) fizzled in 2005 after
their American Juniors album's lackluster sales.
Upon moving to Los Angeles in the hopes of getting a record deal, her subsequent auditioning landed her minor roles on the Nickelodeon series Drake & Josh and Ned's Declassified School Survival Guide. Paying her dues, she appeared in guest roles on the shows The O.C. (FOX), How I Met Your Mother (CBS), Wizards of Waverly Place (Disney Channel), Bionic Woman (NBC), and Privileged (The CW). Expanding her horizons, in 2008 she made her feature motion picture debut in the film The Sisterhood of the Traveling Pants 2. She also starred in the Lifetime television movie Sorority Wars.
Star Television Personality & Hollywood Actress Lucy Hale

Body Type One Shape
Finally breaking through in 2009, she was cast as Aria Montgomery in the Freeform television series Pretty Little Liars. The series lasted seven seasons from 2010 to 2017 and she received widespread positive critical acclaim for
her performances. To date, she is credited with diverse roles as an actress and TV personality on the shows Punk'd (2012, MTV),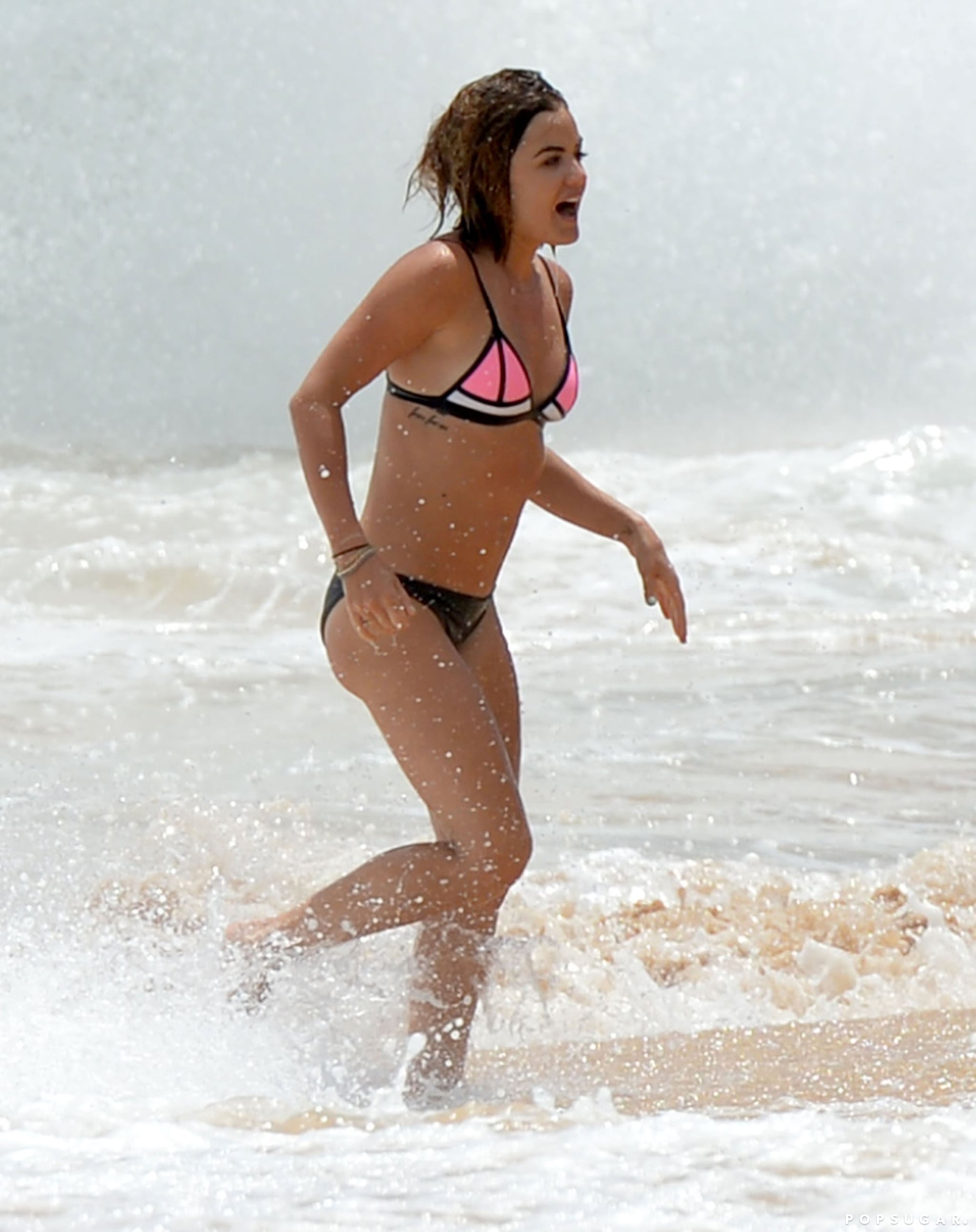 Teen Choice Awards (2013, 2019, FOX), Baby Daddy (2014, Freeform/ABC Family), 2014 MTV Video Music Awards, Dick Clark's New Year's Rockin' Eve (2016, 2021, ABC), Life Sentence (2018, The CW), Hollywood Medium with Tyler Henry (2018), Ryan Hansen Solves Crimes on Television (2019, Youtube Red), Riverdale (2020-21The CW), Katy Keene (2020, The CW), and Ragdoll (2022, AMC). 
Moreover, her movies include Fear Island (2009), Scream 4 (2011, cameo), A Cinderella Story: Once Upon a Song (2011), Secret of the Wings (2012, voice), Truth or Dare (2018), Dude (2018), The Unicorn (2018), Trouble (2019), Fantasy Island (2020), A Nice Girl Like You (2020), Son of the South (2020), The Hating Game (2021), Borrego (2022), Big Gold Brick (2022), The Storied Life of A. J. Fikry (2022, executive producer), Inside Man (2023), and Puppy Love (2023). Her next project is the film Which Brings Me to You, in which she is also a producer. 
Businesswoman & Singer Lucy Hale

Body Type One Shape
Her self-described "first love" is music. As a musician, she released the studio album Road Between in 2014 via the label Hollywood/DMG Nashville (Disney Music Group) which sold 44,000+ copies. It reached number 14 on the Billboard Hot 200 and number 4 on the Billboard Top Country Albums chart. The song You Sound Good to Me peaked at number 88 on the Billboard Hot 100. She also has credits on the soundtrack albums A Cinderella Story: Once Upon a Song (2011), Katy Keene: Special Episode –Kiss of the Spider Woman: The Musical (2020), and Katy Keene: Season 1 (Original Television Soundtrack, 2020). 
In terms of being a businesswoman, in 2013 she became an ambassador of the beauty brand Mark Girl. In 2021 she became the brand ambassador and model for the lingerie company Hunkemöller. Lucy Hale's demanding acting responsibilities likely help with maintaining her body shape figure by increasing her metabolic rate thus burning more calories to keep excess regular fat weight at bay. She has been romantically linked to Skeet Ulrich, Colton Underwood, David Henrie, Chris Zylka, and Ryan Rottman.
Her net worth is estimated to be $6 million. You can catch her on social media including Instagram, Facebook, Twitter, and Tiktok. See more businesswoman, producer, singer, and star Hollywood actress Lucy Hale celebrity Body Type One (BT1) photos on Google.
Review the Body Type Science Data or take the Scientific Body Type Quiz/Test for women and men.
---