---
---
Celebrity Body Types: Margot Robbie (Margot Elise Robbie)
---
The Four Body Types Scientific Identification: Body Type Two, BT2
Female/Woman
Genetically Underdeveloped Vertebrae (Muscles/Muscle Mass): 1 to 8; Lumbar (Possibly Sacrum)
Date of Birth: July 2, 1990
Age: 32 (as of 2022)
Unscientific/Nonsense Body Types Rough Correlations: Ectomorph, Kibbe/Flamboyant Natural, Hormone/Ovary

Learn How The Four Body Types Determines A Celebrity Body Type Like Margot Robbie
---
---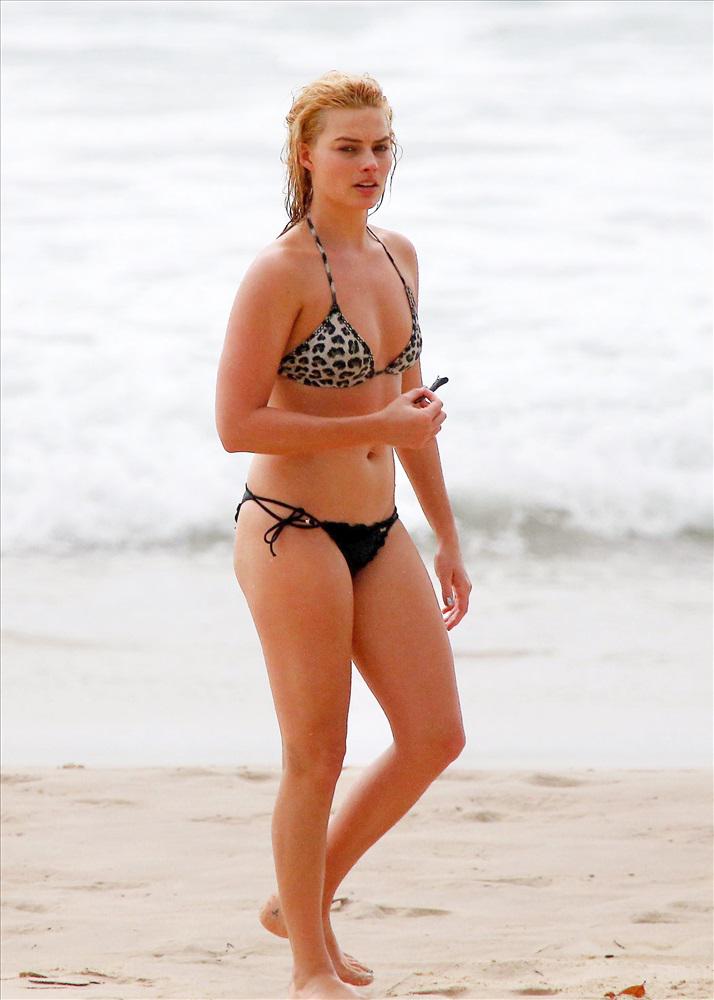 Celebrity Margot Robbie shows off her Body Type Two (BT2) shape figure/physique while taking time off at the
beach. The full development of her lower lumbar vertebrae and related muscles/muscle mass is debatable. The candid images reveal some skinny fat (cellulite, thin fat, loose skin, saggy
skin, crepey skin, normal weight obesity) on no less than her stomach and lower back indicating
she most likely has at least a slightly
underdeveloped lumbar vertebra(e)
or two, along with possibly her sacrum vertebra.
Science recognizes that one pound of muscle mass burns six calories daily, but one pound of skinny fat/fat burns only two to three calories daily. Which directly affects metabolism (the more skinny fat and fat, the slower the metabolism). The mostly developed vertebrae, muscles, and muscle mass across the majority of her BT2 is an advantage that Body Type Three (BT3) and Body Type Four (BT4) human bodies (female or male) generally lack.
Diet, exercise, lifestyle, metabolism, and BMI matter, but so do genes/genetics/DNA. It will be interesting to see how well Margot Robbie manages and maintains her body shape figure/physique as she ages. Is she really a Body Type One (BT1)?
---
---
---
Margot Robbie Figure/Shape – BT2
Academy Award-nominated actress Margot Robbie enjoys a day at the ocean in her Body Type Two shape/figure with friends and family including her husband Tom Ackerley. Her entertainment career began when she was 18, landing a role on the Australian television soap opera series Neighbours (2008–2011, 2022). After a stint on the 1960s Jet Age TV show Pan Am (2011–2012), her breakthrough came in 2013 with the black comedy film The Wolf of Wall Street.
Landing starring roles as Jane Porter in The Legend of Tarzan (2016) as well as Harley Quinn in the DC superhero films Suicide Squad (2016), Birds of Prey: And the Fantabulous Emancipation of One Harley Quinn (2020), and The Suicide Squad (2021) have helped her achieve wider recognition. Her first academy award nomination came with the film I, Tonya (2017, Best Actress). That was followed by a second nomination for Best Supporting Actress in the movie Bombshell (2019).
Actress Margot Robbie – Body Type Two
She has also been in the films Vigilante (2008), I.C.U. (2009), About Time (2013), Suite Française (2014), Focus (2015), Z for Zachariah (2015), Whiskey Tango Foxtrot (2016), Goodbye Christopher Robin (2017), Terminal (2018), Mary Queen of Scots (2018), Dreamland (2018), Slaughterhouse Rulez (2018), and Once Upon a Time in Hollywood (2019). Margot Robbie's body shape figure benefits from her successful, demanding, and diverse Hollywood movie career which helps increase her metabolism, thus burning more calories to keep any excess fat at bay. Her upcoming movies are Amsterdam (2022), Babylon (2022), and Barbie (2023).
She has an estimated net worth of $26 million. You can catch her on social media including Instagram and Facebook. See more producer, actress, and Hollywood star Margot Robbie celebrity Body Type Two (BT2) photos on Google.
Review the Body Type Science Data or take the Scientific Body Type Quiz/Test for women and men.  
---