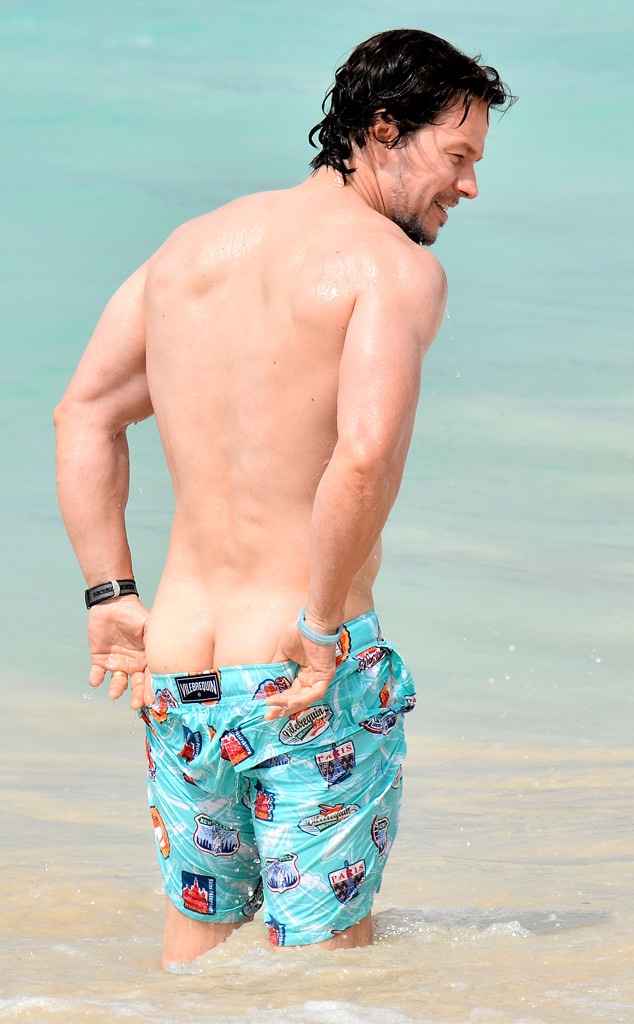 ---
---
Celebrity Body Types: Mark Wahlberg (Mark Robert Michael Wahlberg, AKA Marky Mark)
---
The Four Body Types Scientific Identification: Body Type One, BT1
Male/Man
Genetically Underdeveloped Vertebrae (Muscles/Muscle Mass): None/0
Date of Birth: June 5, 1971
Age: 51 (as of 2022)
Unscientific/Nonsense Body Types Rough Correlations: Mesomorph, Hormone/Adrenal
---
---
Celebrity Mark Wahlberg displays his Body Type One (BT1) shape physique/figure while taking time off at the ocean
with friends and family including his wife Rhea Durham. The fully developed vertebrae (posture) and muscles/muscle mass
are obvious. Now in his 50s, he is showing no signs of skinny fat (cellulite, thin fat, loose skin,
saggy skin, crepey skin, normal weight obesity) anywhere on his body.
One pound of muscle burns six calories per day, but one pound of skinny fat/fat only burns two to three. Which directly affects metabolism (the more skinny fat and fat, the slower the metabolism). Having a strong metabolism because of all that muscle and muscle mass, no less, is an advantage that a fully developed BT1 offers, including aging gracefully.
Diet, exercise, lifestyle, metabolic rate (BMR), and BMI matter. But so do genes/genetics/DNA. It will be interesting to see as the years pass how well Mark Wahlberg successfully maintains his thoroughly muscular body shape physique/figure.
---
---
---
Mark Wahlberg Physique/Shape – BT1
A-list Academy Award-nominated and Emmy-Award-nominated Hollywood superstar actor Mark Wahlberg shows off his Body Type One physique while
exercising and taking time off at the ocean. Over the years, the demanding physical requirements for his typical strong-man
Hollywood movies further increases his metabolic rate. All of which help him burn more calories to keep any excess fat at bay to maintain his body physique.
His long list of movie credits over his successful career include Father Stu (2022), Uncharted (2022), Infinite (2021), Transformers: The Last Knight (2017), All the Money in the World (2017), Deepwater Horizon (2106), Daddy's Home (2015), Lone Survivor (2013), Pain & Gain (2013), Ted (2012), The Other Guys (2010), Date Night (2010), The Fighter (2010), The Happening (2008), Max Payne (2008), We Own the Night (2007), The Departed (2006), Invincible (2006), I Heart Huckabees (2004), The Italian Job (2003), The Truth About Charlie (2003), Planet of the Apes (2001), Three Kings (1999), Traveller (1997), Boogie Nights, (1997), and The Basketball Diaries (1995).
He is also an Emmy Award-nominee for the television series Entourage (2007-2009, Outstanding Comedy Series), Boardwalk Empire (2011-2012, Outstanding Drama Series), Wahlburgers (2014-2015, Outstanding Unstructured Reality Program), and McMillions (2020, Outstanding Documentary or Nonfiction Series).
A-List Superstar Hollywood Actor Mark Wahlberg Body Type One
His businessman prowess includes being co-owner of the restaurant Wahlburgers with his brothers Donnie
and Paul, controlling equity interest of the Barbados Tridents cricket team,
investing in the bottled water brand Aquahydrate with Sean Combs and billionaire Ronald Burkle as well as the Tequila brand Flecha Azul, the purchase of Bobby Layman Chevrolet in Columbus, Ohio, and launching Ballers Report, an online platform (and spin-off of their HBO series Ballers) that features inspiring business, entertainment, and sports articles, videos and podcasts. As a model of fashion, his rapper persona Marky Mark is most well known for his Calvin Klein underwear advertisements.
His net worth is estimated to be $420 million. You can catch him on social media including Instagram, Facebook, and Twitter. See more former rapper, fashion model, businessman, producer, actor, and A-list Hollywood superstar Mark Wahlberg celebrity Body Type One (BT1) photos on Google.
Review the Body Type Science Data or take the Scientific Body Type Quiz/Test for women and men.
---