---
---
Celebrity Body Types: Meagan Good (Meagan Monique Good)
---
The Four Body Types Scientific Identification: Body Type One, BT1 (Possible Body Type Two)
Female/Woman
Genetically Underdeveloped Vertebrae (Muscles/Muscle Mass): None/0 (Possibly Sacrum)
Date of Birth: August 8, 1981
Age: 41 (as of 2022)
Unscientific/Nonsense Body Types Rough Correlations: Ectomorph, Kibbe/Theatrical Romantic, Hormone/Ovary
---
---
Celebrity Meagan Good shows off her genetic scientific Body Type One (BT1) shape figure/physique while taking time off with her friends and family including her ex-husband DeVon Franklin. The
candid images reveal no real signs of skinny fat (cellulite, thin fat, loose skin, saggy skin, crepey skin, normal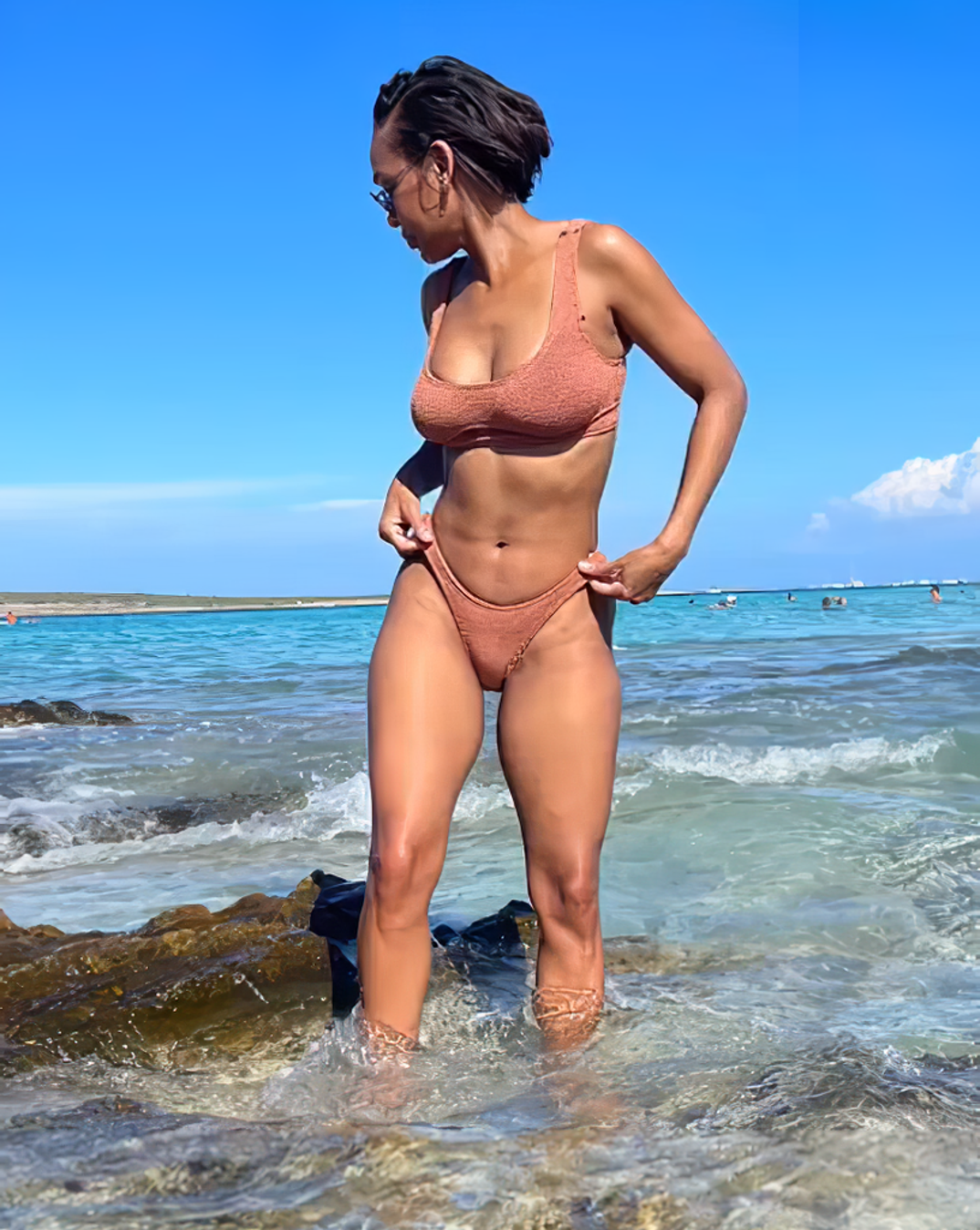 weight obesity) anywhere on her body. The full development of her vertebra (posture) and muscles/muscle mass is currently not in debate. 
Science recognizes that one pound of muscle burns six
calories daily, but one pound of regular fat (white fat/yellow fat/excess fat) and/or skinny fat only burns two to three calories. Which directly affects metabolism (the more skinny fat and/or regular fat, the slower the metabolism). Having so many developed vertebrae, muscles, and muscle mass assists greatly in terms of metabolism/metabolic rate (BMR), including aging gracefully.
Genetics/genes/DNA are important. But diet, exercise, metabolism, BMI, and lifestyle also matter. As she continues to age, it will be interesting to see how well Meagan Good maintains her body shape figure/physique. Is she really a Body Type Two (BT2) with a slightly underdeveloped sacrum vertebra and possibly a lumbar vertebra(e)?
---
---
---
Meagan Good Figure/Shape – BT1
Star Hollywood actress Meagan Good displays her Body Type One shape/figure during her vacation and on the red carpet. Her entertainment career began as an extra on the television shows Doogie Howser, M.D. (ABC) and Amen (NBC). At age 13, she landed her first major motion picture role in the 1995 comedy film
Friday. She gained positive critical recognition for her performance as troubled teen Cisely Batiste in the 1997 movie Eve's Bayou. Paying her dues, she appeared in small film roles including The Secret Life of Girls (1999), 3 Strikes (2000), House Party 4: Down to the Last Minute (2001), and Unglued (2002) as well as bit-parts on the television shows Touched by an Angel (CBS, 1997), The Parent 'Hood (The CW, 1998), Nothing Sacred (ABC, 1998), Cousin Skeeter (1998-2000, Nickelodeon), Moesha (UPN, 2000), The Steve Harvey Show (The WB, 2001), The Division (Lifetime, 2001), The Famous Jett Jackson (Disney Channel, 2001), and Raising Dad (The WB, 2001-2002), no less. 
Finally breaking through in 2003, her roles in the movies Biker Boyz and Deliver Us from Eva helped her transition from child to adult actress. Over the years, she has been credited with no less than the films D.E.B.S. (2004), You Got Served (2004), The Cookout (2004), Venom (2005), Miles from Home (2006), Stomp the Yard (2007), The Love Guru (2008), Saw V (2008), The Unborn (2009), Jumping the Broom (2011), 35 and Ticking (2011), Think Like a Man (2012), Don Jon (2012), Anchorman 2: The Legend Continues (2012), Think Like a Man Too (2014), A Girl Like Grace (2015), Deuces (2017), A Boy. A Girl. A Dream. (2018), Shazam! (2019), The Intruder (2019), Monster Hunter (2020), Day Shift (2022), and Shazam! Fury of the Gods (2023). Her next upcoming movie project is Buying Back My Daughter (TBD). 
Star Hollywood Actress Meagan Good Body Type One Shape
As for television series, her numerous diverse parts include the shows My Wife and Kids (ABC, 2003), Kevin Hill (UPN, 2005), House (FOX, 2007), Cold Case (CBA,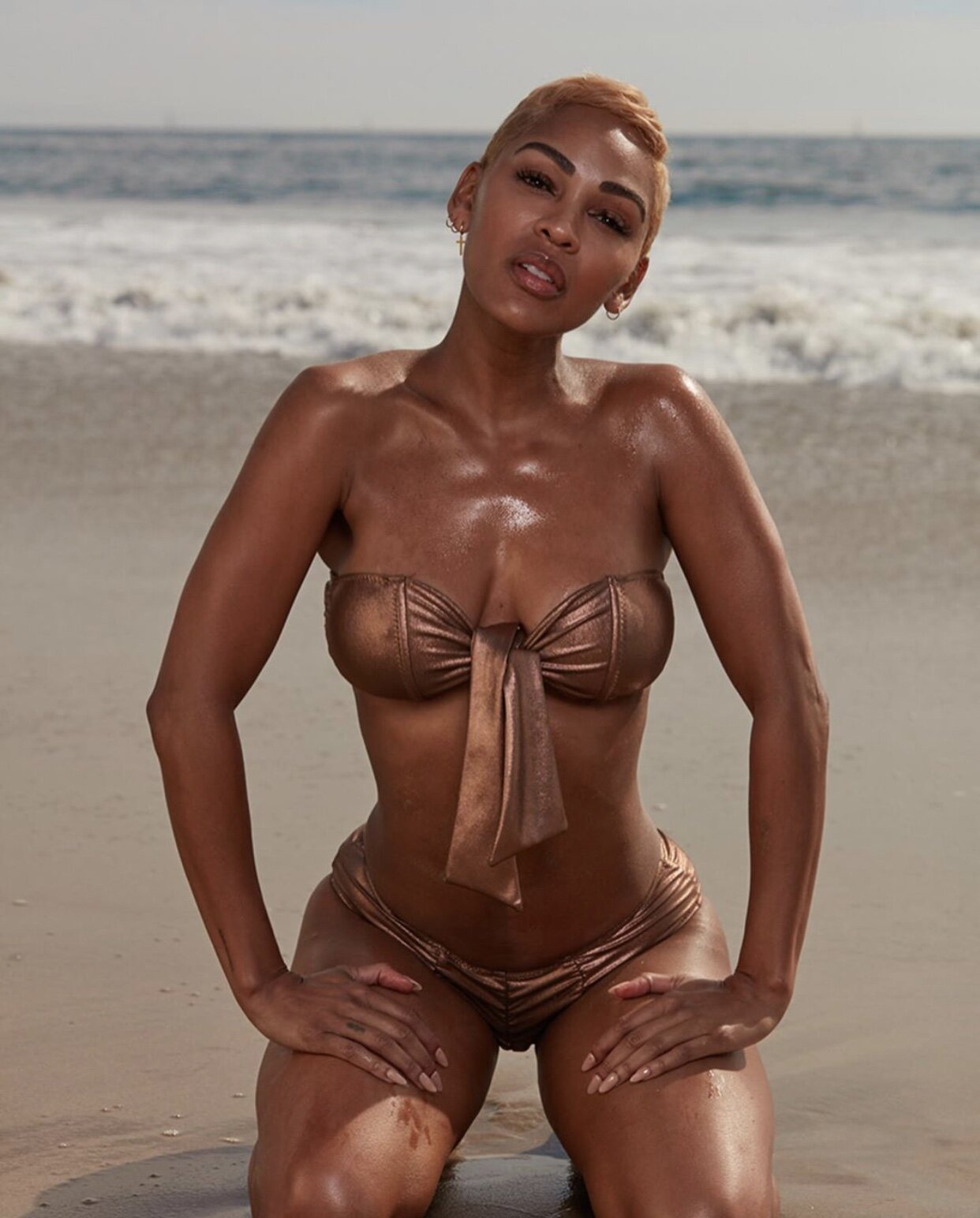 2009), The Game (The CW, 2011), Californication (Showtime, 2012), Deception (NBC, 2013), Law & Order: Special Victims Unit (NBC, 2014), Mr. Robinson (NBC, 2015), Minority Report (FOX, 2015), Code Black (CBS, 2016), White Famous (Showtime, 2017), Star (FOX, 2018), Prodigal Son (FOX, 2019-2020), To Tell the Truth (ABC, 2020), American Masters (PBS, 2021), Death Saved My Life (Lifetime, 2021), Celebrity Family Feud (ABC, 2022), Harlem (Amazon Prime, 2021-2023), and The Eric Andre Show (Adult Swim/Cartoon Network, 2023), at least.
Moreover, she appeared in the 2003 50 Cent music video 21 Questions and the documentary Good Hair that same year. Meagan Good's demanding acting responsibilities likely help with maintaining her body shape figure by increasing her metabolic rate thus burning more calories to keep excess fat weight at bay. She has been romantically linked to LeBron James, Nick Cannon, Jamie Foxx, Joseph Gordon-Levitt, 50 Cent, Tyrese Gibson, and Lil' Wayne.
She has an estimated net worth of $5 million. You can catch her on social media including Instagram, Facebook, and Twitter. See more star Hollywood actress Meagan Good celebrity Body Type One (BT1) photos on Google.
Review the Body Type Science Data or take the Scientific Body Type Quiz/Test for women and men.
---