---
---
Celebrity Body Types: Megan Thee Stallion (Megan Jovon Ruth Pete)
---
The Four Body Types Scientific Identification: Body Type Two, BT2 (Possible Body Type Three)
Female/Woman
Genetically Underdeveloped Vertebrae (Muscles/Muscle Mass): 1 to 8; Thoracic, Lumbar, Sacrum
Date of Birth: February 15, 1995
Age: 28 (as of 2023)
Unscientific/Nonsense Body Types Rough Correlations: Endomorph, Kibbe/Flamboyant Natural, Hormone/Ovary
Learn How The Four Body Types Determines A Celebrity Body Type Like Megan Thee Stallion
---
---
---
Megan Thee Stallion shows off her Body Type Two (BT2) shape figure/physique while enjoying a leisurely day off with friends and family including her boyfriend Pardison "Pardi" Fontaine. The full development of her vertebrae
(posture) and muscles/muscle mass is debatable. The skinny fat (cellulite, thin fat, loose skin, saggy skin, crepey skin, normal weight obesity)
on her upper legs, buttocks, and lower back, no less, indicates she has at least an
underdeveloped lumbar and sacrum vertebrae, and likely at least one underdeveloped thoracic vertebra, if not a few.
Science recognizes that one (1) pound of muscle burns six (6) calories daily but one (1) pound of fat/skinny fat only burns two (2) to three (3) calories. Which directly affects metabolism (the more skinny fat and fat, the slower the metabolism). The mostly developed posture, muscles, and muscle mass across the majority of her BT2 is an advantage that Body Type Three (BT3) and Body Type Four (BT4) human bodies (female or male) generally lack. 
Because she is still young, it is possible that as Megan Thee Stallion ages her body shape figure/physique will actually be revealed as a strong Body Type Three (BT3). Time will tell. Diet, exercise, lifestyle, metabolism, and BMI matter, but so do genes/genetics/DNA.
---
---
---
Megan Thee Stallion Figure/Shape – BT2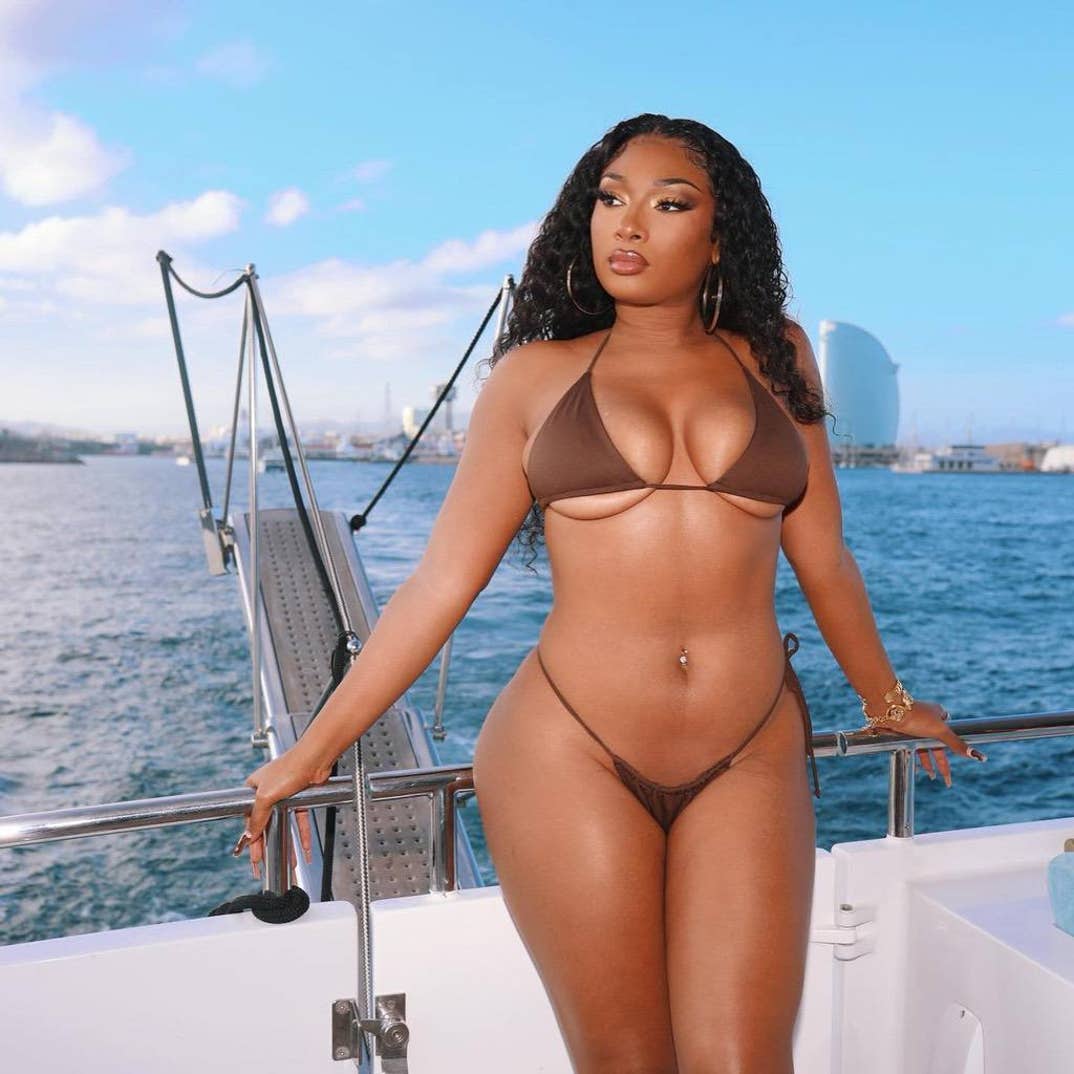 Grammy Award-winning rapper Megan Thee
Stallion displays her Body Type Two shape/figure while catching some rays. She was nominated for four Grammys in 2021. Winning twice, she took home Grammys for Best Rap Performance (song: Savage, Beyoncé remix) and Best New Artist.
Playing all those live music concerts while on tour helps keeps her metabolism increased to burn more calories. Recently opening up about her 2020 shooting incident, she emotionally reflected on the crazy experience. Moreover, her electric performance at Coachella 2022 involved pouring alcohol into fans' mouths as she was entertaining them. She is currently dating Pardison Fontaine.
Her estimated net worth is $8 million. You can catch her on social media including Instagram, Facebook, TikTok, and Twitter. See more musician, songwriter, and rapper Megan Thee Stallion celebrity Body Type Two (BT2) photos on Google. Review the Body Type Science Data or take the Scientific Body Type Quiz/Test for women and men.
---