---
Celebrity Body Types: Paul Rudd (Paul Stephen Rudd)
---
The Four Body Types Scientific Identification: Body Type One, BT1
Male/Man
Genetically Underdeveloped Vertebrae (Muscles/Muscle Mass): None/0
Date of Birth: April 6, 1969
Age: 54 (as of 2023)
Unscientific/Nonsense Body Types Rough Correlations: Ectomorph, Hormone/Adrenal
---
---
Celebrity Paul Rudd displays his genetic scientific Body Type One (BT1) shape physique/figure while taking time off with friends and family including his wife Julie
Yaeger. He is showing no real signs of skinny fat (cellulite, thin fat, loose skin,
saggy skin, crepey skin, normal weight obesity) anywhere on his body. The full development of his vertebrae
(posture) and muscles/muscle mass is currently not in debate.
Science recognizes that one pound of muscle burns six calories per day, but one pound of regular fat (white fat/yellow fat/excess fat) and/or skinny fat only burns two to three calories. Which directly affects metabolism (the more skinny fat and/or regular fat, the slower the metabolism) as well as genetic body composition and shape. Having a strong metabolism because of all that muscle and muscle mass, no less, is an advantage that a fully developed BT1 typically offers, including aging gracefully.
Diet, exercise, lifestyle, metabolic rate (BMR), and BMI matter. But so do genes/genetics/DNA. As he continues to age, it will be interesting to see how well Paul Rudd successfully maintains his body shape physique/figure. Is he really a Body Type Two (BT2)?
---
---
---
Paul Rudd Physique/Figure – BT1
A-list star Hollywood actor Paul Rudd shows off his Body Type One shape/physique during his vacation. He began acting at age twenty-three playing a recurring role in the NBC television series Sisters (1992-1995). In 1995, he made his major motion picture debut in the popular film Clueless and also starred as Tommy Doyle in Halloween: The Curse of
Michael Myers.
Following diverse roles in the films Romeo + Juliet (1996), The Locusts (1997), Overnight Delivery (1998), The Object of My Affection (1998), 200 Cigarettes (1999), The Cider House Rules (1999), Gen-Y Cops (2000), Wet Hot American Summer (2001), The Château (2001), The Shape of Things (2003), and 2 Days (2003), he finally broke through in the 2004 cult hit Anchorman: The Legend of Ron Burgundy. As well, he landed multiple episodes on the smash NBC juggernaut comedy series Friends between 2002 and 2004. He entered the Marvel Comics universe in 2015 as the star of Ant-Man (also a screenwriter). The Ant-Man Franchise grew with further portrayals in Captain America: Civil War (2016), Ant-Man and the Wasp (2018, also a writer), Avengers: Endgame (2019), and Ant-Man and the Wasp: Quantumania (2023).
A-List Star Hollywood Actor Paul Rudd Body Type One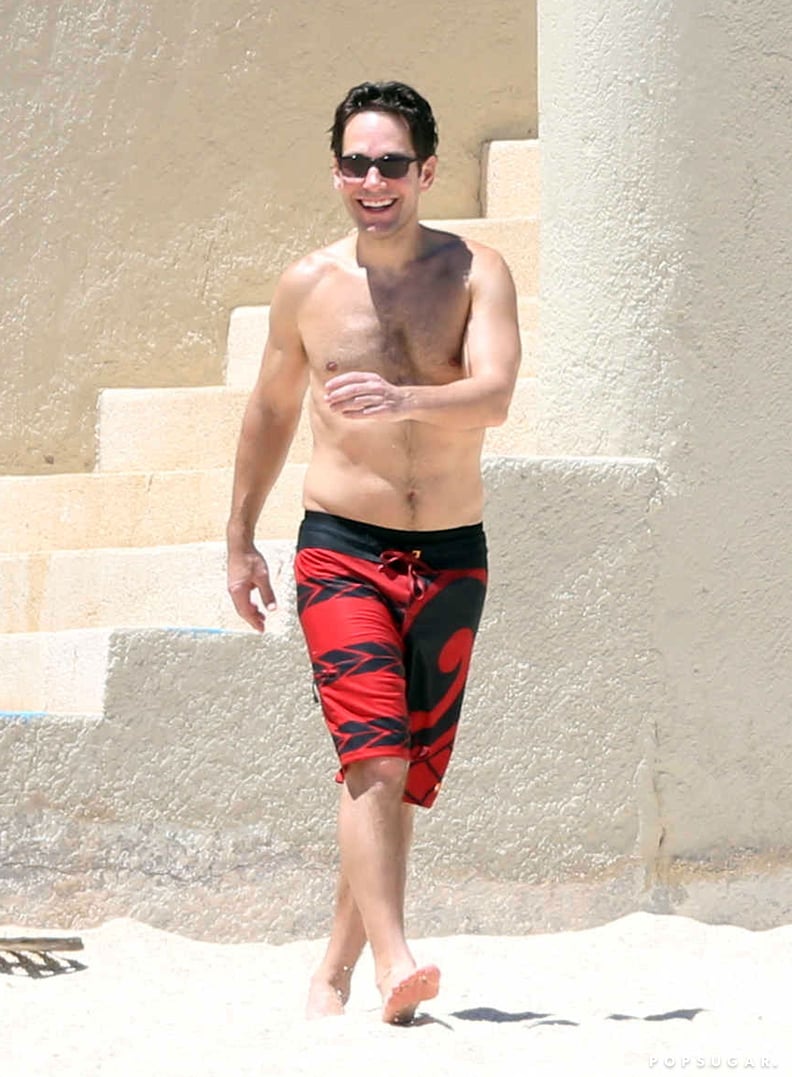 Over his long successful entertainment career, he is credited with no less than the movies The Oh in Ohio (2006), Night at the Museum (2006), I Could Never Be Your Woman (2007), The Ten (2007, also producer), Knocked Up (2007), Over Her Dead Body (2008), Forgetting Sarah Marshall (2008), Role Models (2008), I Love You, Man (2009), Year One (2009), Dinner for Schmucks (2010), How Do You Know (2010), Our Idiot Brother (2011), Wanderlust (2012, also producer), This Is 40 (2012), Admission (2013), Anchorman 2: The Legend Continues (2013), They Came Together (2014), The Little Prince (2015), The Fundamentals of Caring (2016), Sausage Party (2016, voice), Fun Mom Dinner (2017, also executive producer), The Catcher Was a Spy (2018), Between Two Ferns: The Movie (2019), Ghostbusters: Afterlife (2021), and Teenage Mutant Ninja Turtles: Mutant Mayhem (2023). His next upcoming projects are Ghostbusters: Frozen Empire (2024) and Death of a Unicorn (TBD, also executive producer). 
His television appearances include episodes of Strangers with Candy (2001, Comedy Central), Stella (2005, Comedy Central), Cheap Seats (2006, ESPN), Robot Chicken (2006, Adult Swim), Reno 911! (2006-2007, Comedy Central), Veronica Mars (2007, UPN), The Simpsons (2011, 2014 2020, FOX), Parks and Recreation (2012, 2015, 2020, NBC), Bob's Burgers (2016, FOX), Last Week Tonight with John Oliver (2020, HBO), The Shrink Next Door (2021, Apple TV+, also executive producer), and Impractical Jokers (2023, TruTV), to name a few. He has hosted the legendary NBC late-night comedy skit show Saturday Night Live (2008-2022) five times. Moreover, he has five stage appearances, most recently performing in the 2012 play Craig Wright's Grace at Cort Theatre.
Sexiest Man Alive Paul Rudd Body Shape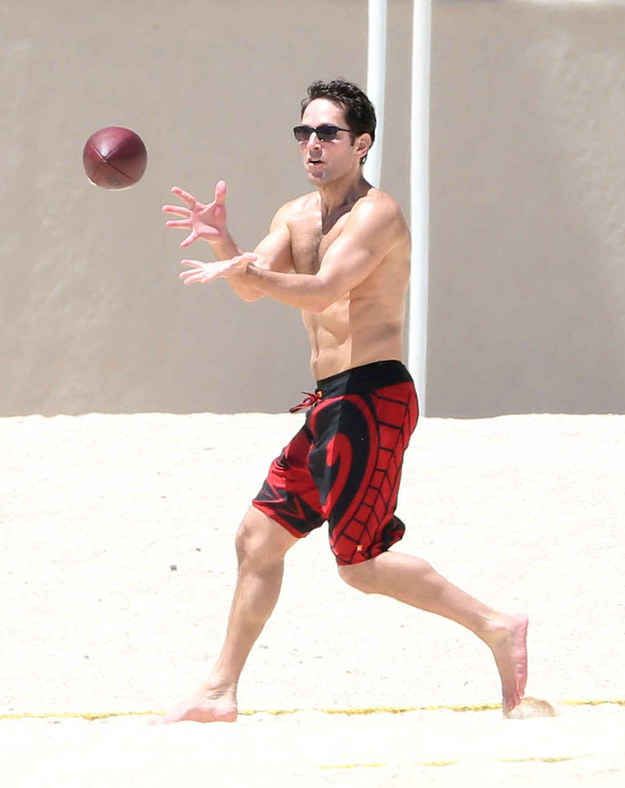 In 2021, he was PEOPLE magazine's Sexiest Man Alive. He also received a star on the Hollywood Walk of Fame in 2015 and was on the Forbes Celebrity 100 list in 2019. In terms of philanthropy, he focuses on the Stuttering Association for the Young (SAY), is the founder of The Big Slick which supports Kansas City's Children's Mercy Hospital, and Seth Rogen's Hilarity for Charity helping increase awareness and investment in Alzheimer's research. Paul Rudd's demanding acting responsibilities along with diet, exercise, and lifestyle choices likely help increase his metabolic rate and encourage the burning of more calories which help keep any excess fat weight at bay, thus allowing him to maintain his body shape physique/figure.
His estimated net worth is $70 million. You can catch him on social media including Instagram and Twitter. See more comedian, producer, screenwriter, and A-list star Hollywood actor Paul Rudd celebrity Body Type One (BT1) photos on Google.
Review the Body Type Science Data or take the Scientific Body Type Quiz/Test for women and men.
---