---
---
Celebrity Body Types: Rebel Wilson (Rebel Melanie Elizabeth Wilson)
---
The Four Body Types Scientific Identification: Body Type Three, BT3 (Possible Body Type Four)
Female/Woman
Genetically Underdeveloped Vertebrae (Muscles/Muscle Mass): 9 to 17; Thoracic, Lumbar, Sacrum (Possibly Cervical & Coccyx)
Date of Birth: March 2, 1980
Age: 43 (as of 2023)
Unscientific/Nonsense Body Types Rough Correlations: Endomorph, Kibbe/Soft Gamine, Hormone/Thyroid
---
---
Celebrity Rebel Wilson shows off her Body Type Three (BT3) shape figure/physique in the hit
movie Bridesmaids (the infamous Mexican worm tattoo) and while on vacation at the beach. The full development of her vertebrae (posture)
and muscles/muscle mass is debatable. The obvious excess fat and skinny fat (cellulite, thin fat, loose skin, saggy skin, crepey skin,
normal weight obesity) likely covers from no less than her upper thoracic vertebrae down to her sacrum vertebra, and maybe even her cervical and coccyx.
The image in the black one-piece swimsuit post-weight loss shows the obvious cellulite on her upper legs, no less. Whereas the images with her in the hat and white/blue bathing suit were from when she was experiencing being overweight with too much fat on her body (obesity). Science recognizes that one (1) pound of muscle burns six (6) calories daily but one (1) pound of fat/skinny fat only burns two (2) to three (3) calories. Which directly affects metabolism (the more skinny fat and fat, the slower the metabolism). Diet, exercise, lifestyle, metabolism, and BMI matter, but so do genes/genetics/DNA.
Having lost roughly 80 pounds recently, she is very likely no longer overweight/obese and is now within her safe Body Mass Index (BMI) weight range. So, why does Rebel Wilson's figure not look like the Standard Scientific Human Body Anatomy Book Body Type One (BT1) shape as mainstream scientists and medical doctors say she is (and always has been) once within safe BMI? Where is all the muscle/muscle mass that science adamantly claims is already on every human body once within safe BMI?
---
---
---
Rebel Wilson Figure/Shape- BT3, Where is the Muscle?
Perhaps Rebel Wilson is just very conservative or shy in her personal life about her body shape/figure?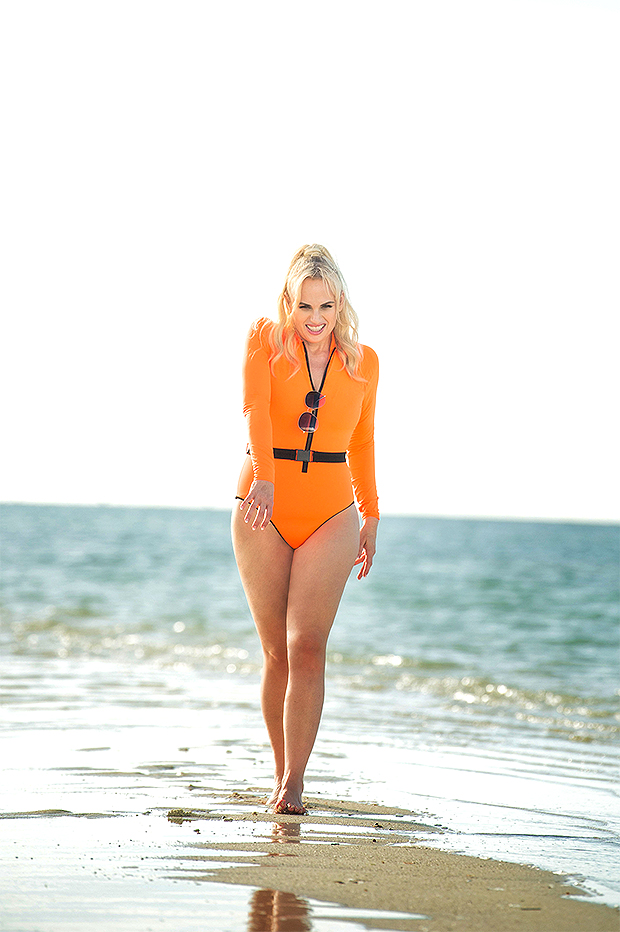 However, after all that weight management effort and work one would
think she would want to show off her weight loss success at the beach and other appropriate places. Instead, she seems to be covering most of her body for some reason.
Why?
Probably because she has copious skinny fat covering a good portion of her body where there should be muscles/muscle mass. A common disadvantage of a BT3 and prevalent occurrence for many people who lose a lot of weight who are not a BT1. Wherever there is skinny fat on the body, the probabilities increase that those areas will more easily put on excess fat weight. The more skinny fat a body has, the more difficult it is to keep the excess fat off because skinny fat and fat slow metabolism/metabolic rate.
Presently, there is no FDA-approved way to get rid of any type of skinny fat (there currently are 6 types including cellulite); you can only reduce it.
Properly building muscles/muscle mass through resistance (weightlifting, calisthenic, and/or isometric) exercise is the key to reducing skinny fat. Medium-intensity, steady cardio like walking or hiking will burn more calories. High-quality and balanced diet and lifestyle (sleep, stress, etc.) routines are vital. It will be interesting to see how well Rebel Wilson manages and maintains her weight and body shape figure as she continues to age.
Body Positivity/Body Positive Movement – Rebel Wilson Body Type Three
As the body positive movement/body positivity is not an acceptable excuse to normalize the disease of
obesity and disregard health, Rebel Wilson is highly commended for all her hard work to successfully lose weight. At the same time, fat-shaming, hating, trolling, and bullying are not appropriate and will not be tolerated. The key to real health is acceptance of your specific scientific body type (genetics) and then figuring out the best diet, exercise, and lifestyle to successfully manage it for the short and long term to achieve sustainable health.
Her net worth is estimated to be $22 million. You can catch her on social media including Instagram, Twitter, and TikTok. See more actress and Hollywood star Rebel Wilson celebrity Body Type Three (BT3) photos on Google.
Review the Body Type Science Data or take the Scientific Body Type Quiz/Test for women and men.
---