---
---
Celebrity Body Types: Brad Pitt (William Bradley Pitt)
---
The Four Body Types Identification: Body Type One, BT1
Male/Man
Genetically Underdeveloped Vertebrae (Muscles/Muscle Mass): None/0
Date of Birth: December 18, 1963
Age: 59 (as of 2022)
Unscientific/Nonsense Body Types Rough Correlations: Mesomorph, Hormone/Adrenal
Learn How The Four Body Types Determines A Celebrity Body Type Like Brad Pitt
---
---
---
Celebrity Brad Pitt displays his
Body Type One (BT1) shape physique/figure on vacation with his current girlfriend Ines de Ramon. The fully developed vertebrae (posture) and muscles/muscle mass are obvious. He is showing no signs of skinny fat (cellulite, thin fat, loose skin, saggy skin, crepey skin, normal weight obesity) anywhere on his body.
He has been known to avidly lift weights to add additional muscles/mass to his BT1. All that extra muscle may take him outside of his scientifically safe BMI weight range. However, he is obviously not overweight or obese in terms of excess fat on his body. One main reason why the BMI weight scale is not very accurate.
One (1) pound of muscle mass burns six (6) calories per day, but one (1) pound of skinny fat/fat mass only burns two (2) to three (3) calories daily. Which directly affects metabolism (the more skinny fat and fat, the slower the metabolism). Diet, exercise, lifestyle, metabolism, and BMI matter, but so do genes/genetics/DNA. It will be interesting to see how well Brad Pitt maintains his muscular physique/body shape as he continues to age.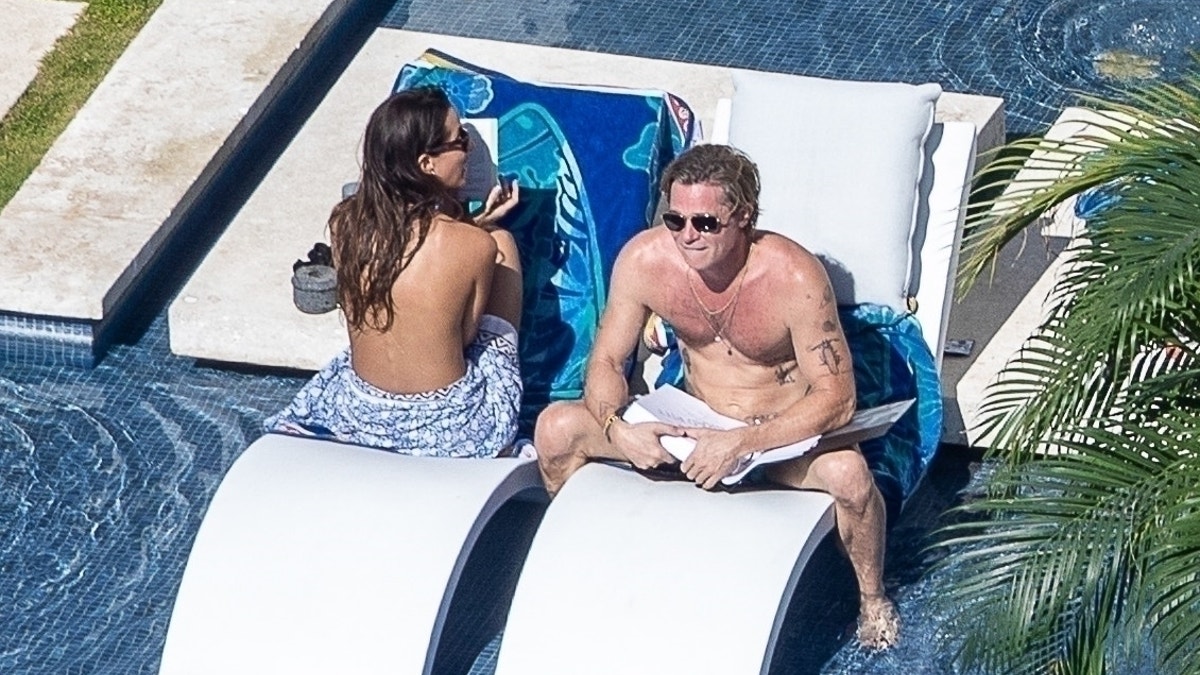 ---
---
---
Brad Pitt Physique – BT1
Academy Award-winning superstar actor Brad Pitt shows off his Body Type One physique during photoshoots in his younger years and while acting. His entertainment career began with
multiple uncredited bit-part roles in 1987, with his first credited role coming in the movie The Dark Side of the Sun (1988).
Breaking
through as a cowboy hitchhiker in the Ridley Scott road film Thelma & Louise (1991), his ascent to fame accelerated with his performances in the motion pictures A River Runs Through It (1992), Interview with the Vampire (1993), Legends of the Fall (1993), Seven (1995), 12 Monkeys (1995, Academy Award-nominated for Best Supporting Actor), Seven Years in Tibet (1997), Meet Joe Black (1998), and Fight Club (1999). Winner of the Best Picture Oscar in 2013 for producing 12 Years a Slave, he also won Best Supporting Actor in 2020 for Once Upon a Time in Hollywood. 
Superstar Hollywood Actor Brad Pitt Body Type One 
Moreover, he was nominated for Best Actor for The Curious Case of Benjamin Button (2009), Best Actor and Best Picture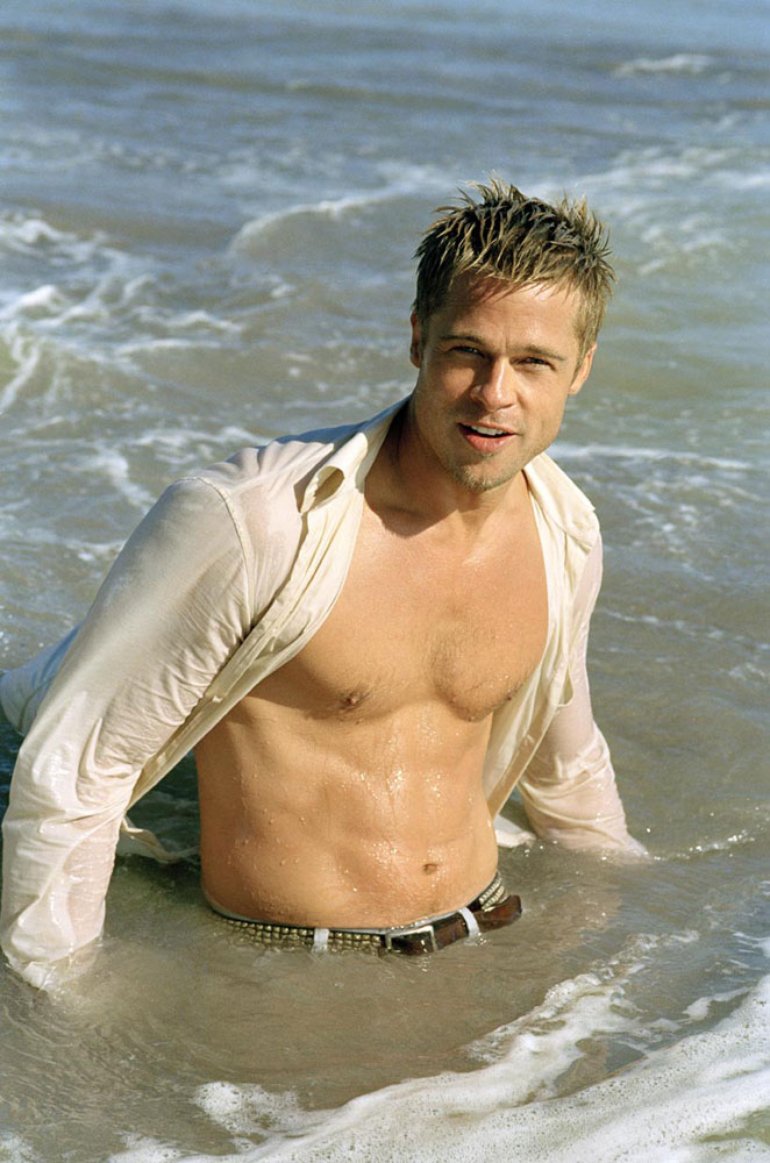 for Moneyball (2012), and Best Picture for the Big Short (2016). He also has five Emmy Award nominations including Friends (NBC, 2002) for Outstanding Guest Actor in a Comedy Series, Outstanding Television Movie for Nightingale (2015, HBO), Outstanding Guest Actor in a Comedy Series for Saturday Night Live (NBC, 2020), Outstanding Limited or Anthology Series for The Underground Railroad (Amazon Prime, 2022) as well as winning for Outstanding Television Movie for The Normal Heart (2014).
As well, his long list of successful movies includes Snatch (2000), The Mexican (2000), Spy Game (2001), Ocean's Eleven (2001), Troy (2004), Ocean's Twelve (2004), Mr. & Mrs. Smith (2005), Ocean's Thirteen (2007), Burn After Reading (2008), Inglourious Basterds (2009), World War Z (2013), Fury (2014), The Lost City of Z (2016), Deadpool 2 (2018), and Bullet Train (2022), to name just a few. His next upcoming movie is Babylon (TBD).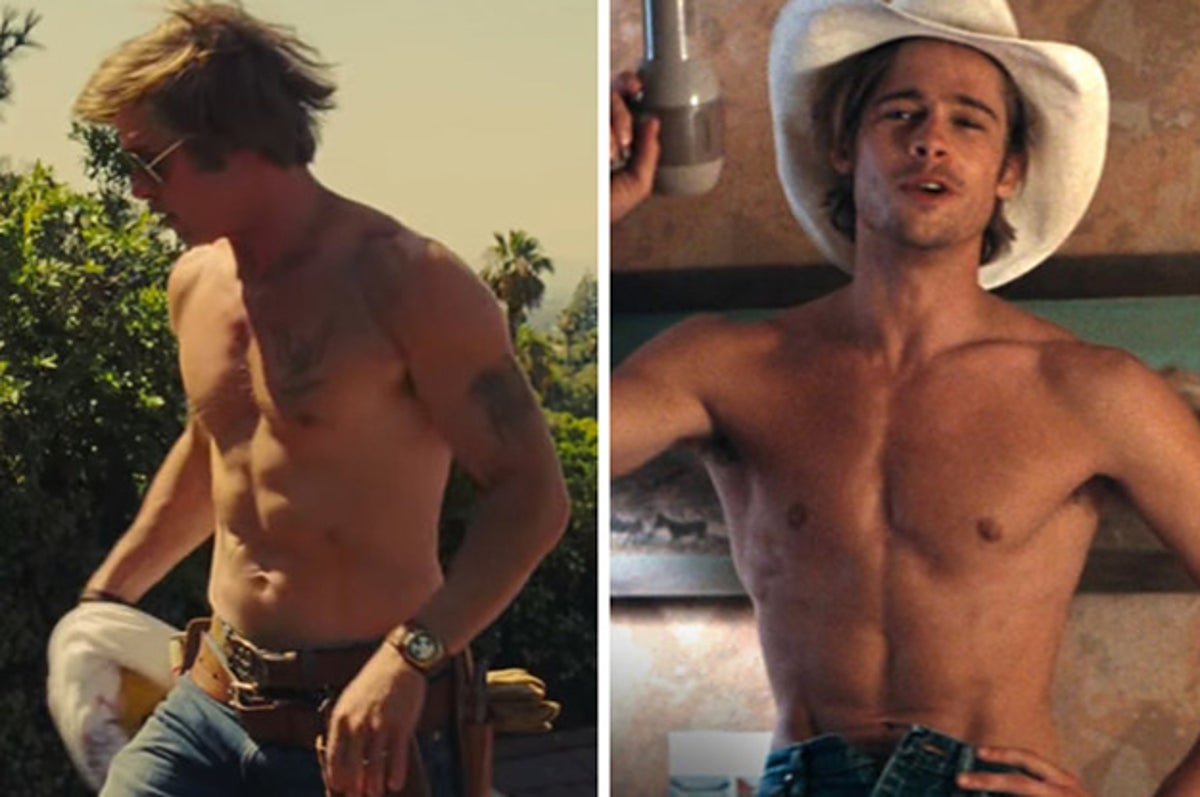 Producer Brady Pitt Body Type Shape
Over the years his diverse and demanding movie roles have helped him stay in shape by increasing his metabolic rate which encourages the burning of more calories. All of which keeps any excess fat weight at bay
and allows Brad Pitt to maintain his physique. Widely considered one of the most powerful and influential people in the American entertainment industry and the world's most attractive man by various media outlets, he was previously married to A-list actresses Jennifer Aniston and Angelina Jolie. He is also romantically linked to Emily Ratajkowski and Gwyneth Paltrow.
Not to be outdone, he opened the production company Plan B Entertainment in 2001 and is a well-known philanthropist focused on science, sustainability, poverty, and health while founding the Jolie-Pitt Foundation. 
His net worth is estimated at $300 million. You can catch him on social media including Instagram, TikTok, and Twitter. See more producer and A-list Hollywood superstar actor Brad Pitt celebrity Body Type One (BT1) photos on Google.
Review the Body Type Science Data or take the Scientific Body Type Quiz/Test for women and men.
---