---
---
Celebrity Body Types: Simone Biles (Simone Arianne Biles)
---
The Four Body Types Scientific Identification: Body Type One, BT1
Female/Woman
Genetically Underdeveloped Vertebrae (Muscles/Muscle Mass): None/0
Date of Birth: March 14, 1997
Age: 26 (as of 2023)
Unscientific/Nonsense Body Types Rough Correlations: Mesomorph, Kibbe/Flamboyant Gamine, Hormone/Ovary
Learn How 

The Four Body Types

Determines A Celebrity Body Type Like Simone Biles
---
---
Celebrity Simone Biles shows off her Body Type One (BT1) shape figure/physique while on vacation at the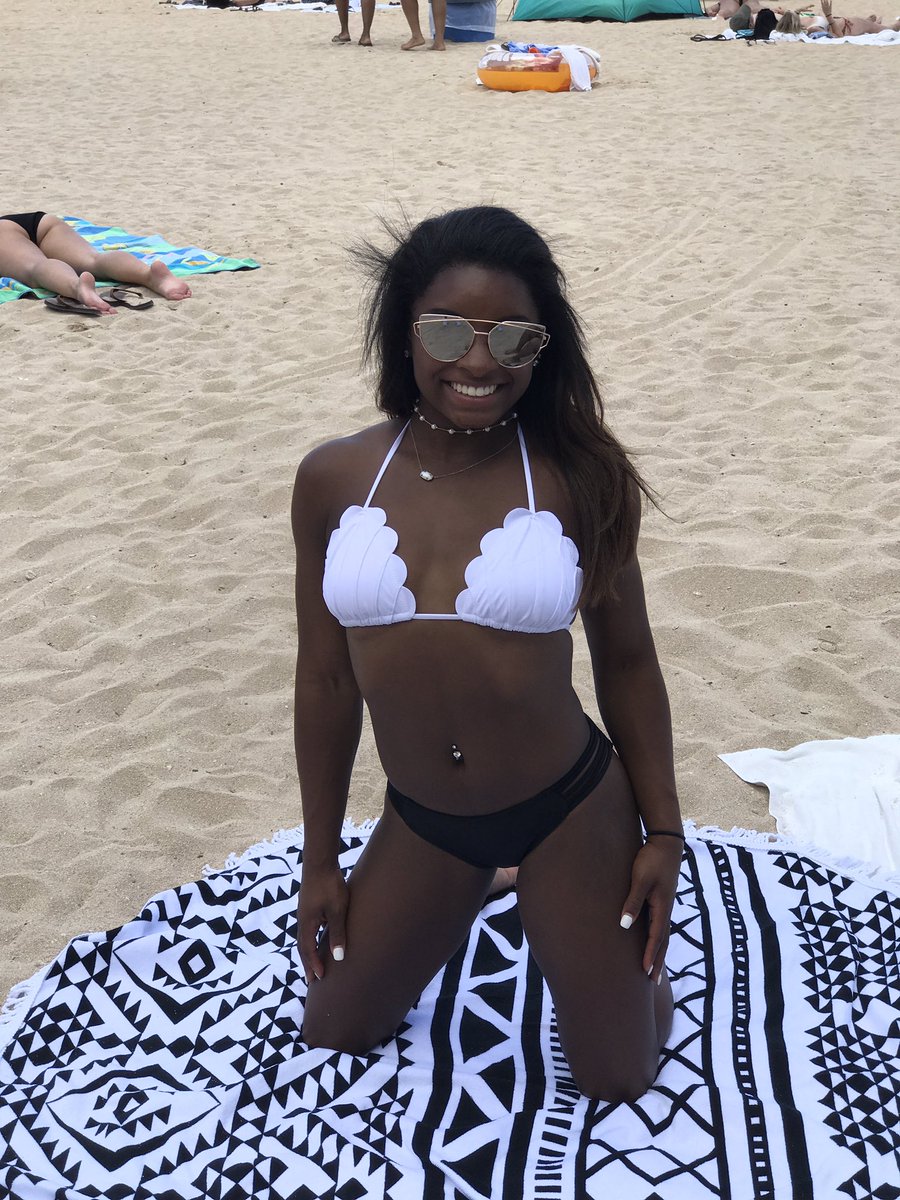 beach with friends and family including her fiancee Jonathan Owens. The candid images reveal no signs of
skinny fat (cellulite, thin fat, loose skin, saggy skin, crepey
skin, normal weight obesity) anywhere on her body. The full development of her vertebra (posture) and muscles/muscle mass is obvious.
Science recognizes that one pound of muscle burns six calories daily, but one pound of fat/skinny fat only burns two to three calories. Which directly affects metabolism (the more skinny fat and fat, the slower the metabolism). Having so many developed vertebrae, muscles, and muscle mass assists greatly in terms of metabolism/metabolic rate (BMR), including aging gracefully.
Genetics/genes/DNA are important. But diet, exercise, metabolism, BMI, and lifestyle also matter. It will be interesting to see how well Simone Biles maintains her muscular body shape figure/physique as she continues to age.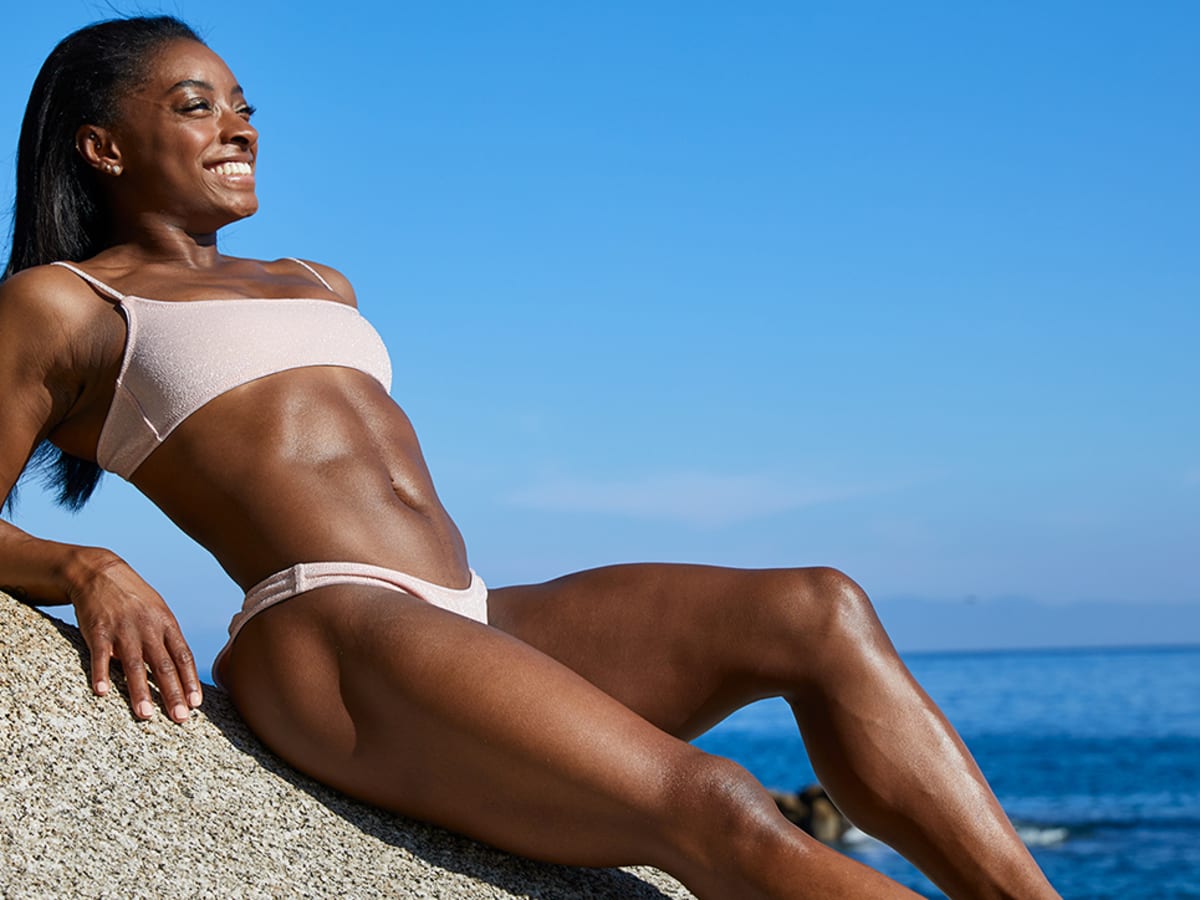 ---
---
---
Simone Biles Figure/Shape – BT1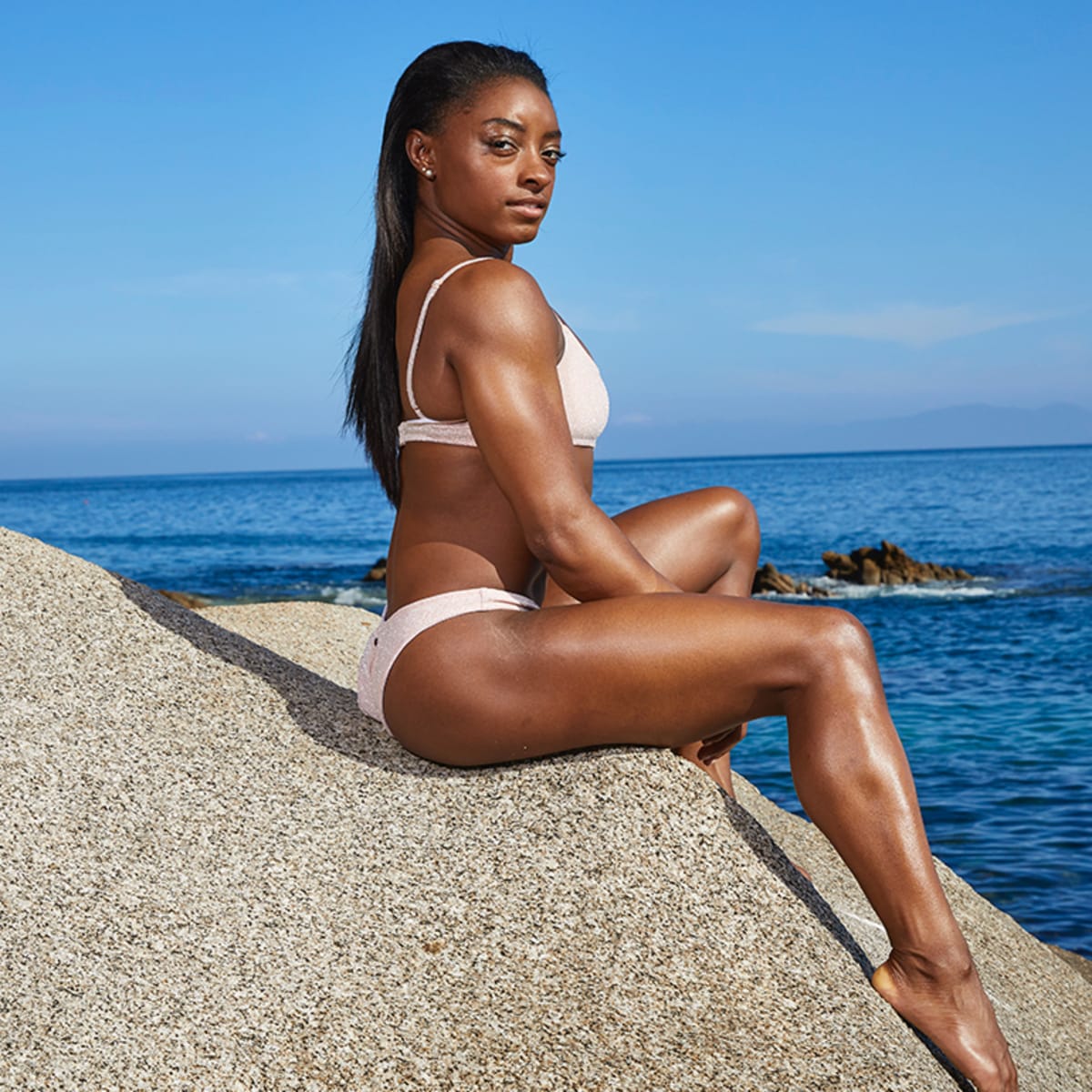 Four-time Olympic gymnastic gold medalist Simone Biles displays her Body Type One shape/figure at the ocean during Sports Illustrated (SI) shoots. Her
gymnastics career started at age 6, eventually signing with coach Aimee Boorman at age eight. Her elite career took off at the age of 14 in the 2011 American Classic in Houston where she placed first on the vault and balance beam. She successfully competed at the 2011 U.S. Classic in Chicago, the 2012 American Classic in Huntsville, Texas (she placed first all-around and on vault, securing her a spot to compete at the 2012 USA Gymnastics National Championships), the 2012 U.S. Classic in Chicago, and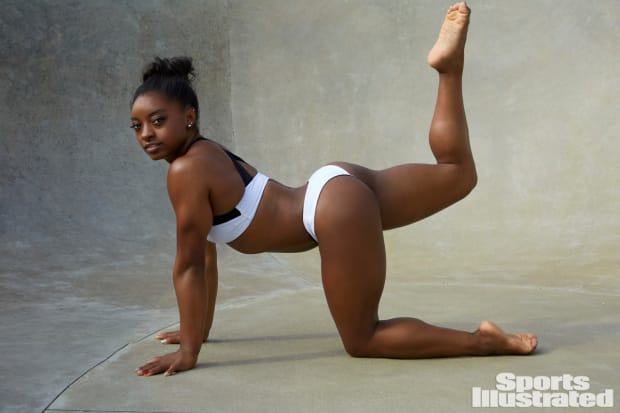 the 2012 U.S. National Championships in St. Louis which led to her being named to the U.S. Junior National Team. Upon debuting internationally in 2013 at the American Cup, a FIG World Cup event, she continued to travel globally, gathering valuable experience.
Initially agreeing to a National Letter of Intent with UCLA in 2014, she went on to forfeit her NCAA eligibility to compete professionally in the 2016 Summer Olympics.  Building up to the Olympics, she competed at the 2015 AT&T American Cup in Arlington, Texas, for the Italian 2015 City of Jesolo Trophy (winning the all-around title), at the 2016 Pacific Rim Championships (winning the all-around title with the highest score on vault, floor exercise, and balance beam), Secret U.S. Classic (placing first on the balance beam), and the 2016 U.S. National Championships (winning the gold medal on vault, floor exercise, and balance beam). After being thoroughly cleared of doping allegations, she helped the United States gymnastic team top first in the Women's Qualification for the 2016 Summer Olympics.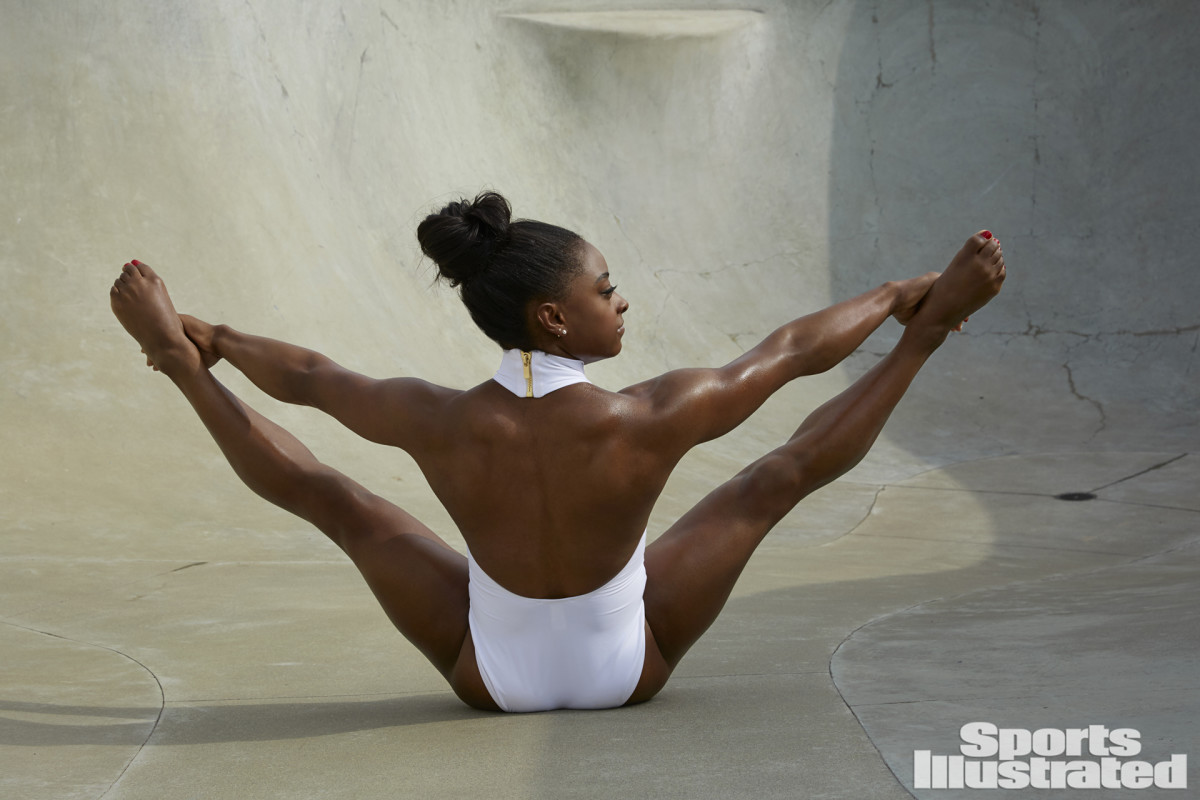 Seven-Time Olympic Medalist

Simone Biles Body Type One
Her five total medals at the 2016 Summer Olympics in Rio de Janeiro include three individual gold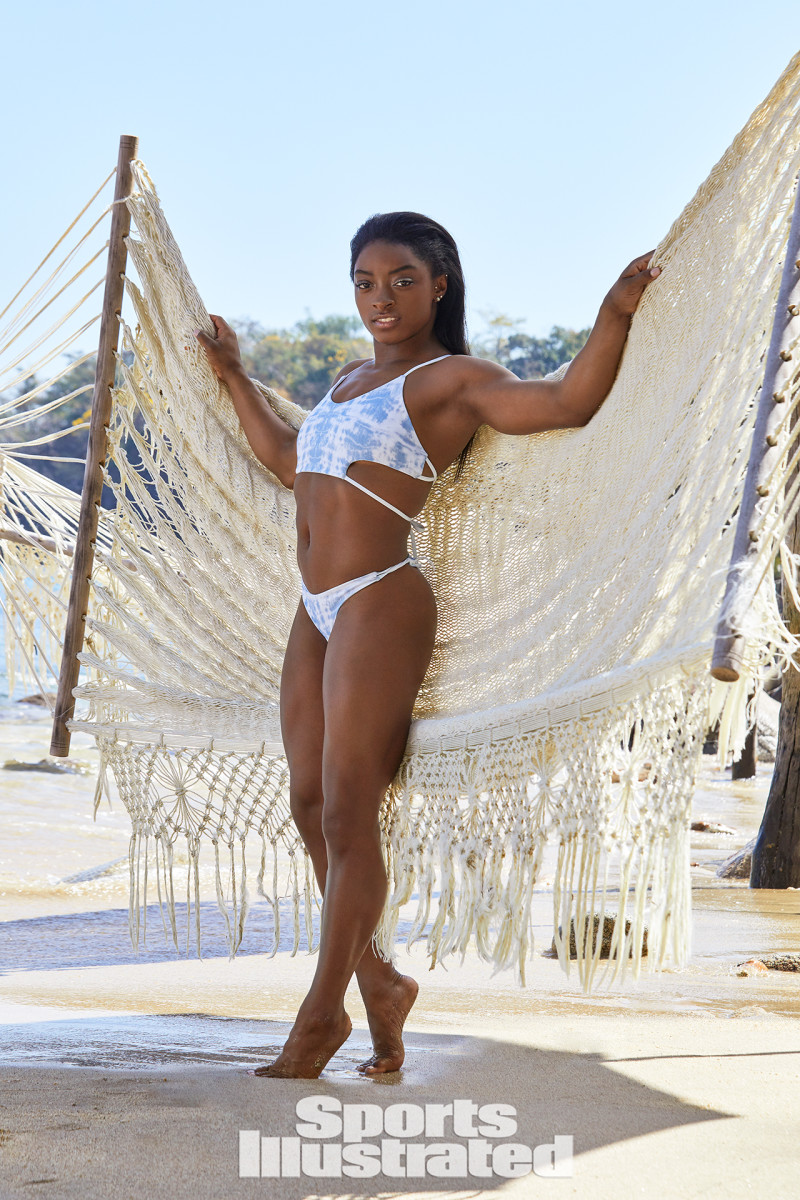 medals in the all-around, vault, and floor as well as bronze on the balance beam. A Team USA gold medal garnered the nickname "Final Five". Although she was favored to win at least four of the six available gold
medals at the 2020 Tokyo Summer Olympics, she errored on the side of caution and safety, withdrawing from most of the competition due to a temporary loss of air balance awareness. She did win a silver medal with Team USA and a bronze medal on the balance beam.
Her 7 total Olympic medals tie her with Shannon Miller for the most Olympic medals won by an American gymnast. To date, her stellar achievements include being a five-time World all-around champion (2013–2015, 2018–2019), five-time World floor exercise champion (2013–2015, 2018–2019), three-time World balance beam champion (2014–2015, 2019), two-time World vault champion (2018–2019), a seven-time United States national all-around champion (2013–2016, 2018–2019, 2021), and a member of the gold medal-winning American teams at the 2014, 2015, 2018, and 2019 World Artistic Gymnastics Championships. Moreover, she is also a three-time World silver medalist (2013 and 2014 on vault, 2018 on uneven bars) and a three-time World bronze medalist (2015 on vault, 2013 and 2018 on balance beam).  
World Champion Gymnast Simone Biles Body Shape
She is recognized as having the most World medals (25) and most World gold medals (19), surpassing Vitaly Scherbo's record of 23 World medals. As well, she holds the
most World all-around titles (5) for a female gymnast, is the sixth woman to win an individual all-around title at both the World Championships
and the Olympics, the first gymnast since Lilia Podkopayeva (1996) to hold both titles simultaneously, the tenth female gymnast and first American female gymnast to win a World medal on every event, and the first female gymnast since Daniela Silivaș in 1988 to win a medal on every event at a single Olympic Games or World Championships. Simone Biles's demanding, diverse gymnastic career helps with maintaining her muscular body shape figure by increasing her metabolic rate, thus burning more calories to keep excess fat weight at bay.  
She was a finalist for Time magazine's 2016 Person of the Year while making the Time 100 annual list of the 100 most influential people in the world in 2021. Not to mention six ESPY Award nominations with 2017 wins for Best Female U.S. Olympic Athlete and Best Female Athlete, while accepting the Presidential Medal of Freedom from President Joe Biden in 2022. As a spokesperson, over the years she has represented Tide laundry detergent, Nike, GK Elite Sportswear, Core Power, Kellogg's, Procter & Gamble, The Hershey Company, United Airlines, Mattress Firm, Spieth America, Beats By Dr Dre, Caboodles, and Gap's Athleta brand.
Her net worth is estimated to be $16 million. You can catch her on social media including Instagram, Facebook, and Twitter. See more spokesperson and star Olympic gold medal gymnast Simone Biles celebrity Body Type One (BT1) photos on Google.
Review the Body Type Science Data or take the Scientific Body Type Quiz/Test for women and men.
---