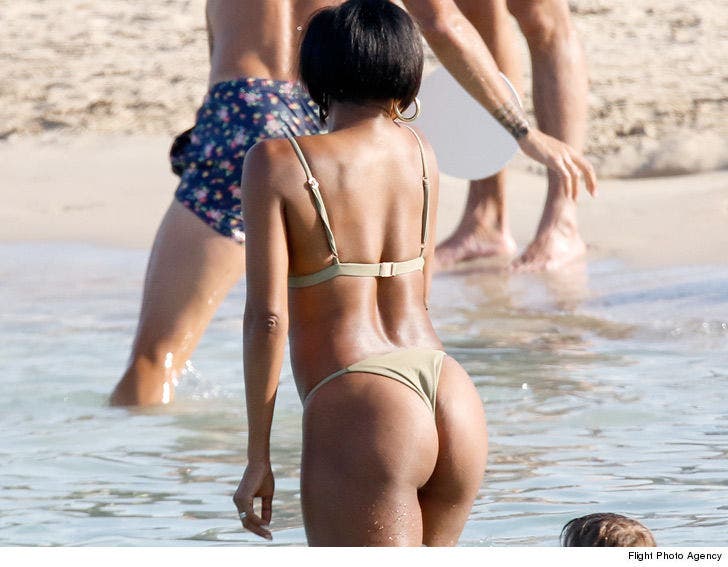 ---
---
Celebrity Body Types: Gabrielle Union (Gabrielle Monique Union-Wade)
---
The Four Body Types Scientific Identification: Body Type One, BT1 (Possible Body Type Two)
Female/Woman
Genetically Underdeveloped Vertebrae (Muscles/Muscle Mass): None/0 (Possibly Thoracic, Lumbar, or/and Sacrum)
Date of Birth: October 29, 1972
Age: 49 (as of 2021)
Unscientific/Nonsense Body Types Rough Correlations: Mesomorph, Kibbe/Flamboyant Natural, Hormone/Ovary
Learn How 

The Four Body Types

Determines A Celebrity Body Type Like Gabrielle Union
---
---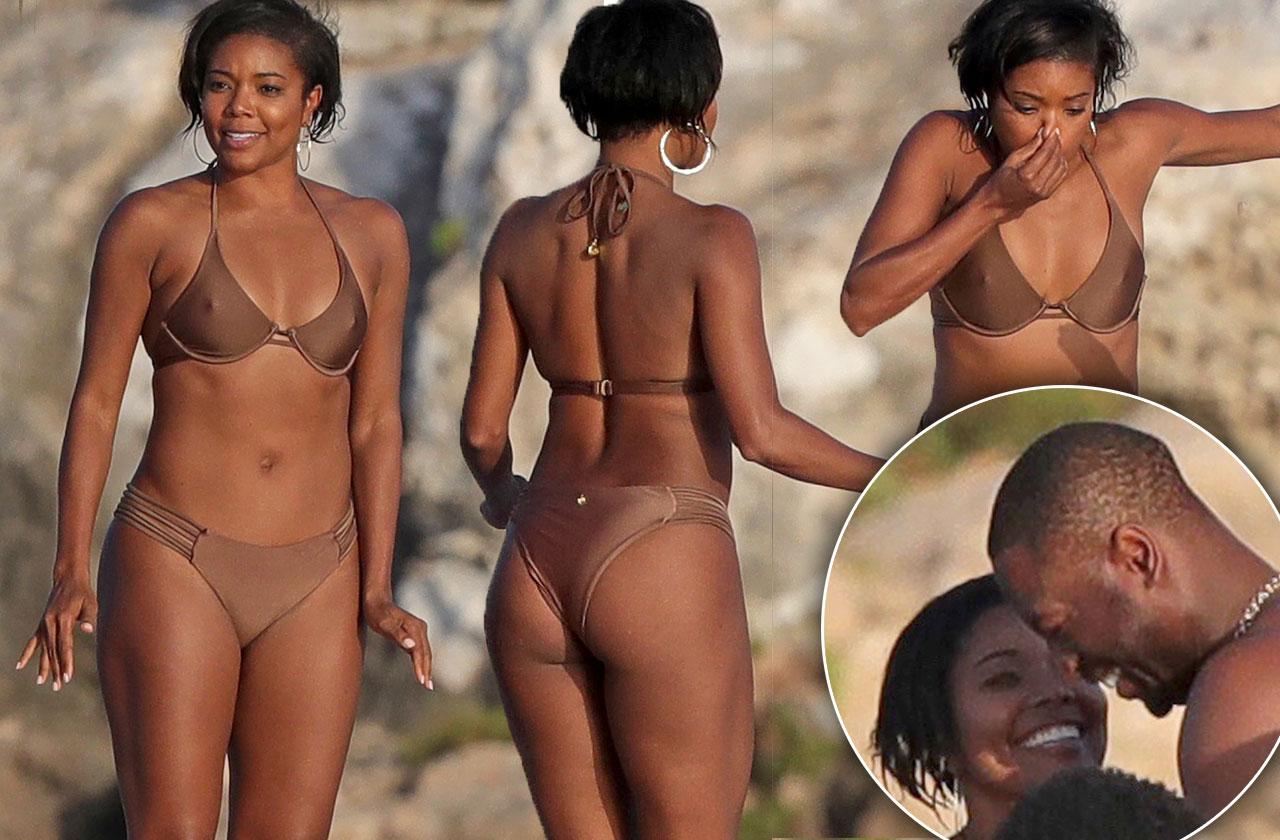 Celebrity Gabrielle Union shows off her Body Type One (BT1) shape figure/physique while on vacation at the beach with friends
and family including her husband Dwayne Wade. The candid images reveal no serious signs of skinny fat (cellulite, thin fat, loose skin, saggy skin, crepey skin,
normal weight obesity) anywhere
on her body. Although, as she has given birth and aged, the full development of her vertebra (posture) and muscles/muscle mass relative to her sacrum vertebra, no less, is debatable.
Science recognizes that one pound of muscle burns six calories daily, but one pound of fat/skinny fat only burns two to three calories. Which directly affects metabolism (the more skinny fat and fat, the slower the metabolism). Having so many developed vertebrae, muscles, and muscle mass assists greatly in terms of metabolism/metabolic rate (BMR), including aging gracefully.
Genetics/genes/DNA are important, but diet, exercise, metabolism, BMI, and lifestyle also matter. As she continues to age, it will be interesting to see how well Gabrielle Union maintains her body shape figure/physique. Is she really a Body Type Two (BT2) with an underdeveloped sacrum vertebra and maybe a lumbar or lower thoracic?
---
---
---
Gabrielle Union Figure/Shape – BT1
Hollywood star actress Gabrielle Union displays her Body Type One shape/figure at the ocean. Her entertainment career began in the 1990s with numerous appearances on different
television sitcoms including Family Matters (ABC), Saved by the Bell: The New Class (NBC), Moesha (UPN), Malibu Shores (NBC), Goode Behavior (UPN), 7th Heaven (The WB), Dave's World (CBS), Sister, Sister (ABC), and The Steve Harvey Show (The WB). Supporting roles in the 1999 teen films She's All That and 10 Things I Hate About You brought her wider positive critical acclaim. After starring in the romantic sports drama Love & Basketball (2000), her on-the-rise star broke through to fame with her performance in the teen movie Bring It On (2000).  
Her motion picture career took off, with diverse parts over the years in the films The Brothers (2001), Two Can Play That Game (2001), Abandon (2002), Welcome to Collinwood (2002), Deliver Us from Eva (2003), Bad Boys II (2003), Breakin' All the Rules (2004), The Honeymooners (2005), Running with Scissors (2006), Daddy's Little Girls (2007), The Perfect Holiday (2007), Meet Dave (2008), Cadillac Records (2008), Think Like a Man (2012), Good Deeds (2012), Miss Dial (2013), The Door (2013), Think Like a Man Too (2014), The Birth of a Nation (2016), Almost Christmas (2016), Sleepless (2017), Girls Trip (2017), The Public (2018), Breaking In (2018), Fearless (2020, voice), Cheaper by the Dozen (2022), and The Inspection (2022). Upcoming movies include Strange World (2022, voice) and The Perfect Find (TBD).
Hollywood Star Actress

Gabrielle Union Body Type One
In terms of her television acting, she has made many appearances on hit shows and other varying series. This
includes episodes of ER (NBC), City of Angels (CBS), Friends (NBC), The West Wing (NBC), Family Guy (FOX), Ugly Betty (ABC), and as a judge on America's Got
Talent (NBC). As an author, she has written four books including the two memoirs We're Going to
Need More Wine (2017) and You Got Anything Stronger? (2021) as well as the two children's books Welcome to the Party (2020) and Shady Baby (2021). Gabrielle Union's demanding, diverse career helps with maintaining her body shape figure by increasing her metabolic rate, thus burning more calories to keep excess fat weight at bay.  
She was previously the spokeswoman for Neutrogena in 2004. As a businesswoman, she launched a clothing line in 2010 for plus-sized women called Love & Blessings which was inspired by her full-figured sister. In 2014, she released her own wine, Vanilla Puddin', and became the celebrity ambassador and creative advisor for the nail polish company SensatioNail. As well, she launched her affordably priced haircare brand for women with textured hair called Flawless in 2020.  
Gabrielle Union Body Shape
Furthermore, she became the co-founder of Bitsy in 2020 with "the goal of making allergen-
friendly, school-safe snacks that are accessible and affordable for all families regardless of their socioeconomic or geographic status." She is an outspoken advocate for women's health issues and violence against women. Time magazine listed her among the 100 most influential people in the world in 2020.
Her net worth is estimated to be $40 million. You can catch her on social media including Instagram, Facebook, and Twitter. See more former spokesperson, author, businesswoman, and Hollywood star actress Gabrielle Union celebrity Body Type One (BT1) photos on Google.
Review the Body Type Science Data or take the Scientific Body Type Quiz/Test for women and men.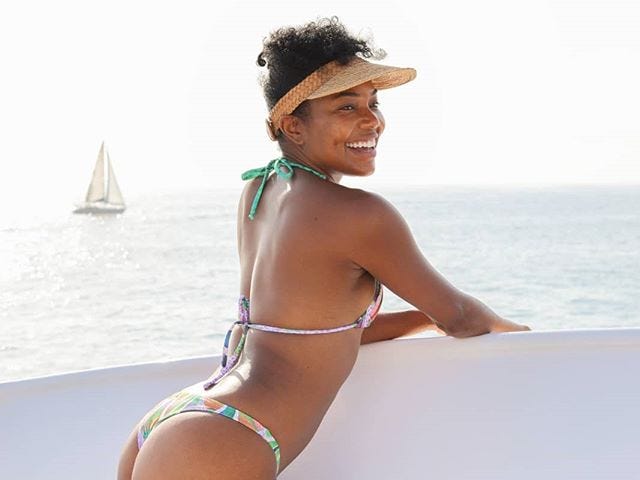 ---