---
---
Celebrity Body Types: Julia Roberts (Julia Fiona Roberts)
---
The Four Body Types Scientific Identification: Body Type Two, BT2
Female/Woman
Genetically Underdeveloped Vertebrae (Muscles/Muscle Mass): 1 to 8; Lumbar and Sacrum (Possibly Thoracic)
Date of Birth: October 28, 1967
Age: 55 (as of 2022)
Unscientific/Nonsense Body Types Rough Correlations: Endomorph, Kibbe/Flamboyant Natural, Hormone/Ovary
Learn How 

The Four Body Types

Determines A Celebrity Body Type Like Julia Roberts
---
---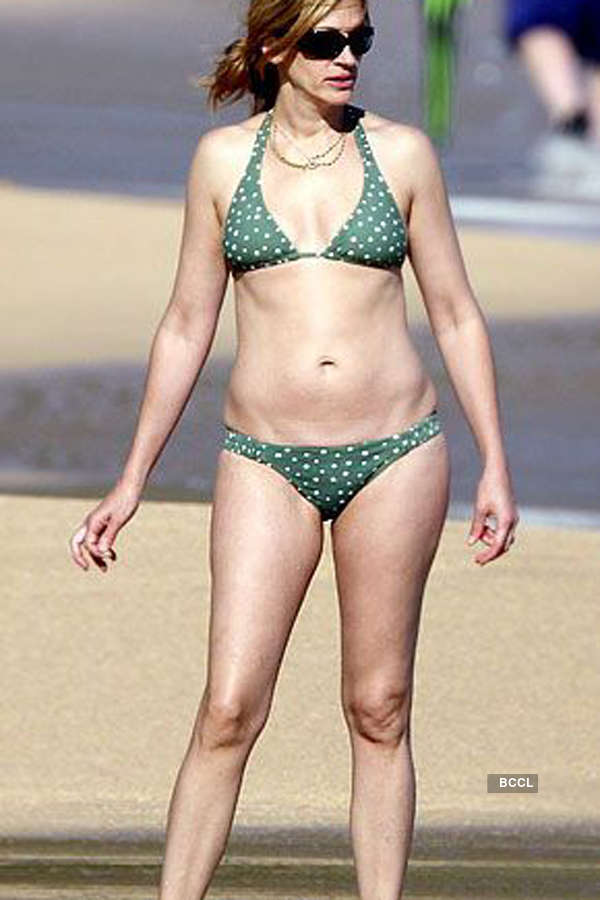 Celebrity Julia Roberts shows off her Body Type Two (BT2) shape figure/physique while taking time off at the beach. The full development of her sacrum and lumbar vertebrae
and related muscles/muscle mass is debatable. The candid images reveal some skinny fat
(cellulite, thin
fat, loose skin, saggy skin, crepey skin, normal weight obesity) on no less than her upper legs, buttocks, and lower back,
indicating she most likely has at least slightly underdeveloped sacrum and lumbar vertebra(e) (or several), and maybe a lower thoracic.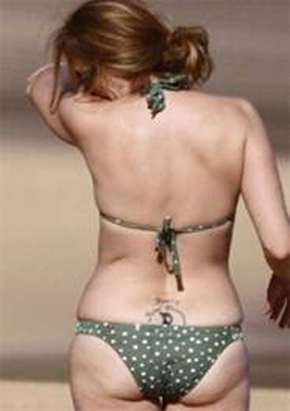 When she was younger she might have been considered a Body Type One (BT1). Science recognizes that one pound of muscle mass burns six calories daily, but one pound of skinny fat/fat burns only two to three calories daily. Which directly affects metabolism (the more skinny fat and fat, the slower the metabolism). The mostly developed posture, muscles, and muscle mass across the majority of her BT2 is an advantage that Body Type Three (BT3) and Body Type Four (BT4) human bodies (female or male) generally lack.
Diet, exercise, lifestyle, metabolism, and BMI matter, but so do genes/genetics/DNA. It will be interesting to see how well Julia Roberts maintains her body shape figure/physique as she continues to age, especially after giving birth to three children. Is she really a Body Type One?
---
---
---
Julia Roberts Figure/Shape – BT2
Academy Award-winning and Emmy Award-nominated A-list Hollywood superstar actress Julia Roberts enjoys time off in her Body Type Two shape/figure with friends and family including her husband Daniel Moder. Her entertainment
career began in 1987 with an appearance alongside Dennis Farina in the NBC television series Crime Story. Venturing into motion pictures, a series of smaller to medium roles included her debut in her brother Eric Roberts' movie Blood Red (released in 1989) and the dramedy Satisfaction (1988) with Liam Neeson and Justine Bateman.
After an appearance in the season-four finale of the hit NBC TV series Miami Vice, her breakthrough performance came in the independent romantic comedy film Mystic Pizza. Garnering favorable critical reviews from the likes of Roger Ebert, he found her to be a "major beauty with a fierce energy" and that "All of the young actors in this movie have genuine gifts". Her star continued to rise with her Best Supporting Actress Academy Award-nominated part in Steel Magnolias (1989). It was her portrayal as Richard Gere's love interest, an assertive hooker with a heart of gold, in the movie Pretty Woman (1990) that skyrocketed her to worldwide fame with a Best Actress Acadamy Award nomination.  
Academy Award-Winning A-List Superstar Hollywood Actress Julia Roberts Body Type Two
In 1999, she was nominated for an Emmy Award for Outstanding Guest Actress in a Drama Series for her performance in the NBC television crime drama Law & Order. Solidifying her bankable A-list status, she won the
Academy Award for Best Actress for her starring role in the popular film Erin Brockovich (2001).
Academy Award and Emmy Award nominations also came in 2014 for Outstanding Supporting Actress in a Limited Series or Television Movie for The Normal Heart (HBO) as well as Best Supporting Actress in the flick August: Osage County. Her diverse movies over the years include Flatliners (1990), Sleeping with the Enemy (1991), Hook (1991, voice), The Player (1992, cameo), The Pelican Brief (1993), I Love Trouble (1994), Something to Talk About (1995), Michael Collins (1996), My Best Friend's Wedding (1997), Conspiracy Theory (1997), Notting Hill (1999), The Mexican (2000), America's Sweethearts (2001), Ocean's Eleven (2001), Full Frontal (2002), Confessions of a Dangerous Mind (2002), Mona Lisa Smile (2003), Ocean's Twelve (2004), Charlotte's Web (2006, voice), Charlie Wilson's War (2007), Fireflies in the Garden (2008), Kit Kittredge: An American Girl (2008, also executive producer), Duplicity (2009), Eat Pray Love (2010), Larry Crowne (2011), Jesus Henry Christ (2011, also executive producer), Mirror, Mirror (2012), Secret in Their Eyes (2015), Mother's Day (2016), Money Monster (2016), Smurfs: The Lost Village (2017, voice), Wonder (2017), Ben Is Back (2018), and Ticket to Paradise (2022, also executive producer).
As for her next upcoming film, it is Leave the World Behind (TBD, also producer). Moreover, her long list of television performances and productions involves the show Friends (NBC), Murphy Brown (CBS), Queens Supreme (CBS, executive producer), Beslan: Three Days In September (Showtime, Documentary Narrator), An American Girl… TV films (executive producer), Running Wild with Bear Grylls (National Geographic/NBC), and Gaslit (STARZ), to name a few.  
Producer & Businesswoman Julia Roberts Body Shape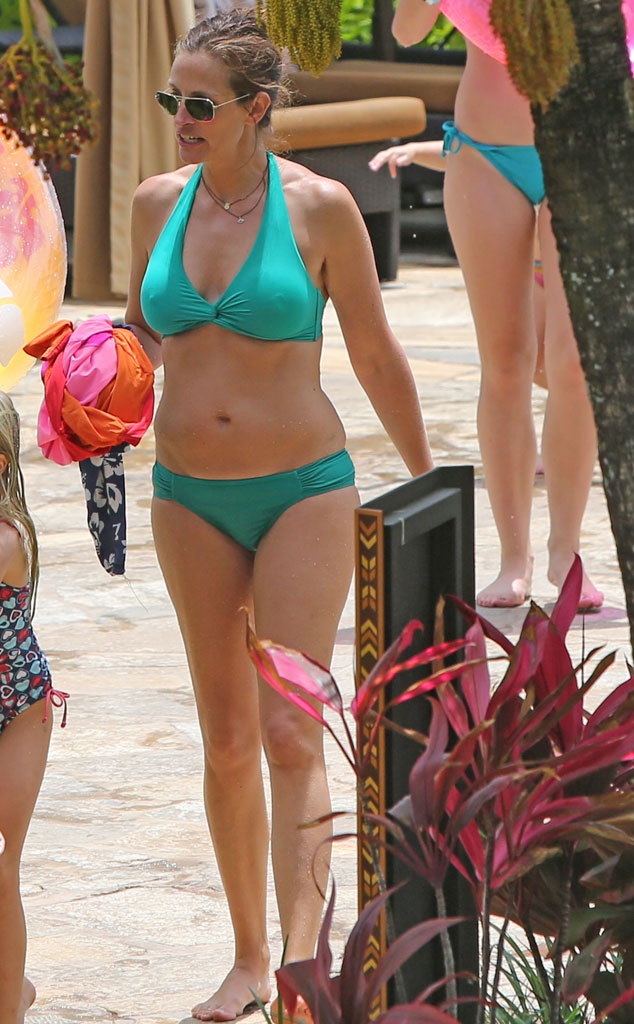 Expanding her producer skills, she runs the production company Red Om Films (Red Om is her husband's last name "Moder" spelled backward) with her sister, Lisa Roberts Gillan. Julia Roberts' body shape figure benefits from her demanding producer and acting responsibilities which helps increase her metabolism, thus burning more calories to keep any excess fat at bay. On top of her numerous accolades, throughout the majority of the 1990s into the 2000s, she was the world's highest-paid actress.
She peaked at $20 million for Erin Brockovich and $25 million for Mona Lisa Smile. Films to date in which she has starred have collectively grossed over $3.9 billion globally. As a businesswoman, in 2006 she signed a $6 million fashion endorsement deal with Gianfranco Ferre. Since 2009, she has been Lancôme's global ambassador. Furthermore, she is an active philanthropist with a focus on female empowerment, climate change, and neurodevelopmental diseases, contributing to many organizations including UNICEF. Her ex-husband is Lyle Lovett.
She is estimated to have a net worth of $250 million. You can catch her on social media including Instagram and Twitter. See more businesswoman, producer, and A-list superstar Hollywood actress Julia Roberts celebrity Body Type Two (BT2) photos on Google.
Review the Body Type Science Data or take the Scientific Body Type Quiz/Test for women and men.  
---