---
---
Celebrity Body Types: Ireland Baldwin (Ireland Eliesse Baldwin, also known as Ireland Basinger Baldwin)
---
The Four Body Types Scientific Identification: Body Type One, BT1 (Possible Strong Body Type Two)
Female/Woman
Genetically Underdeveloped Vertebrae (Muscles/Muscle Mass): None/0 (Possible Sacrum and/or Lumbar)
Date of Birth: October 23, 1995
Age: 27 (as of 2022)
Unscientific/Nonsense Body Types Rough Correlations: Ectomorph, Kibbe/Flamboyant Natural, Hormone/Ovary
Learn How The Four Body Types Determines A Celebrity Body Type Like Ireland Baldwin
---
---
Celebrity Ireland Baldwin, daughter of Alec Baldwin and Kim Basinger, shows off her Body Type
One (BT1) shape figure/physique at the beach with family and friends including her boyfriend
Andre Allen Anjos (RAC). The fully developed vertebrae (posture) and muscles/muscle mass are currently not in debate. The
candid images reveal no real signs of skinny fat (cellulite, thin fat, loose skin, saggy skin, crepey skin, normal weight obesity) anywhere on her body.
Science recognizes that one pound of muscle burns six calories daily but one pound of fat/skinny fat only burns two to three calories. Which directly affects metabolism (the more skinny fat and fat, the slower the metabolism). Having all those developed vertebrae, muscles, and muscle mass assists greatly in terms of metabolism/metabolic rate (BMR), an advantage that a fully developed BT1 offers, along with aging gracefully.
Diet, exercise, lifestyle, metabolism, and BMI matter, but so do genes/genetics/DNA. As she continues to age, it will be interesting to see how well Ireland Baldwin manages and maintains her body shape figure/physique. Is she actually a Body Type Two (BT2)?
---
---
---
Ireland Baldwin Figure/Shape – BT1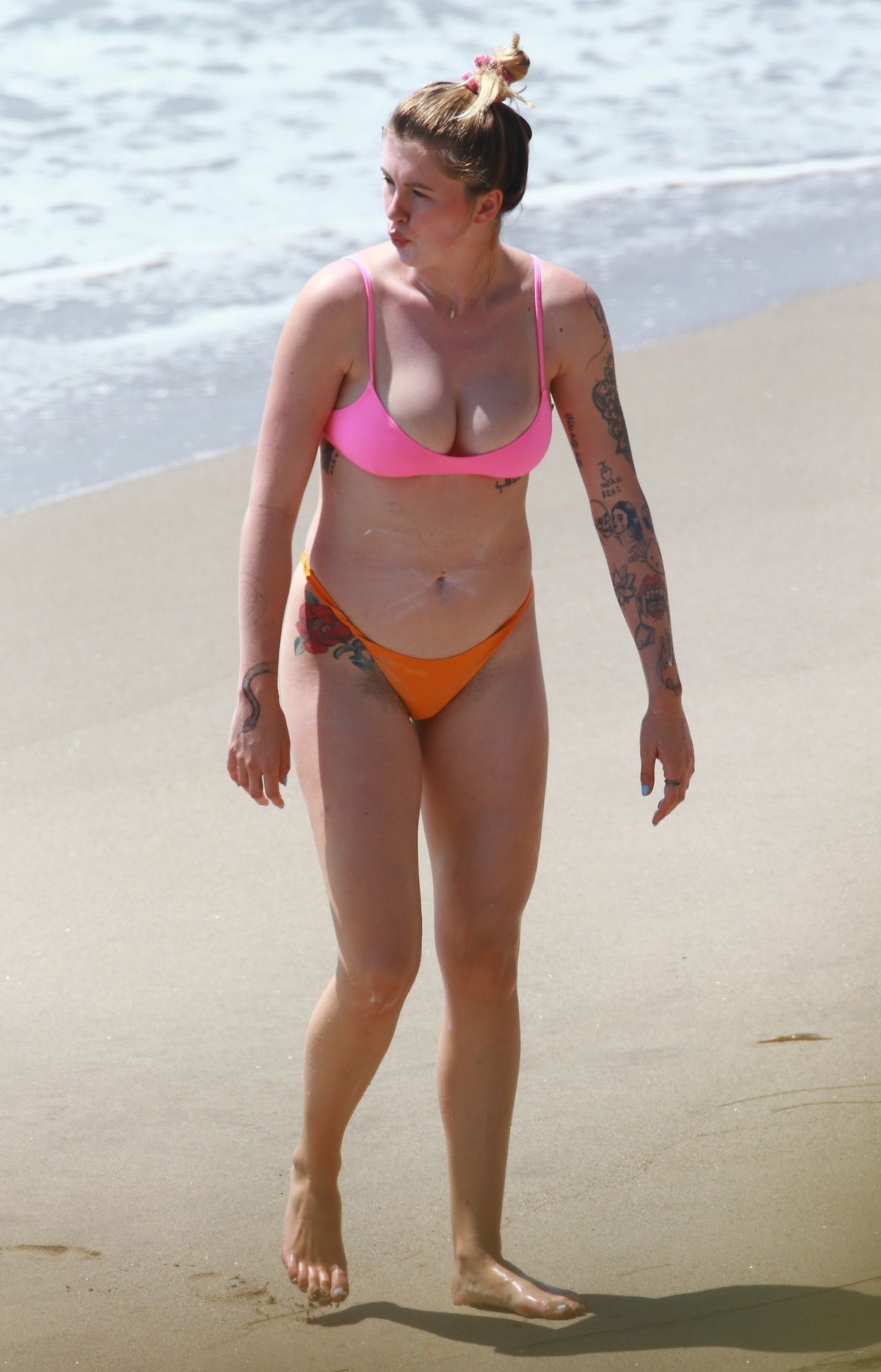 Fashion model Ireland Baldwin displays her Body Type One shape/figure while taking time off at the ocean. Her
modeling career began when she was 17, signing with IMG Models in 2013 and subsequently debuting in a swimwear editorial for the New York Post. That same year she appeared in W Magazine's It Trend, It Girl feature and was Vanity Fair's It Girl. Over the years, she has appeared in campaigns for True Religion Jeans, Guess, Elle Bulgaria, L'Officiel Ukraine, and Marie Claire Mexico and editorials for DuJour magazine and Grazia. Moreover, her movie credits include the films Grudge Match (2013) and Campus Caller (2017). She might be best known for posing nude for the PETA "I'd Rather Go Naked Than Wear Fur" 2018 anti-fur ad campaign (her mother did the same 24 years earlier).
Her net worth is estimated to be $1 million. You can catch her on social media including Instagram. See more model and actress Ireland Baldwin celebrity Body Type One (BT1) photos on Google.
Review the Body Type Science Data or take the Scientific Body Type Quiz/Test for women and men.    
---