---
---
Celebrity Body Types: J.J. Watt (Justin James Watt)
---
The Four Body Types Scientific Identification: Body Type One, BT1
Male/Man
Genetically Underdeveloped Vertebrae (Muscles/Muscle Mass): None/0
Date of Birth: March 22, 1989
Age: 34 (as of 2023)
Unscientific/Nonsense Body Types Rough Correlations: Mesomorph, Hormone/Adrenal
---
---
Celebrity JJ Watt displays his Body Type One (BT1) shape physique/figure while taking time off with friends and family
including his wife Kealia Watt. He is showing no signs of skinny fat (cellulite, thin fat, loose skin, saggy skin, crepey
skin, normal weight obesity) anywhere on his body. The fully developed vertebrae (posture) and muscles/muscle mass are obvious.
Science recognizes that one pound of muscle burns six calories per day, but one pound of skinny fat/fat only burns two to three calories. Which directly affects metabolism (the more skinny fat and fat, the slower the metabolism). Having a strong metabolism because of all that muscle and muscle mass, no less, is an advantage that a fully developed BT1 typically offers, including aging gracefully.
Diet, exercise, lifestyle, metabolic rate (BMR), and BMI matter. But so do genes/genetics/DNA. As he continues to age, it will be interesting to see how well JJ Watt successfully maintains his body shape physique/figure.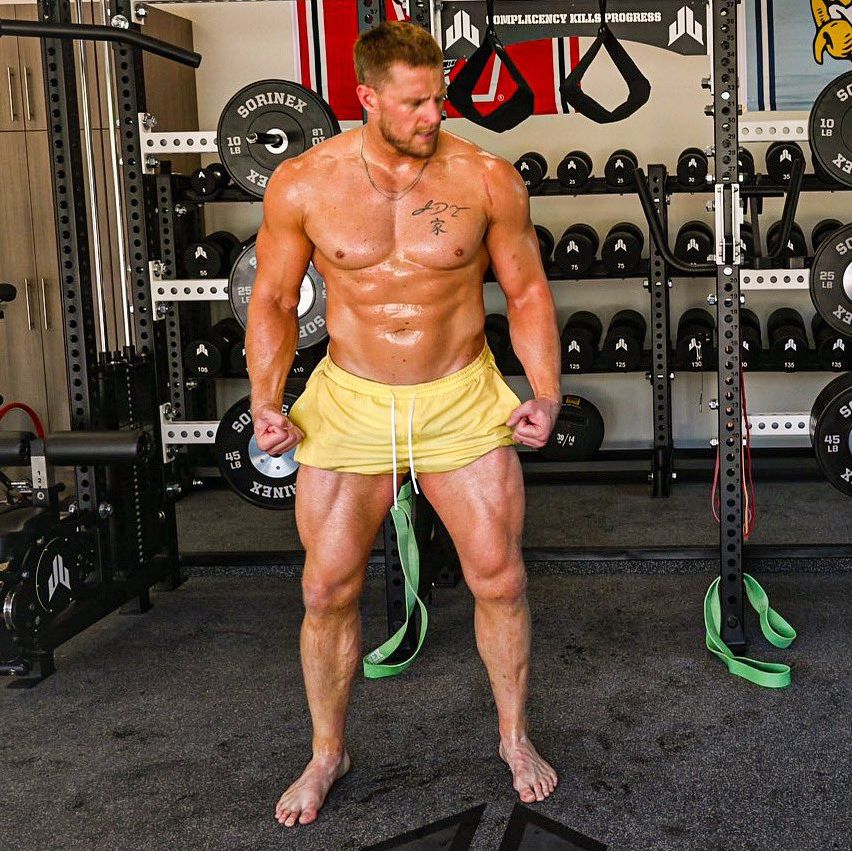 ---
---
---
JJ Watt Physique/Figure – BT1
Former National Football League (NFL) professional defensive end football player JJ Watt shows off his Body Type One shape/physique during his vacation at the ocean. Upon
transferring from Central Michigan to the University of Wisconsin and eventually skipping his senior season to enter the 2011 NFL Draft, the Houston Texans made him the first defensive end selected in the first round. As the 11th overall pick, he signed a four-year, $11.24 million contract. 
In his 12-year career, he is considered to be one of the greatest defensive linemen of all time (G.O.A.T.). Primarily a defensive end, he occasionally played defensive tackle and took snaps on offense, catching three touchdown passes during the 2014 season. His accolades include being three-time NFL Defensive Player of the Year in (2012, 2014, 2015), Walter Payton NFL Man of the Year (2017), five-time first-team All-Pro (2012–2015, 2018), two-time second-team All-Pro (2014, 2018), five-time Pro Bowl (2012–2015, 2018), two-time NFL sacks leader (2012, 2015), NFL forced fumbles co-leader (2018), NFL 2010s All-Decade Team, PFWA All-Rookie Team (2011), and Sportsman of the Year by Sports Illustrated in 2017.  As well, he holds the Texans' franchise records for sacks and forced fumbles.
Actor & NFL Football Player JJ Watt Body Type One Shape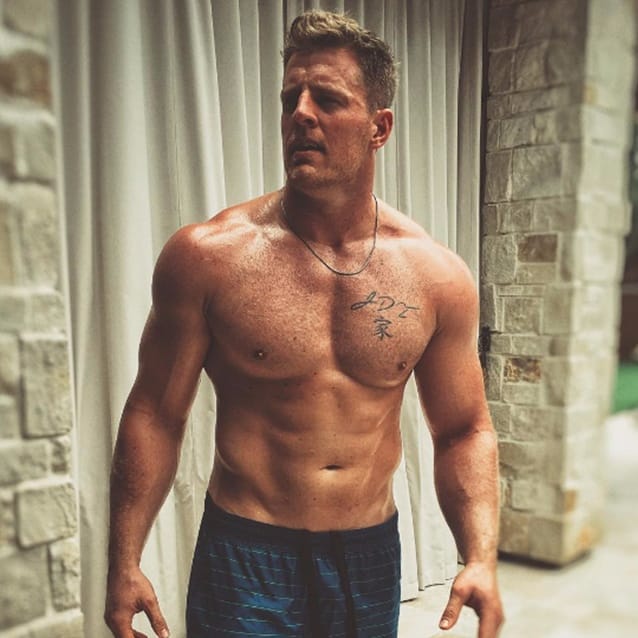 After requesting his release from Houston, in 2021 he signed a two-year, $28 million contract with the Arizona Cardinals. Health issues including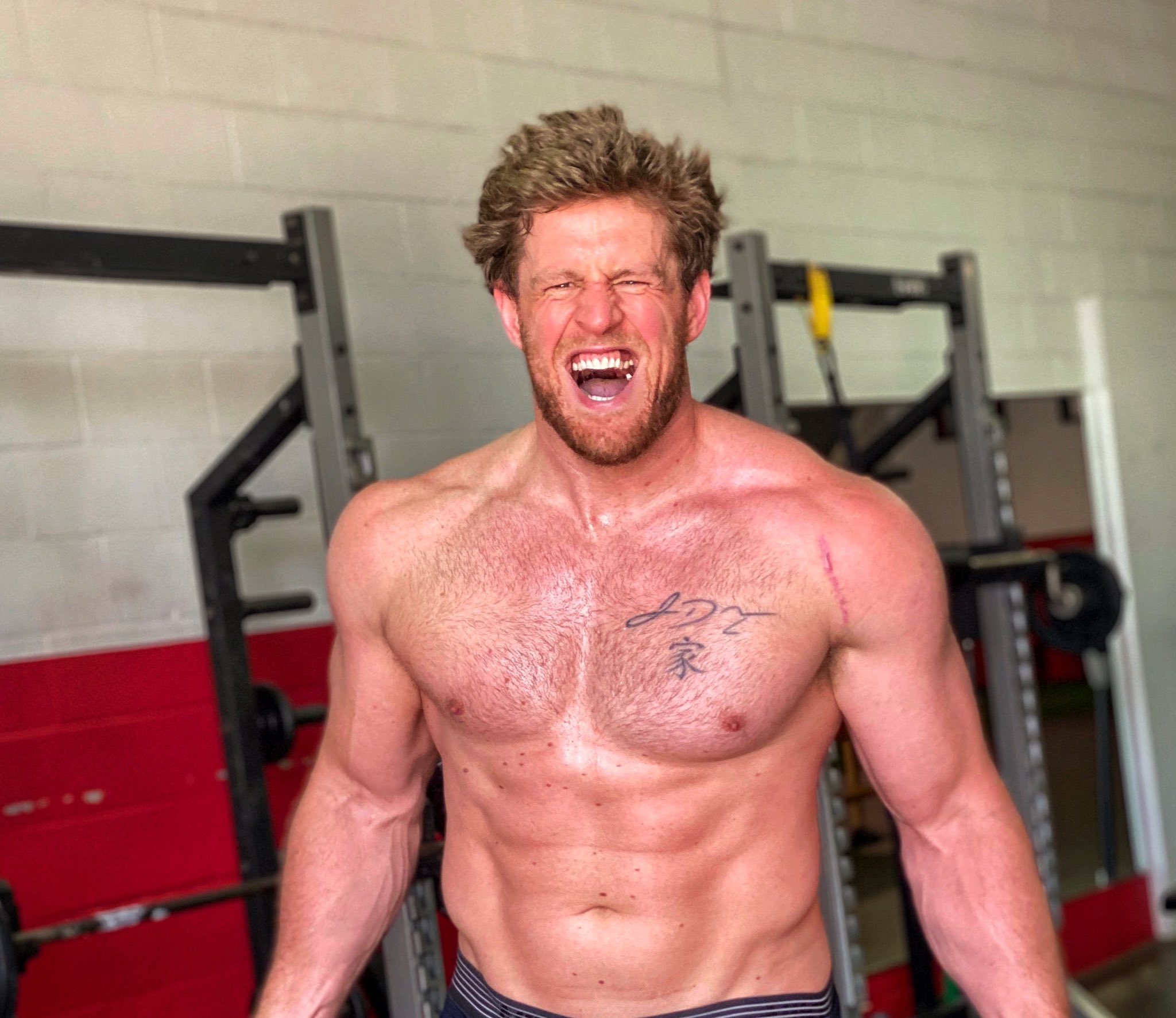 atrial fibrillation and a serious shoulder injury hampered his efforts. He retired when his contract was finished. His demanding sports responsibilities help increase his metabolic rate by encouraging the burning of more calories which keeps any excess fat weight at bay, thus allowing JJ Watt to maintain his body shape physique/figure.
Expanding his horizons, he is working on his acting and television personality skills including hosting NBC's Saturday Night Live (SNL) in 2020. He has appeared on the television series The League (FX, 2014), New Girl (FOX, 2015), and Ultimate Tag (FOX, 2020) along with presenting at the 2016 CMT Music Awards. His motion picture movie acting debut came in the 2016 film Bad Moms. He is rumored to be considering becoming a sports broadcaster and/or starting a podcast. Romantically, he has been linked to Caroline Wozniacki and Lindsey Vonn.
His estimated net worth is $54 million. You can catch him on social media including Instagram, Facebook, and Twitter. See more former star NFL football player, television personality, and actor JJ Watt celebrity Body Type One (BT1) photos on Google.
Review the Body Type Science Data or take the Scientific Body Type Quiz/Test for women and men.
---