---
---
Celebrity Body Types: Jon Jones (Jonathan Dwight Jones)
---
The Four Body Types Scientific Identification: Body Type One, BT1
Male/Man
Genetically Underdeveloped Vertebrae (Muscles/Muscle Mass): None/0
Date of Birth: July 19, 1987
Age: 35 (as of 2022)
Unscientific/Nonsense Body Types Rough Correlations: Mesomorph, Hormone/Adrenal
Learn How 

The Four Body Types

Determines A Celebrity Body Type Like Jon Jones
---
---
Celebrity Jon Jones displays his Body Type One (BT1) shape physique/figure while MMA fighting. The fully
developed vertebrae (posture) and muscles/muscle mass are obvious. He is showing no signs of skinny fat (cellulite, thin fat, loose skin, saggy skin, crepey skin, normal weight obesity) anywhere on his body.
One pound of muscle burns six calories per day, but one pound of skinny fat/fat only burns two to three calories. Which directly affects metabolism (the more skinny fat and fat, the slower the metabolism). Having a strong metabolism because of all that muscle and muscle mass, no less, is an advantage that a fully developed BT1 offers, including aging gracefully.
Diet, exercise, lifestyle, metabolism, and BMI matter. But so do genes/genetics/DNA. As he continues to age, it will be interesting to see how well Jon Jones successfully maintains his thoroughly muscular body shape physique/figure.
---
---
---
Jon Jones Physique – BT1
Ultimate Fighting Championship (UFC) mixed martial artist (MMA) light heavyweight champion
Jon Jones shows off his Body Type One shape/physique during competition and weigh-in. A former state champion high school wrestler at Union-Endicott High School in upstate New York, he attended Iowa Central Community College to play football as a defensive lineman, winning the National Junior College Athletic Association (NJCAA) national championship. He eventually dropped out of college to begin his MMA career.
Debuting in professional MMA in 2008, he achieved an undefeated record of 6–0 which led him to sign with the UFC. His first two fights at UFC 87 in August of 2008 and UFC 94 in January of 2009 ended with his unanimous defeat of Andre Gusmão and veteran Stephan Bonnar. His third competition at UFC 100 in July of 2009 resulted in a tap-out win over Jake O'Brien leading to a new contract. After a controversial disqualification for the use of illegal 12-6 elbows in December of 2009 against Matt Hamill (his only professional loss), his next two fights ended in him winning in TKO. He beat former IFL Light Heavyweight Champion Vladimir Matyushenko and handed Ryan Bader his first loss at UFC 126 in early 2011. 
UFC

Light Heavyweight Champion

Jon Jones Body Type One
His big break came when Joe Rogan informed him that Rashad Evans sustained a knee injury in training and would not be able to compete in his scheduled championship match against UFC light heavyweight champion Maurício "Shogun" Rua. In March 2011 at UFC 128, Jones became the youngest UFC light heavyweight champion ever with a TKO of RUA at 2:37 in Round 3. He successfully defended his light heavyweight title in December 2011 at UFC 140 against Lyoto Machida, in April 2012 at UFC 145 versus Rashad Evans, and in opposition to Vitor Belfort in September 2012 at UFC 152.  
As a former two-time UFC Light Heavyweight Champion, he maintained his title from March 2011 to April 2015 and from December 2018 to August 2020, widely considered the best pound-for-pound fighter in the world. After he was arrested on felony hit-and-run charges, he was stripped of his title and removed from the official rankings by the UFC in 2015.
MMA Fighter Jon Jones Body Shape
He held the interim UFC Light Heavyweight Championship in 2016 until being temporarily suspended again for testing positive for banned substances in 2017. He has been nominated for a Best Fighter ESPY Award four times. As of September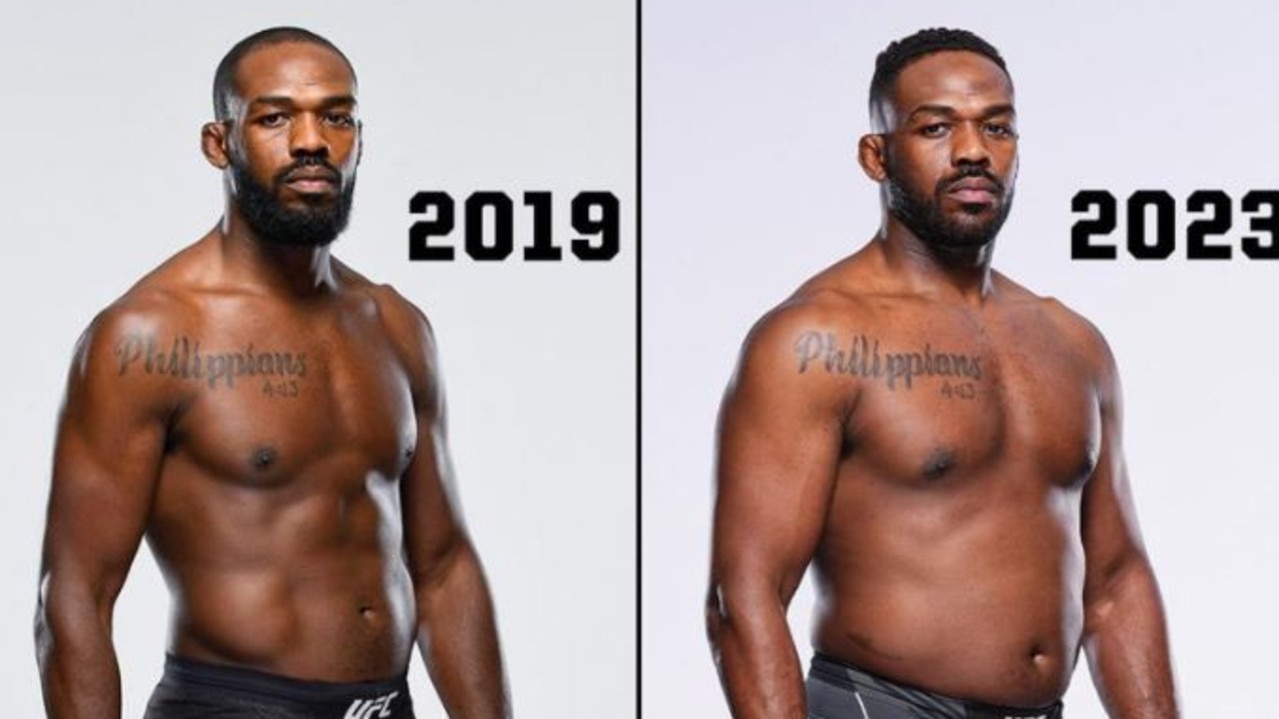 2022, he is #11 in the UFC men's pound-for-pound rankings. Staying in shape for his demanding UFC MMA fighting career helps increase his metabolic rate which encourages the burning of more calories. All of this keeps any excess fat weight at bay thus allowing Jon Jones to maintain his muscular physique. Jessie Moses is his ex-fiancee.
His net worth is estimated at $3 million. You can catch him on social media including Instagram, Facebook, and Twitter. See more professional UFC mixed martial artist (boxing, wrestling, Brazilian jiu-jitsu) fighter Jon Jones celebrity Body Type One (BT1) photos on Google.
Review the Body Type Science Data or take the Scientific Body Type Quiz/Test for women and men.  
---