---
---
Celebrity Body Types: Kristen Bell (Kristen Anne Bell)
---
The Four Body Types Scientific Identification: Body Type One, BT1
Female/Woman
Genetically Underdeveloped Vertebrae (Muscles/Muscle Mass): None/0
Date of Birth: July 18, 1980
Age: 42 (as of 2022)
Unscientific/Nonsense Body Types Rough Correlations: Ectomorph, Kibbe/Soft Natural, Hormone/Ovary
Learn How 

The Four Body Types

Determines A Celebrity Body Type Like Kristen Bell
---
---
Celebrity Kristen Bell shows off her Body Type One (BT1) shape figure/physique while taking time off at the beach. Even after giving birth to two kids, the candid images reveal no real signs
of
skinny fat (cellulite, thin fat, loose skin, saggy skin, crepey skin, normal weight obesity) anywhere on her body. The full development of her vertebra (posture) and muscles/muscle
mass is currently not in debate.
Science recognizes that one pound of muscle burns six calories daily, but one pound of fat/skinny fat only burns two to three calories. Which directly affects metabolism (the more skinny fat and fat, the slower the metabolism). Having so many developed vertebrae, muscles, and muscle mass assists greatly in terms of metabolism/metabolic rate (BMR), including aging gracefully.
Genetics/genes/DNA are important, but diet, exercise, metabolism, BMI, and lifestyle also matter. It will be interesting to see how well Kristen Bell maintains her body shape figure/physique as she continues to age. Is she really a Body Type Two (BT2)?
---
---
---
Kristen Bell

Figure/Shape – BT1
Hollywood star actress Kristen Bell displays her Body Type One shape/figure during her vacation at
the ocean with family and friends including her husband Dax Shepard. She
began her acting career starring in stage productions while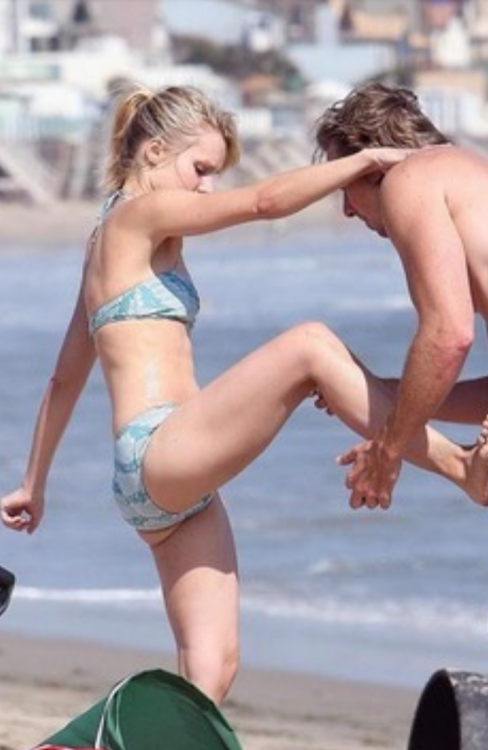 attending the Tisch School of the Arts at New
York University. In 2001, her Broadway debut as Becky Thatcher in the comedy musical The Adventures of Tom Sawyer was accompanied by her first motion picture role in the Chris Rock comedy Pootie Tang (2001). Another Broadway appearance in the revival of The Crucible in 2002 led her to fully transition to feature-length films with a part in the drama People Are Dead (2002).
After roles in Neko No Ongaeshi (2002, voice), The King and Queen of Moonlight Bay (2003), and Spartan (2004), her rise to fame began with her positive critically acclaimed performance in the television drama film Gracie's Choice (2004). That led to major parts in Deepwater (2005), The Receipt (2005), Reefer Madness: The Movie Musical (2005), Roman (2006), Fifty Pills (2006), Pulse (2006), and Flatland: The Movie (2007, voice), which culminated in her performance in the popular movie Forgetting Sarah Marshall (2008).
Hollywood Actress

Kristen Bell Body Type One
Since then, her diverse range of movies includes Fanboys (2009), Couples Retreat (2009), Serious Moonlight (2009), Astro Boy (2009, voice), When in Rome (2010), Burlesque (2010), Get Him to
the Greek (2010), You Again (2010), Astro Boy vs. The Junkyard Pirates (2010, voice), Scream 4 (2011, Stuck in Love (2012), Safety Not Guaranteed (2012), Big Miracle (2012), Hit and Run (2012), Flatland 2: Sphereland (2012, voice), Frozen (2013, voice), Some Girl(s) (2013), The Lifeguard (2013), Movie 43 (2013), Mary Poppins Quits (2014), Veronica Mars (2014), Frozen Fever (2015, voice), Bad Moms (2016), Zootopia (2016, voice), The Boss (2016), CHIPS (2017), A Bad Moms Christmas (2017), How to Be a Latin Lover (2017), Olaf's Frozen Adventure (2017, voice), Like Father (2018), Teen Titans GO! To the Movies (2018, voice), Ralph Breaks the Internet (2018, voice), Frozen 2 (2019, voice), and Queenpins (2021). Her next upcoming movie is The People We Hate at the Wedding (2022).  
In terms of television series, she is best known for her work in The CW teen noir drama Veronica Mars (2004–2007), which was revived in 2019. As well, she narrated the network's teen drama series Gossip Girl (2007-2012) along with her reprised role in the 2021 sequel. Moreover, she played Elle Bishop in the NBC superhero drama series Heroes (2007-2008), the female lead Jeannie van der Hooven in the Showtime comedy series House of Lies, Eleanor Shellstrop in the popular NBC comedy series The Good Place, and the lead role in Netflix series The Woman in the House Across the Street from the Girl in the Window.
Businesswoman Kristen Bell Body Shape
She has also had acting and animation voice parts in the TV series The Simpsons (FOX), Robot Chicken (Adult Swim), The Cleveland Show (FOX), The Shield (FX), Parks and Recreation (NBC),
Deadwood (HBO), Party Down (STARZ), Central Park (Apple TV+), and Do, Re, & Mi (Amazon Prime Video), to name a few. In 2020, she published the children's book The World Needs More Purple People with co-author Benjamin Hart. As a businesswoman, in 2019, she graced the cover of Entrepreneur magazine to discuss her snack bar company, This Saves Lives, which donates its sales to help feed malnourished children around the globe. Her demanding acting career helps Kristen Bell maintain her body shape figure by increasing her metabolic rate, thus burning more calories to keep excess fat weight at bay. 
She is estimated to have a net worth of $40 million. You can catch her on social media including Instagram, Facebook, and Twitter. See more businesswoman, author, and Hollywood star actress Kristen Bell celebrity Body Type One (BT1) photos on Google.
Review the Body Type Science Data or take the Scientific Body Type Quiz/Test for women and men.  
---