---
---
Celebrity Body Types: Leonardo DiCaprio (Leonardo Wilhelm DiCaprio)
---
The Four Body Types Scientific Identification: Body Type One, BT1 (Possible Body Type Two)
Male/Man
Genetically Underdeveloped Vertebrae (Muscles/Muscle Mass): None/0 (Possibly Lumbar)
Date of Birth: November 11, 1974
Age: 48 (as of 2022)
Unscientific/Nonsense Body Types Rough Correlations: Mesomorph, Hormone/Liver
---
---
Celebrity Leonardo DiCaprio displays his Body Type One (BT1) shape physique/figure while taking time off at the ocean
with friends and family
including his girlfriend Victoria Lamas. He is showing no real signs of skinny fat
(cellulite, thin fat, loose skin, saggy skin, crepey skin, normal weight
obesity) anywhere on his body, although perhaps some excess fat. In his younger years, the fully developed vertebrae (posture) and muscles/muscle mass were obvious, but have become more debatable as he has aged. He recently joked about having a "dad bod".
Science recognizes that one pound of muscle burns six calories per day, but one pound of skinny fat/fat only burns two to three calories. Which directly affects metabolism (the more skinny fat and fat, the slower the metabolism) as well as body composition and shape. Having a strong metabolism because of all that muscle and muscle mass, no less, is an advantage that a fully developed BT1 typically offers, including aging gracefully.
Diet, exercise, lifestyle, metabolism, and BMI matter. But so do genes/genetics/DNA. As he continues to age, it will be interesting to see how well Leonardo DiCaprio successfully maintains his body shape physique/figure. Is he really a Body Type Two (BT2)?
---
---
---
Leonardo DiCaprio Physique/Figure – BT1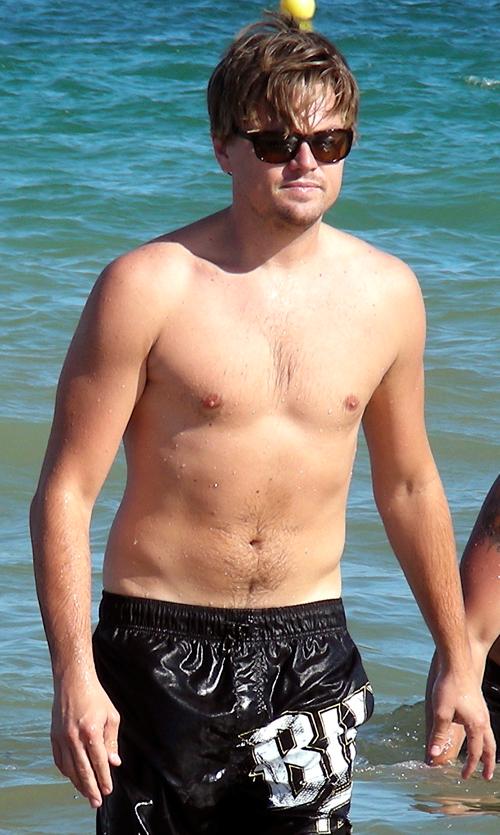 A-list Academy Award-winning superstar Hollywood actor Leonardo DiCaprio shows off his Body Type One shape/physique during his vacation. Initially struggling
to land an agent and being rejected at more than 100 auditions, thoughts of quitting were turned aside when his parent's connections led to numerous parts in commercials.
Appearances in a television episode of the NBC soap opera Santa Barbara and the Ron Howard spin-off series Parenthood in 1990 were followed by a role in the low-budget horror film Critters 3 (1991) and a recurring part in the hit ABC show Growing Pains. After paying his dues, his first critically acclaimed (Rolling Stone) performance came in the movie This Boy's Life upon being handpicked by Robert De Niro from a list of 400 actors.
Breaking out in the motion picture What's Eating Gilbert Grape (1993) starring Johnny Depp, he received his first Academy Award nomination for Best Supporting Actor. Credits in the successfully diverse films The Basketball Diaries (1995), The Quick and the Dead (1995), Romeo + Juliet (1996), Marvin's Room (1996), Titanic (1997), The Man in the Iron Mask (1998), The Beach (2000), Don's Plum (2001), Catch Me If You Can (2002), and Gangs of New York (2002) culminated with another Academy Award nomination for Best Actor in The Aviator (2004, executive producer).
A-List Superstar Hollywood Celebrity Actor Leonardo DiCaprio Body Type One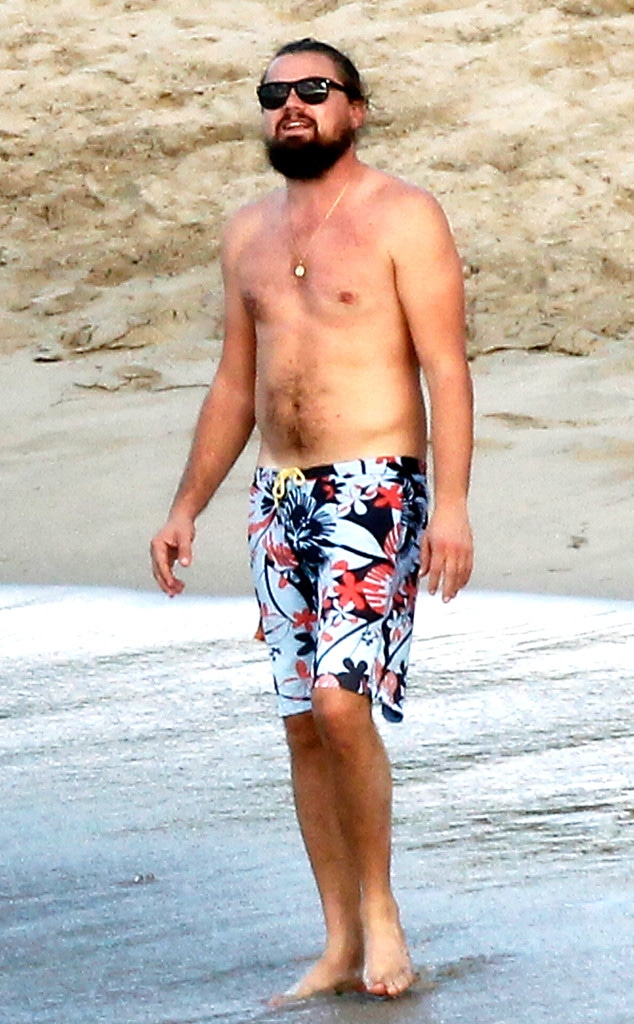 Over his powerhouse career, he has six Academy Award nominations while starring in more than 30
movies including The Departed (2006), Blood Diamond (2006, Academy Award-nominated for Best Actor), Body of Lies (2008), Revolutionary Road (2008), Shutter Island (2010), Inception (2010), J. Edgar (2011), Django Unchained (2012), The Great Gatsby (2013), The Wolf of Wall Street (2013, producer & Academy Award-nominated for Best Actor and Best Picture), The Revenant (2015, Academy Award winner for Best Actor), Once Upon a Time in Hollywood (2019, Academy Award-nominated for Best Actor), and Don't Look Up (2021). His next upcoming picture is Killers of the Flower Moon (2023, producer).
As an executive producer, he is responsible for The Assassination of Richard Nixon (2004), The Ides of March (2011), Virunga (2014), Catching the Sun (2015), Cowspiracy (2015), The Ivory Game (2015), Kid 90 (2021), The Loneliest Whale: The Search for 52 (2021), and Fin (2021). As well, as a producer, he worked on The 11th Hour (2007), Gardener of Eden (2007), Orphan (2008), Red Riding Hood (2011), Runner Runner (2013), Out of the Furnace (2013), Before the Flood (2016), Live by Night (2016), Delirium (2018), Robin Hood (2018), Struggle: The Life and Lost Art of Szukalski (2018), And We Go Green (2019), and Richard Jewell (2019).
Moreover, he hosted Saturday Night Live (SNL) in 2014, produced the History Channel television shows The Men Who Built America: Frontiersmen, Grant, The Titans That Built America, and Theodore Roosevelt and the Disney Plus Channel series The Right Stuff, to name a few.
Environmental Activist

Leonardo DiCaprioto Body Shape
Recognized as one of the most active celebrities in the climate change movement, his focus is on preserving Earth's biodiversity and supporting renewable energy. He produced the short web documentaries Water Planet
and Global Warning while reducing his carbon footprint as much as possible by using electric-hybrid vehicles and powering his home with solar panels. Although some claim hypocrisy due to his use of private jets and large yachts. Not to be outdone, his philanthropy entails donating to no less than the Wildlife Conservation Society, Animal Legal Defense Fund, and opening the Leonardo DiCaprio Foundation.
With a long list of accolades, Forbes ranked him on its annual list of the world's highest-paid actors in 2008 and from 2010 to 2016. In 2016, he was named one of the 100 most influential people in the world by Time magazine.
Further, The Hollywood Reporter listed him as one of the 100 most powerful people in entertainment from 2016 to 2019. His demanding producer and acting responsibilities help increase his metabolic rate by encouraging the burning of more calories which keeps any excess fat weight at bay, thus allowing Leonardo DiCaprioto to maintain his physique/figure. He has been romantically linked to the likes of Gisele Bündchen, Blake Lively, Claire Danes, Liv Tyler, Naomi Campbell, Camila Morrone, and Gigi Hadid.
His net worth is estimated at $310 million. You can catch him on social media including Instagram, Facebook, TikTok, and Twitter. See more producer and Academy Award-winning A-list superstar Hollywood actor Leonardo DiCaprioto celebrity Body Type One (BT1) photos on Google.
Review the Body Type Science Data or take the Scientific Body Type Quiz/Test for women and men.
---