---
---
Celebrity Body Types: Paris Hilton (Paris Whitney Hilton)
---
The Four Body Types Scientific Identification: Body Type One, BT1
Female/Woman
Genetically Underdeveloped Vertebrae (Muscles/Muscle Mass): None/0
Date of Birth: February 17, 1981
Age: 42 (as of 2023)
Unscientific/Nonsense Body Types Rough Correlations: Mesomorph, Kibbe/Flamboyant Natural, Hormone/Ovary
---
---
Celebrity Paris Hilton shows off her Body Type One (BT1) shape figure/physique during her vacation at the beach. The candid images reveal no real signs of skinny fat (cellulite, thin fat, loose skin, saggy skin, crepey
skin, normal weight
obesity) anywhere on her body. The full development of her vertebra (posture)
and muscles/muscle mass is obvious.
Science recognizes that one pound of muscle burns six calories daily, but one pound of fat/skinny fat only burns two to three calories. Which directly affects metabolism (the more skinny fat and fat, the slower the metabolism). Having so many developed vertebrae, muscles, and muscle mass assists greatly in terms of metabolism/metabolic rate (BMR), including aging gracefully.
Genetics/DNA are important. But diet, exercise, metabolism, BMI, and lifestyle also matter. As she continues to age, it will be interesting to see how well Paris Hilton maintains her body shape figure/physique. Is she really a Body Type Two (BT2)?
---
---
---
Paris Hilton

Figure/Shape – BT1
Media personality and heiress Paris Hilton displays her Body Type One shape/figure while taking
time off at the ocean with friends and family including her husband Carter Reum. The great-granddaughter of Conrad Hilton, the founder of
Hilton Hotels, her early years of great privilege led to a troubled youth, manifesting as legal issues throughout her life. Her entertainment career began with an uncredited appearance in the fantasy film Wishman in 1992. Her rise as a New York City socialite began in 1996 at age 16, with a counterfeited identity document in hand, her attendance and antics at nightclubs and high-profile events started attracting spotlight attention from local tabloids, a lifestyle that clashed with her family's conservative values.
Deciding to pursue modeling after being inspired by Patricia Field and Betsey Johnson, she signed with T Management (Donald Trump's agency) at age 19. Modeling for the likes of Catherine Malandrino, Marc Bouwer, and David LaChapelle, she was featured in the September 2000 issue of Vanity Fair. With her star on the rise, in 2001 she participated in the New York Fashion Week, including an advertising campaign for the Italian label Iceberg while appearing in Vogue and FHM. Complimenting her modeling, she ventured into acting, officially debuting in the independent teen thriller Sweetie Pie (2000). After a cameo appearance in the Ben Stiller and Owen Wilson comedy Zoolander (2001), she starred as a socialite in the straight-to-DVD horror film Nine Lives (2002).
In 2003, she starred with Nicole Richie in the FOX television reality series The Simple Life, catapulting her to international fame shortly after the leak of her sex tape. In 2006, the show moved to E!.
Author & Actress Paris Hilton

Body Type One
Over her long career, she has had numerous supporting and starring roles in diverse television series and movies including Raising Helen (2004), The O.C. (2004, FOX), House of Wax (2005), Saturday Night Live (2006, NBC), National Lampoon's Pledge This! (2006), Repo! The Genetic Opera (2008), My Name Is Earl (2008, NBC), Paris Hilton's My New BFF (2008, MTV, ITV2), and spin-offs, The Dog Who Saved Christmas Vacation (2010), The World According to Paris (2011, Oxygen), The American Meme (2018), and Hollywood Love Story (2018), and the YouTube Original documentary This Is Paris (2020), to name a few. Her famous catchphrases are "That's hot", "loves it", and "sliving".
She has co-authored two books, Confessions of an Heiress: A Tongue-in-Chic Peek Behind the Pose (2004, #7 on The New York Times Best Seller list) and Your Heiress Diary: Confess It All to Me (2005). As well, as a businesswoman, she has launched a purse collection for the Japanese label Samantha Thavasa, a jewelry line that sold on Amazon. multiple perfume lines for Parlux Fragrances, a DreamCatchers line of hair extensions with Hair Tech International, an Antebi signature footwear line (Paris Hilton Footwear, featuring stilettos, platforms, flats, wedges, and a sports collection), a line of tops, dresses, coats, and jeans at the Kitson Boutique in Los Angeles, and appeared in numerous television ads including a risque Carl's Jr. ad. The 2007 Guinness World Records named her the world's "most overrated celebrity".
Forbes ranked her as the most "overexposed" in 2006 and 2008. She ranked 59th, 23rd, 34th, and 35th in FHM's 100 Sexiest Women poll in 2004, 2005, 2006, and 2012, respectively. She was 20th and 38th on Maxim magazine's Hot 100 list in 2005 and 2006 and among the "100 Hottest Women of All Time" by Men's Health in 2011.
Model, Singer, DJ, & Businesswoman Paris Hilton Body Shape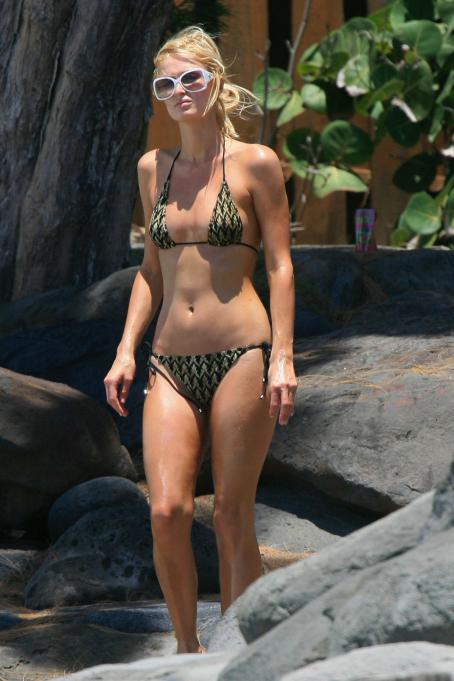 Moreover, she released her self-titled first album, Paris, in 2006, reaching number six on the Billboard 200, selling over 600,000 copies worldwide including the hit single Stars Are Blind. She was also a successful DJ for a time. As a model, she posed for Kanye West's Yeezy in 2018, and in 2019 walked the runway for The Blond and Christian Cowan, modeled for Philipp Plein's Plein Sport campaign, and was a special guest in the twelfth episode of Germany's Next Topmodel's 14th cycle.
Paris Hilton's demanding media personality and businesswoman responsibilities help with maintaining her body shape figure by increasing her metabolic rate thus burning more calories to keep excess fat weight at bay. She currently hosts her podcast This Is Paris. Not to be outdone, her philanthropy has involved no less than Starlight Children's Foundation, Make-A-Wish Foundation, and Children's Hospital Los Angeles. Previously, she has been romantically linked to Leonardo DiCaprio, Edward Furlong, Rick Salomon, Nick Carter, and Benji Madden. 
Her estimated net worth is $300 million. You can catch her on social media including Instagram, Facebook, Twitter, and TikTok. See more media personality, businesswoman, socialite, singer, DJ, author, model, and actress/entertainer Paris Hilton celebrity Body Type One (BT1) photos on Google.
Review the Body Type Science Data or take the Scientific Body Type Quiz/Test for women and men.
---