---
---
Celebrity Body Types: Neymar (Neymar da Silva Santos Júnior)
---
The Four Body Types Scientific Identification: Body Type One, BT1
Male/Man
Genetically Underdeveloped Vertebrae (Muscles/Muscle Mass): None/0
Date of Birth: February 5, 1992
Age: 30 (as of 2022)
Unscientific/Nonsense Body Types Rough Correlations: Ectomorph, Hormone/Adrenal
Learn How 

The Four Body Types

Determines A Celebrity Body Type Like Neymar
---
---
Celebrity Neymar displays his Body Type One (BT1) shape physique/figure while taking time off at the
ocean. The fully developed vertebrae (posture) and muscles/muscle mass are obvious. He is showing no real
signs of skinny fat (cellulite, thin fat, loose skin, saggy skin, crepey skin, normal weight
obesity) anywhere on his body.
One pound of muscle burns six calories per day, but one pound of skinny fat/fat only burns two to three calories daily. Which directly affects metabolism (the more skinny fat and fat, the slower the metabolism). Having a strong metabolism because of all that muscle and muscle mass, no less, is an advantage that a fully developed BT1 offers, including aging gracefully.
Diet, exercise, lifestyle, metabolism, and BMI matter. But so do genes/genetics/DNA. It will be interesting to see how well Neymar successfully maintains his muscular body shape physique/figure as he continues to age.
---
---
---
Neymar Physique – BT1
Professional soccer/futbol player Neymar shows off his Body Type One shape/physique while taking time off at the beach with friends and family including his girlfriend Bruna Biancardi. One of Brazil's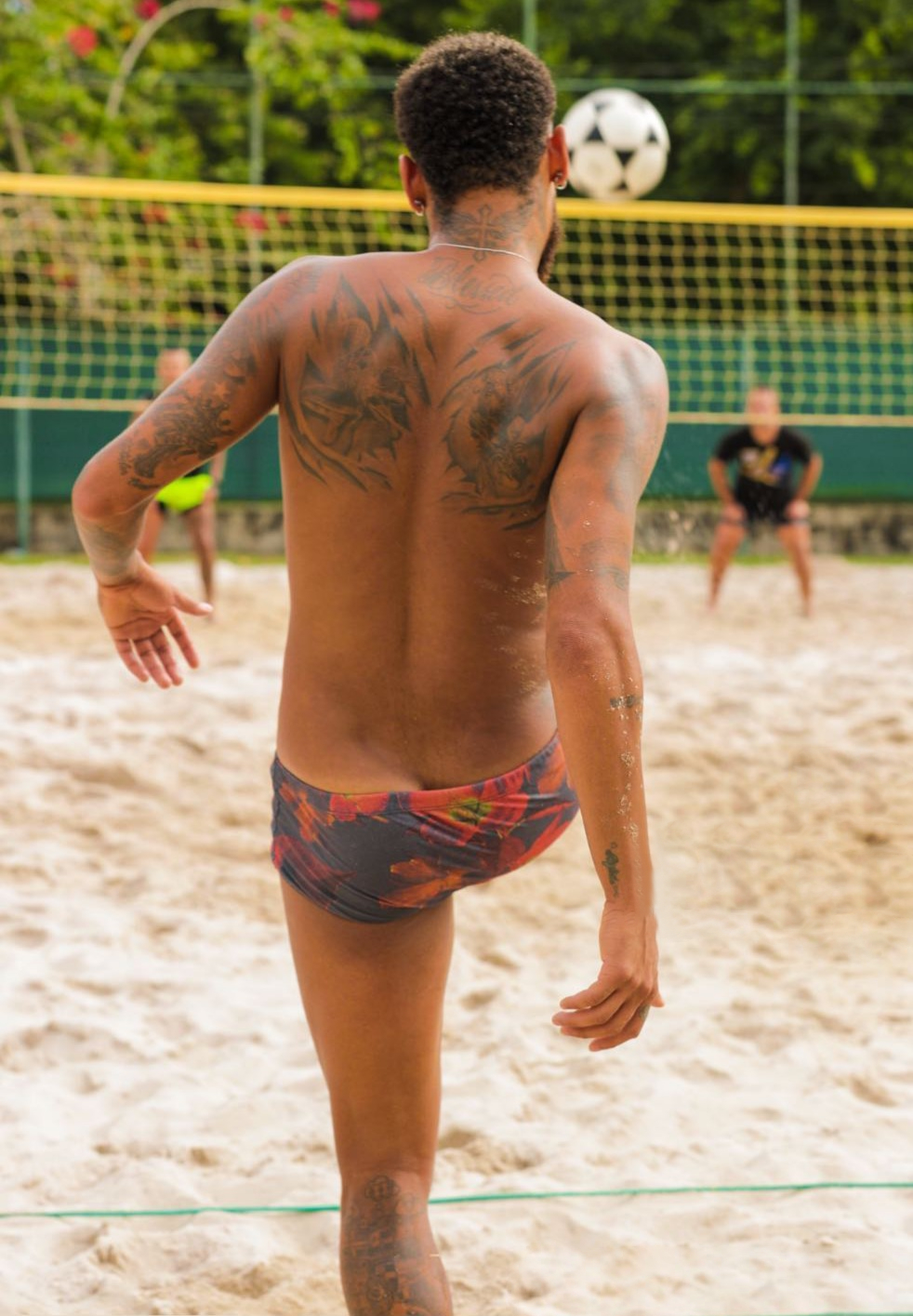 most popular and respected professional footballers
(soccer), he has played professionally since 2017 for the club Paris Saint-Germain of Ligue 1 in France. He is also a forward on the Brazilian national team, playing in the 2014 and 2018 FIFA World Cups as well as captaining Brazil to their first men's football/soccer Olympic gold medal at the 2016 Summer games. Previously he played for Santos FC (2009-2013) and then FC Barcelona (2013-2017).
Among his many accolades, he was the three-time top scorer in the UEFA Champions League (10 Goals, 2014/15), Copa del Rey (7 Goals, 2014/15), and Copa Libertadores (8 Goals, 2011/12). As well, he finished third for the France football news magazine Ballon d'Or (2015 and 2017), was awarded the FIFA Puskás Award (2011), has been named in the FIFA FIFPro World11 twice, the UEFA Team of the Year twice, and the UEFA Champions League Squad of the Season three times. All those professional soccer matches assist with increasing his metabolism to burn more calories, thus helping Neymar maintain his physique by keeping any excess fat at bay.
His net worth is an estimated $200 million. You can catch him on social media including Instagram, Facebook, and Twitter. See more professional footballer (soccer) player Neymar celebrity Body Type One (BT1) photos on Google.
Review the Body Type Science Data or take the Scientific Body Type Quiz/Test for women and men.  
---