---
---
Celebrity Body Types: Reese Witherspoon (Laura Jeanne Reese Witherspoon)
---
The Four Body Types Scientific Identification: Body Type Two, BT2
Female/Woman
Genetically Underdeveloped Vertebrae (Muscles/Muscle Mass): 1 to 8; Lower Lumbar, Sacrum
Date of Birth: March 22, 1976
Age: 47 (as of 2023)
Unscientific/Nonsense Body Types Rough Correlations: Mesomorph, Kibbe/Soft Gamine, Hormone/Ovary
Learn How The Four Body Types Determines A Celebrity Body Type Like Reese Witherspoon
---
---
Celebrity Reese Witherspoon shows off her Body Type Two (BT2) shape figure/physique while at the beach
on vacation with her friends and family including her husband Jim Toth. The fully developed vertebrae (posture) and muscles/muscle mass are
debatable. It appears that she has some signs of skinny fat (cellulite, thin fat, loose skin, saggy skin, crepey skin, normal weight obesity) on no less than her upper back legs, buttocks, and lower back indicating a slightly underdeveloped sacrum vertebra as well as a lumbar vertebra or two.
Science recognizes that one pound of muscle mass burns six calories daily, but one pound of skinny fat/fat burns only two to three calories daily. Which directly affects metabolism (the more skinny fat and fat, the slower the metabolism). The mostly developed vertebrae, muscles, and muscle mass across the majority of her BT2 is an advantage that Body Type Three (BT3) and Body Type Four (BT4) human bodies (female or male) generally lack.
Diet, exercise, lifestyle, metabolic rate (BMR), and BMI matter. But so do genes/genetics/DNA. As she continues to age., it will be interesting to see how well Reese Witherspoon maintains her body shape figure/physique.
---
---
---
Reese Witherspoon Figure/Shape – BT2
Academy Award-winning and Emmy Award-winning A-list superstar Hollywood actress Reese Witherspoon enjoys a day at the waterfront in her Body Type Two shape/figure. She made her motion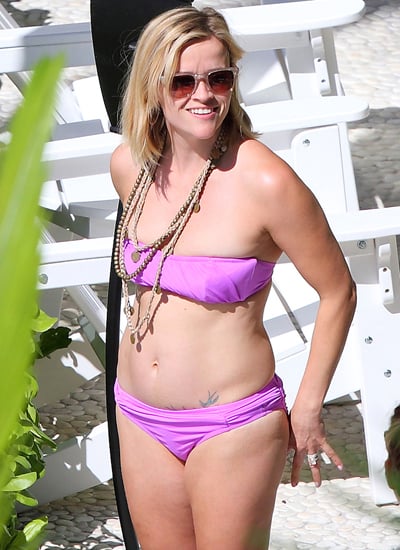 picture debut in The Man in the Moon (1991). After paying her dues with diversely successful roles in the films A Far Off Place,(1993), Jack the Bear (1993), S.F.W. (1994), Fear (1995), Freeway (1996), Overnight Delivery (1998), Pleasantville (1998) and Twilight (1998), her first big breakthrough performance came in Cruel Intentions (1999) followed by her critically acclaimed role in Election that same year. Her star skyrocketed to fame with her portrayal as Elle Woods in the hit comedy Legally Blonde (2001) along with the 2003 sequel Legally Blonde 2 Red, White & Blonde.
In 2005, she won the Academy Award for Best Actress as June Carter Cash in the musical Johnny Cash biopic Walk the Line. Oher movie credits over the years include American Psycho (2000), The Importance of Being Earnest (2002), Sweet Home Alabama (2002), Vanity Fair (2004), Just Like Heaven (2004), Rendition (2007), Four Christmases (2008), Monsters vs. Aliens (2009, voice), How Do You Know, (2010), Water for Elephants (2011), Mud (2012), This Means War (2012), Valentine's Day (2012), Devil's Knot (2013), Wild (2014), The Good Lie (2014), Hot Pursuit (2015), Sing (2016, voice), Home Again, (2017), A Wrinkle in Time (2018), Lucy in the Sky (2019), Sing 2 (2021, voice), Where the Crawdads Sing (2022), and Your Place or Mine (2023).
A-List Superstar Hollywood Actress Reese Witherspoon Body Type Two Shape
In terms of television shows, she has appeared on Return To Lonesome Dove (CBS), the NBC hit show Friends & Friends: The Reunion (2021), Saturday Night
Live (SNL, Host 2001 & 2015), The Simpsons (FOX), and Big Little Lies (HBO), to name a few, while currently producing and starring in the Apple TV+ drama series The Morning Show. She also produced Gone Girl (2014) and is the executive producer for the Apple TV+ series Truth Be Told. Moreover, as a businesswoman, in 2012 she founded the production company Pacific Standard which is now part of her Hello Sunshine media company brand. Not to be outdone, she hosts the DirecTV/Hello Sunshine Channel talk show Shine On with Reese,
Her long list of accolades includes Forbes listing her among the World's 100 Most Powerful Women in 2019 and 2021 while being named one of the world's richest actresses in 2021. As well, Time magazine named her one of the 100 most influential people in the world in 2006 and 2015. The demanding nature of her diverse movie roles likely has helped increase her metabolism, thus assisting with maintaining her body shape figure. She was previously married to Ryan Phillippe.
Her net worth is estimated to be $400 million. You can catch her on social media including Instagram, Facebook, and Twitter. See more businesswoman, entrepreneur, producer, actress, and A-list Hollywood star Reese Witherspoon celebrity Body Type Two (BT2) photos on Google.
Review the Body Type Science Data or take the Scientific Body Type Quiz/Test for women and men.
---