---
---
Celebrity Body Types: Joe Rogan (Joseph James Rogan)
---
The Four Body Types Scientific Identification: Body Type One, BT1
Male/Man
Genetically Underdeveloped Vertebrae (Muscles/Muscle Mass): None/0
Date of Birth: August 11, 1967
Age: 55 (as of 2022)
Unscientific/Nonsense Body Types Rough Correlations: Mesomorph, Hormone/Adrenal
Learn How 

The Four Body Types

Determines A Celebrity Body Type Like Joe Rogan
---
---
Celebrity Joe Rogan displays his Body Type One (BT1) shape physique/figure while at the gym working out. His fully developed vertebrae (posture) and muscles/muscle mass are clear. At 55, he is showing no signs of skinny fat (cellulite, thin fat, loose skin, saggy skin, crepey skin, normal weight obesity)
anywhere on his body.
However, after being fat-shamed on social media for having excess stomach fat, he successfully lost weight. On one hand, yes, you can see from his "fat" picture that, indeed, he does have excess fat on his abdomen/stomach. On the other hand, the muscle is still very obvious underneath the fat.
As a comparison, here is a picture of Body Type Three (BT3) James Corden. Notice any differences in body shape and composition (muscle/mass versus skinny fat and excess fat)? Keep in mind that muscle mass burns more calories at rest (6 calories per day per pound of muscle) than fat/skinny fat (2-3 calories per day per pound), which directly affects metabolism (the more skinny fat and fat, the slower the metabolism). It will be interesting to see how well Joe Rogan maintains his muscular body shape physique as he continues to age and his metabolism slows. 
---
---
---
Joe Rogan Physique – BT1
Joe Rogan Experience podcaster Joe Rogan showing off his Body Type One physique at the beach. Having a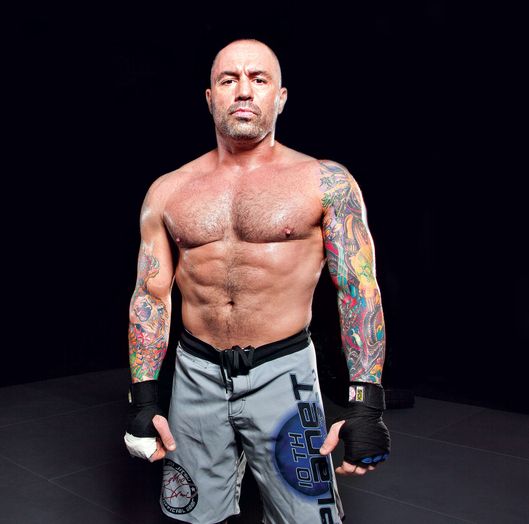 strong metabolism because of all that muscle and muscle mass, no less, is one of the many advantages that a fully developed BT1 offers. Diet, exercise, lifestyle, metabolism, and BMI matter, but so do genes/genetics/DNA.
His net worth is estimated at $120 million. You can catch him on social media including Instagram, Facebook, Twitter, TikTok, and Youtube. See more former television presenter (Fear Factor), Ultimate Fighting Championship (UFC) color commentator, comedian, podcaster, and actor Joe Rogan celebrity Body Type One (BT1) photos on Google.
Review the Body Type Science Data or take the Scientific Body Type Quiz/Test for women and men.    
---