---
---
Celebrity Body Types: Scarlett Johansson (Scarlett Ingrid Johansson)
---
The Four Body Types Scientific Identification: Body Type One, BT1 (Possible Body Type Two)
Female/Woman
Genetically Underdeveloped Vertebrae (Muscles/Muscle Mass): None/0 (Possibly Sacrum and Lumbar)
Date of Birth: November 22, 1984
Age: 38 (as of 2022)
Unscientific/Nonsense Body Types Rough Correlations: Ectomorph, Kibbe/Dramatic Classic (Soft Classic), Hormone/Ovary
Learn How The Four Body Types Determines A Celebrity Body Type Like Scarlett Johansson
---
---
Celebrity Scarlett Johansson shows off her Body Type One (BT1) shape figure/physique on a casual day out at
the beach with her friends and family including her husband Colin Jost. The fully developed vertebrae (posture) and muscles/muscle mass have become more debatable as she has aged.
It appears that she has some signs of skinny fat (cellulite, thin fat, loose skin, saggy skin, crepey skin, normal weight obesity) on her upper back legs.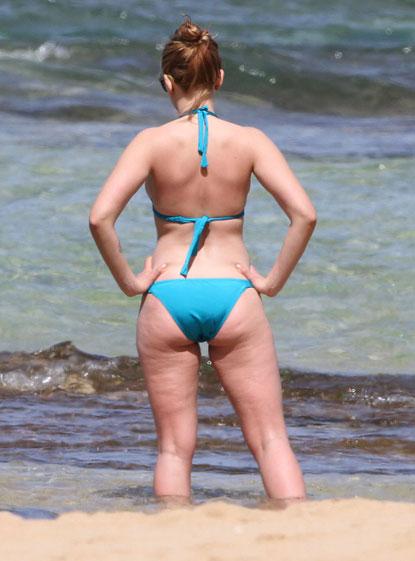 Possibly indicating a slightly underdeveloped sacrum vertebra, and perhaps even a lower lumbar vertebra or two.
Did the skinny fat get worse after her second child, or was it always present due to genetics? Science recognizes that one (1) pound of muscle mass burns six (6) calories daily but one (1) pound of fat/skinny fat only burns two to three (2-3) calories per day. Which directly affects metabolism (the more skinny fat and fat, the slower the metabolism). Having so many developed muscles and muscle mass helps in terms of metabolism/metabolic rate (BMR), one of the many advantages of a BT1 along with aging more gracefully.
Diet, exercise, lifestyle, metabolic rate (BMR), and BMI matter, but so do genes/genetics/DNA. It will be interesting to see how well Scarlett Johansson maintains her body shape figure/physique as the years pass. Is she really a Body Type Two (BT2) with an underdeveloped sacrum vertebra, no less? Time will tell.
---
---
---
Scarlett Johansson Figure/Shape- BT1
Academy Award-nominated A-list superstar Hollywood actress Scarlett Johansson enjoys a day at the beach in her Body Type One figure/shape. Is she all-natural? How much plastic surgery,
Botox, and/or Scupltra has she done?
Her acting career began at the very young age of nine with her film debut in the 1994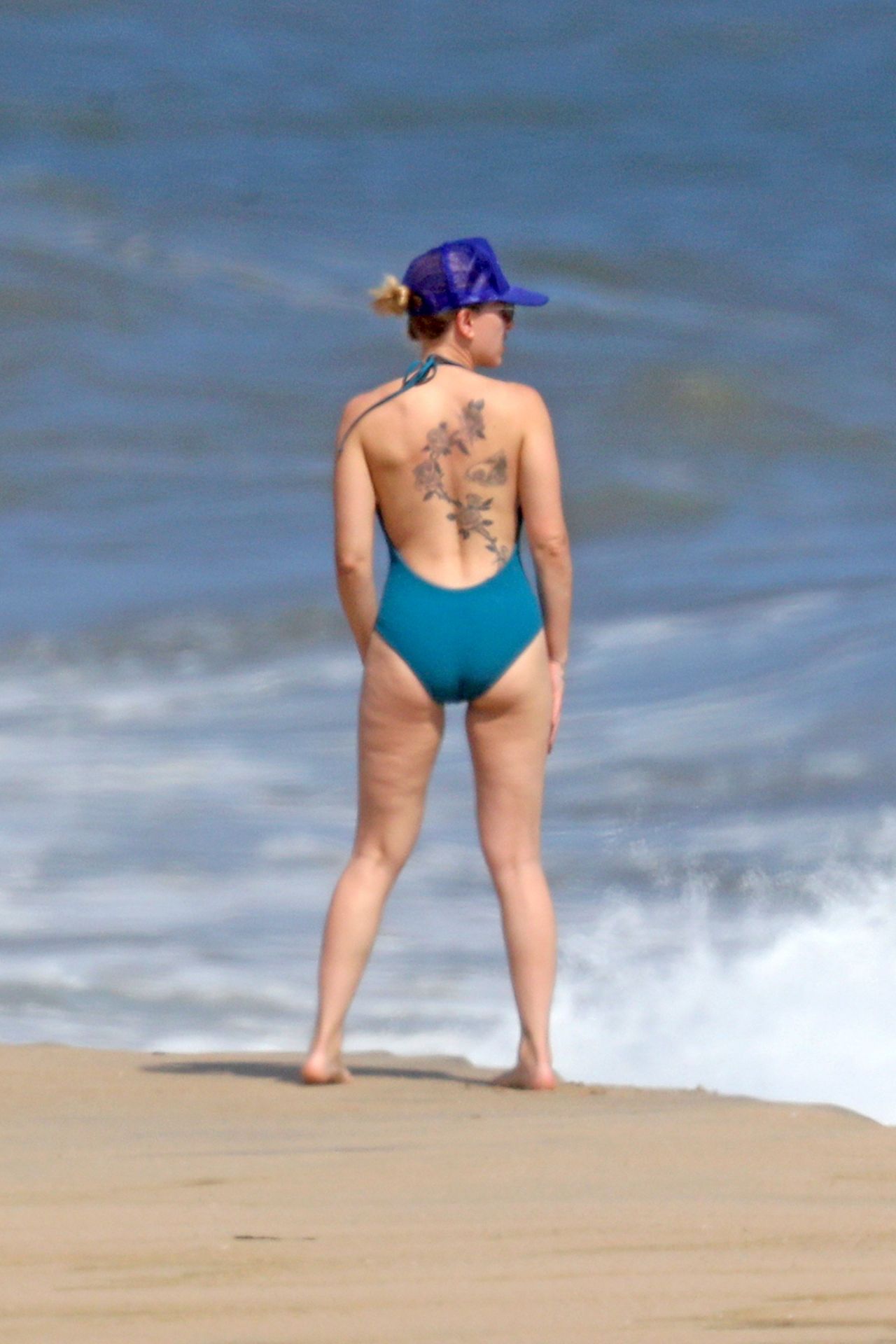 fantasy comedy North. Upon paying her dues in the movies Just Cause (1995), If Lucy Fell (1996), Manny & Lo
(1996), Fall (1997), and Home Alone 3 (1997), her breakout performance came in Robert Redford's 1998 motion picture The Horse Whisperer. After diversely successful appearances in no less than My Brother the Pig (1999), The Man Who Wasn't There (2001), Ghost World (2001), and Eight Legged Freaks (2002), she skyrocketed to fame with her critically acclaimed role in the 2003 romantic comedy-drama Lost in Translation with Bill Murray. 
Her long list of movie credits includes The Perfect Score (2004), The SpongeBob SquarePants Movie (2004, voice), In Good Company (2004), Match Point (2005), The Black Dahlia (2006), The Nanny Diaries (2007), The Other Boleyn Girl (2008), The Spirit (2008), He's Just Not That Into You (2009), Iron Man 2 (2010), We Bought a Zoo (2011), The Avengers (2012), Hitchcock (2012), Don Jon (2013), Captain America: The Winter Soldier (2014), Avengers: Age of Ultron (2015), Captain America: Civil War (2016), Sing (2016), The Jungle Book (2016), Rough Night (2017), Avengers: Infinity War (2018), Captain Marvel (2019), Avengers: Endgame (2019), Marriage Story (2019, Academy Award-nominated for Best Actress), Jojo Rabbit (2019, Academy Award-nominated for Best Supporting Actress), Black Widow (2021), and Sing 2 (2021). Her next upcoming movie is Asteroid City (2023).
A-List Superstar Hollywood Actress Scarlett Johansson Body Type One Shape
Moreover, she also had brief appearances on the television shows Entourage (HBO) and Robot Chicken (Adult Swim, voice) while hosting NBC's very popular Saturday
Night Live (SNL) six times (2006, 2007, 2010, 2015, 2017, 2019). Not to be outdone, she won a Tony Award for Best Featured Actress in a Play for her role in A View from the Bridge (2010). Preparing for all of her demanding acting roles over the years has likely helped increase her metabolism, thus burning more calories to maintain her body shape figure.
Among her long list of accolades, in 2018 and 2019 she was the world's highest-paid actress. She has been featured on the Forbes Celebrity 100 list multiple times and ranked on Time magazine's 2021 list of 100 most influential people in the world. To date, her films have totaled over $14.3 billion globally, making her the highest-grossing box office star of all time. In terms of philanthropy, she focuses on various charitable organizations including Aid Still Required, Cancer Research UK, Stand Up To Cancer, USA Harvest, Too Many Women, and Oxfam, to name a few. 
Her estimated net worth is $165 million. You can catch her on social media including Instagram, Facebook, and Twitter. See more A-list Hollywood superstar acress Scarlett Johansson celebrity Body Type One (BT1) photos on Google.
Review the Body Type Science Data or take the Scientific Body Type Quiz/Test for women and men.
---