---
Celebrity Body Types: Jason Momoa (Joseph Jason Namakaeha Momoa)
---
The Four Body Types Scientific Identification: Body Type One, BT1
Male/Man
Genetically Underdeveloped Vertebrae (Muscles/Muscle Mass): None/0
Date of Birth: August 1, 1979
Age: 43 (as of 2022)
Unscientific/Nonsense Body Types Rough Correlations: Mesomorph, Hormone/Adrenal
Learn How 

The Four Body Types

Determines A Celebrity Body Type Like Jason Momoa
---
---
Celebrity Jason Momoa displays his Body Type One (BT1) shape physique/figure while vacationing at the ocean with friend and family including his girlfriend Eiza González.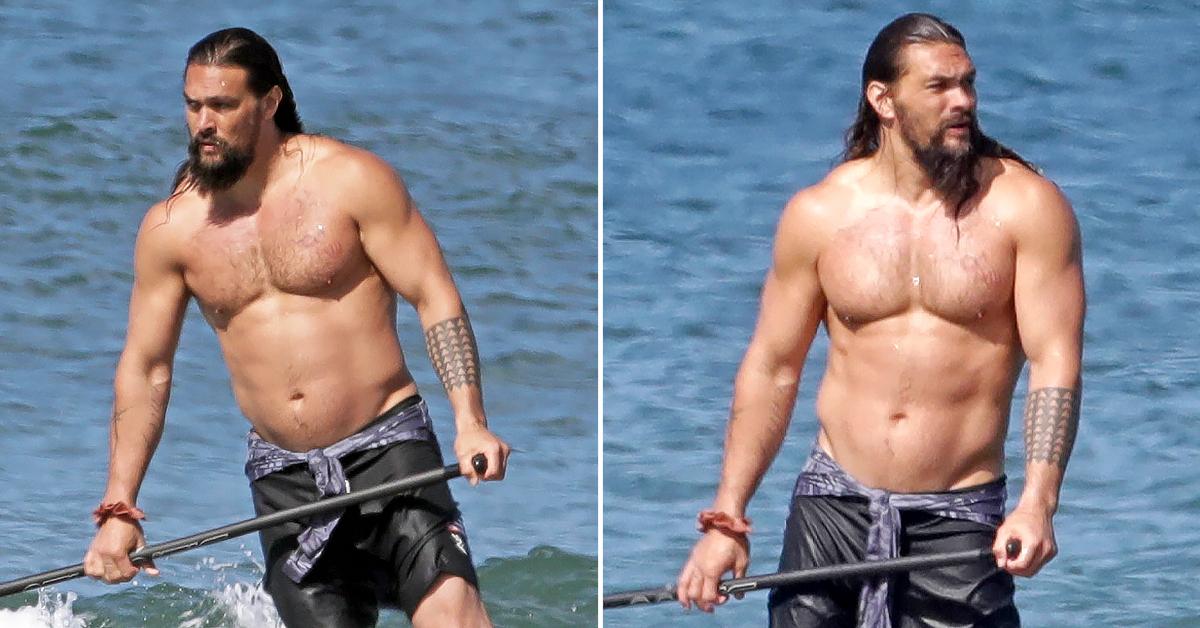 The fully developed vertebrae
(posture) and muscles/muscle mass are clear. The candid images reveal no obvious signs of skinny fat (cellulite, thin fat, loose skin, saggy skin, crepey skin, normal weight obesity) anywhere on his body, although some hints are starting to show on his buttocks (sacrum vertebra) as he has aged.
One pound of muscle mass burns 6 calories per day, but 1 pound of skinny fat/fat mass only burns 2-3 calories daily. Which directly affects metabolism (the more skinny fat and fat, the slower the metabolism). Having all those developed vertebrae, muscles, and muscle mass assists greatly in terms of metabolism/metabolic rate (BMR), an advantage that a fully developed BT1 offers, along with aging gracefully.
Diet, exercise, lifestyle, metabolic rate (BMR), and BMI matter. But so do genes/genetics/DNA. It will be interesting to see how well Jason Momoa maintains his muscular body shape physique/figure as he continues to age. Is he really a Body Type Two (BT2)?
---
---
---
Jason Momoa Physique – BT1
A-list superstar Hollywood actor Jason Momoa shows off his Body Type One shape/physique during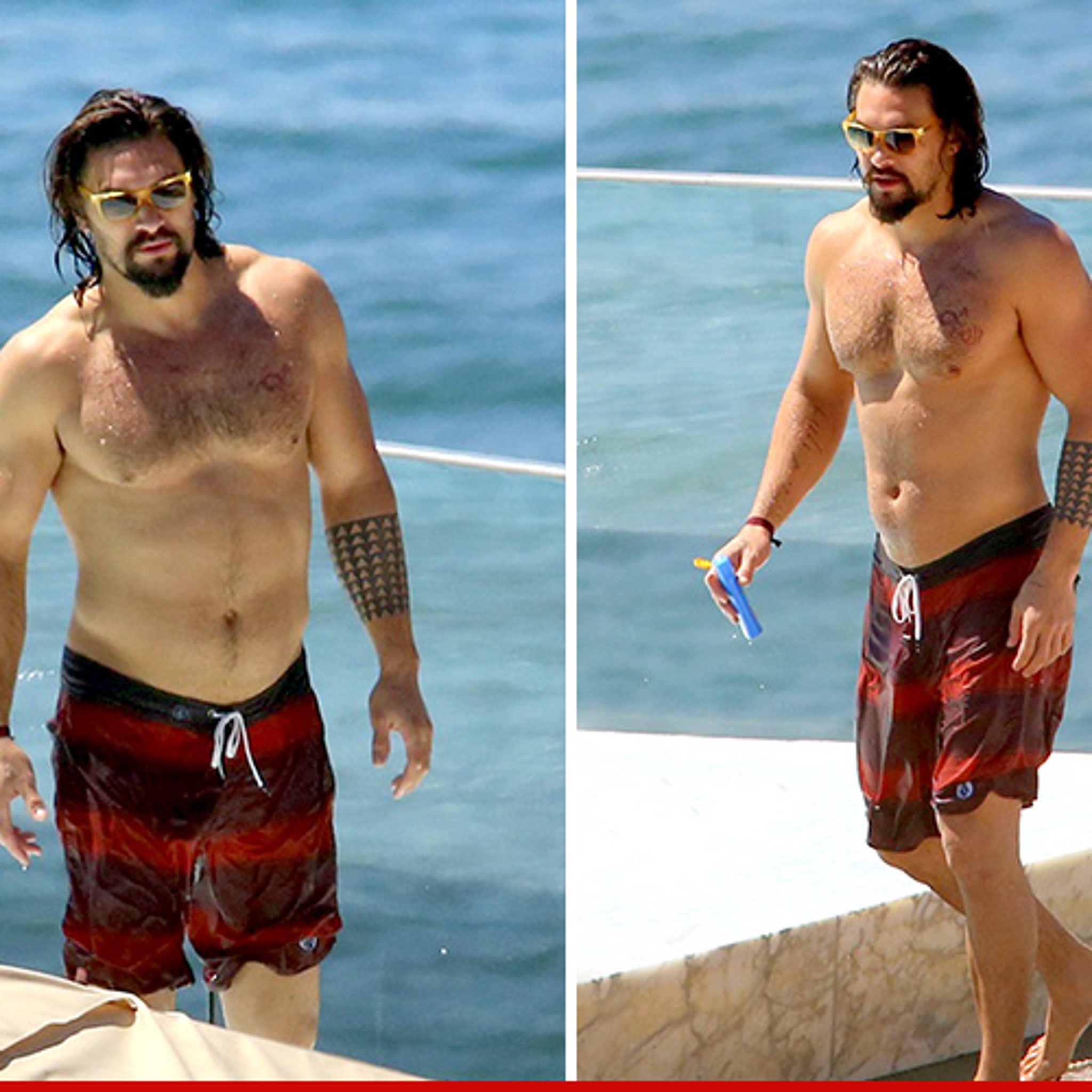 time off at the beach. His acting career began with his role
in the NBC television series action drama Baywatch: Hawaii (1999–2001), followed by Baywatch: Hawaiian Wedding in 2003. Paying his dues, he appeared on North Shore (2004–2005, FOX), Stargate Atlantis (2005–2009, SyFy), and The Game (2009, The CW) which led to a more prominent role on HBO hit Game of Thrones (2011–2012). 
Expanding into motion pictures, diverse parts in the films Johnson Family Vacation (2004), Pipeline (2007), Conan the Barbarian (2011), Bullet to the Head (2012), Road to Paloma (2014, director, producer, co-writer), Wolves (2014), Batman v Superman: Dawn of Justice (2016), Sugar Mountain (2016), Once Upon a Time in Venice (2017), The Bad Batch (2017), Justice League (2017), and Braven (2018, producer), were followed by his breakout performance in the 2108 hit Aquaman. Further movie credits include The Lego Movie 2: The Second Part (2019, voice),  Zack Snyder's Justice League (2021), Sweet Girl (2021), Dune (2021), Slumberland (2022), and The Last Manhunt (2022). His upcoming 2023 films are Fast X and Aquaman and the Lost Kingdom, with Fast & Furious 11 due out in 2024. 
A-list Superstar Hollywood Actor Jason Momoa Body Type One Shape
In 2018, he hosted NBC's Saturday Night Live (SNL) and in 2019 was a part of The Simpsons episode The Fat Blue Line on FOX. The intense training required for his superstar acting roles only helps further increase his metabolic rate, burning more calories to assist Jason Momoa with maintaining his body shape physique. Moreover, the scar on his left eyebrow originated from an altercation at a tavern in Hollywood, Birds Cafe, when he was slashed across the face with a broken beer glass requiring approximately 140 stitches and reconstructive surgery. The attacker was sentenced to five years in prison. He split from his wife Lisa Bonet in January 2022.
His estimated net worth is $25 million. You can catch him on social media including Instagram, Facebook, TikTok, and Twitter. See more filmmaker, producer, director, and A-list Hollywood star actor Jason Momoa celebrity Body Type One (BT1) photos on Google.
Review the Body Type Science Data or take the Scientific Body Type Quiz/Test for women and men.  
---