---
---
Celebrity Body Types: Jaden Smith (Jaden Christopher Syre Smith)
---
The Four Body Types Scientific Identification: Body Type One, BT1
Male/Man
Genetically Underdeveloped Vertebrae (Muscles/Muscle Mass): None/0
Date of Birth: July 8, 1998
Age: 24 (as of 2022)
Unscientific/Nonsense Body Types Rough Correlations: Mesomorph, Hormone/Adrenal
Learn How 

The Four Body Types

Determines A Celebrity Body Type Like Jaden Smith
---
---
Celebrity Jaden Smith displays his Body Type One (BT1) shape physique/figure while taking time off at the ocean with
friends and family including his girlfriend Sarah Snyder. The fully developed vertebrae (posture) and muscles/muscle mass are obvious. He is showing no signs
of skinny fat (cellulite, thin fat, loose skin, saggy skin, crepey skin, normal weight obesity) anywhere on his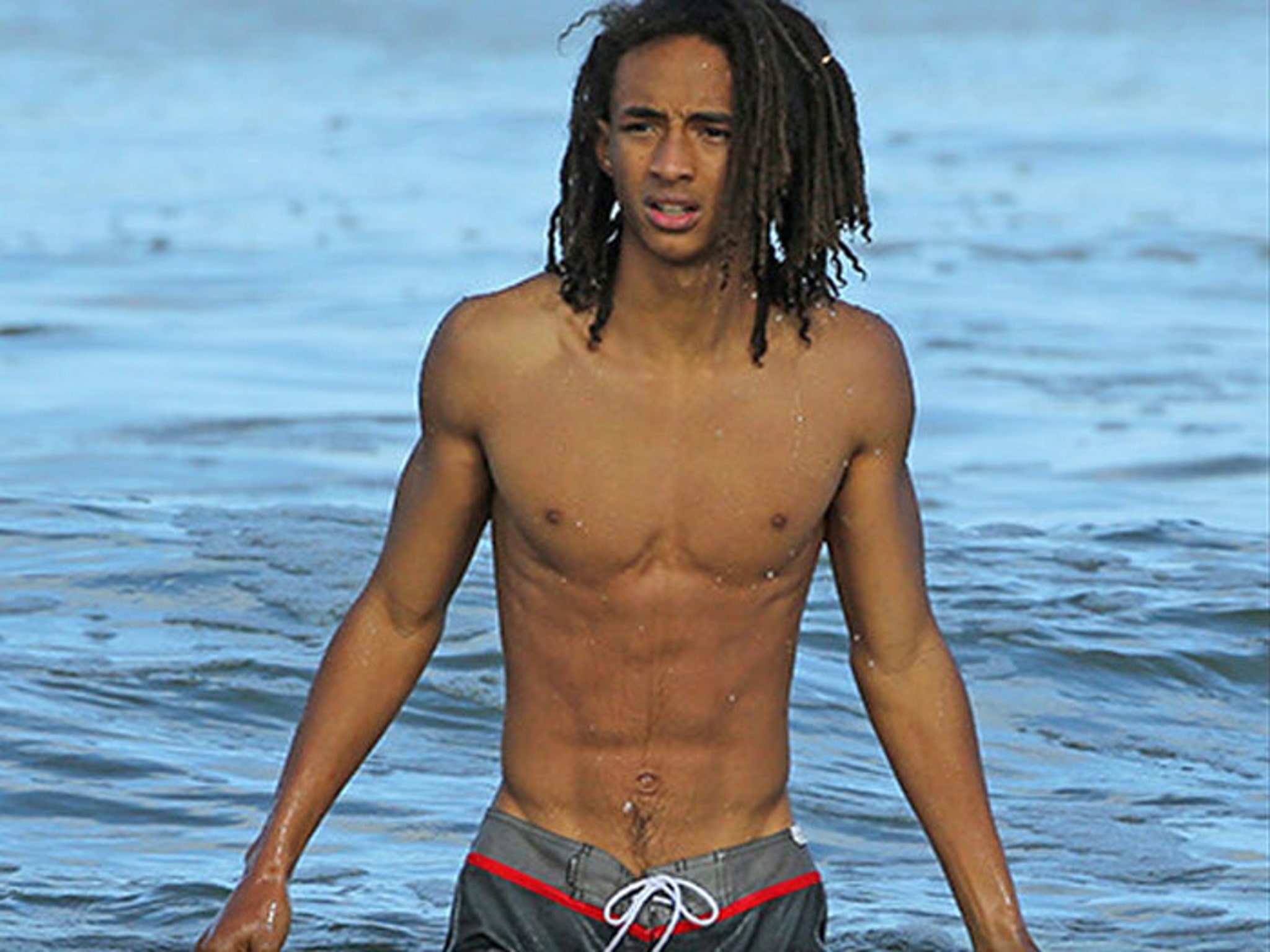 body at his young age.
One pound of muscle mass burns six (6) calories per day, but one (1) pound of fat mass only burns two (2) to three (3) calories daily. Which directly affects metabolism (the more skinny fat and fat, the slower the metabolism). Having a strong metabolism/metabolic rate (BMR) because of all that muscle and muscle mass, no less, is one of the many advantages that a fully developed BT1 offers.
Diet, exercise, lifestyle, metabolism, and BMI matter. But so do genes/genetics/DNA. It will be interesting to how well Jaden Smith manages and maintains his muscular physique as he ages.
---
---
---
Jaden Smith Physique – BT1
Hollywood star actor Jaden Smith shows off his Body Type One physique while on vacation at the beach. He began his career with a role in his father's 2006 film The Pursuit of Happyness. He took a
three-year break from acting, returning in 2016 to star in the two-part Netflix original
The Get Down as well as a voice-acting role in the Netflix original anime Neo Yokio. Film credits to date include The Day the Earth Stood Still (2008), the remake of the popular movie The Karate Kid (2010), After Earth (2013), Skate Kitchen (2018), Impractical Jokers: The Movie (2020), Life in a Year (2020) in which he was criticized for apparently losing too much weight, and A Man Named Scott (2021, cameo).
Preparing for all of his demanding acting roles likely helps increase his metabolism. Thus, burning more calories to assist Jaden Smith with maintaining his body shape physique. He is the son of A-list actor Will Smith and actress Jada Pinkett Smith
Musician Jaden Smith Body Type One Shape
In terms of his musical career, alongside Canadian singer Justin Bieber he was featured on the 2010 single Never Say Never from The Karate Kid. The song was certified 5× Platinum in the US, reaching the top ten on the Billboard Hot 100. He then released multiple mixtapes including CTV2 in 2014 followed by his 2017 debut studio album Syre 2017. He has since released the studio albums Erys (2019) and the mixed-tape CTV3: Cool Tape Vol. 3 (2020). Moreover, he received a 2022 Grammy Award nomination for Album of the Year as a featured artist on Bieber's album Justice. He has been romantically linked to Sofia Richie. 
His net worth is estimated to be $8 million. You can catch him on social media including Instagram and Facebook. See more musician, rapper, singer, and Hollywood star actor Jaden Smith celebrity Body Type One (BT1) photos on Google.
Review the Body Type Science Data or take the Scientific Body Type Quiz/Test for women and men.  
---