---
Celebrity Body Types: Shaquille ONeal (Shaquille Rashaun O'Neal, AKA Shaq)
---
The Four Body Types Scientific Identification: Body Type Two, BT2 (Possible Body Type One)
Male/Man
Genetically Underdeveloped Vertebrae (Muscles/Muscle Mass): 1 to 8; Lower Thoracic, Lumbar
Date of Birth: March 6, 1972
Age: 50 (as of 2022)
Unscientific/Nonsense Body Types Rough Correlations: Mesomorph, Hormone/Liver
Learn How 

The Four Body Types

Determines A Celebrity Body Type Like Shaquille ONeal
---
---
Celebrity Shaquille ONeal sporting his Body Type Two (BT2) shape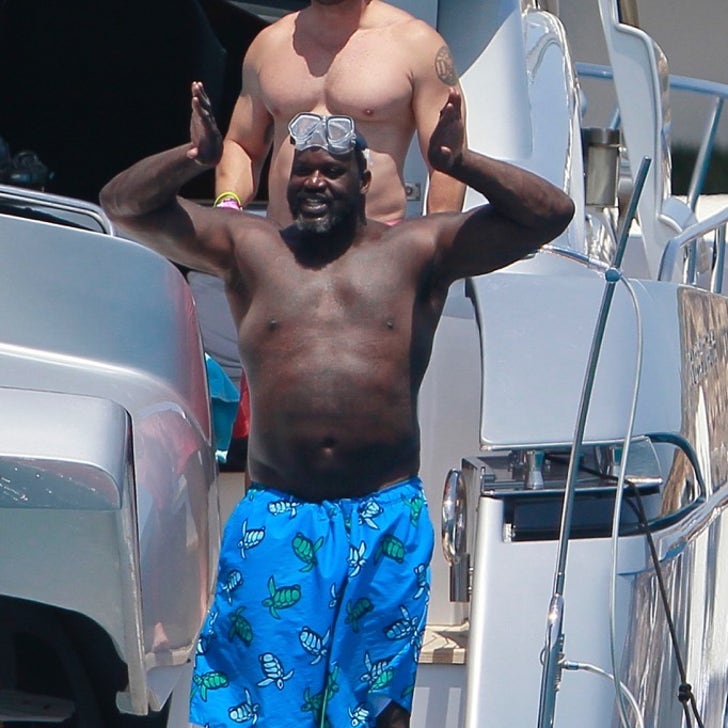 physique/figure while on holiday with friends and his girlfriend Dani Nicole. The full development of his vertebrae (posture) and
muscles/muscle mass is debatable. He is showing signs of excess fat (being overweight) and slight hints of
skinny fat (cellulite, thin fat, loose skin, saggy skin, crepey skin, normal weight obesity) on his lower back region and sides indicating a slightly underdeveloped lower thoracic and lumbar vertebra or two which directly correlates to the front abdominal/stomach area. 
At his age, identifying his true body type can be more difficult and it is possible he is a Body Type One (BT1). One pound of muscle burns six calories per day, but one pound of skinny fat/fat only burns two to three calories. Which directly affects metabolism (the more skinny fat and fat, the slower the metabolism). To that, metabolism has a strong tendency to slow with aging. 
Diet, exercise, lifestyle, metabolic rate (BMR), and BMI matter, but so do genes/genetics/DNA. If he were to lose the excess fat weight, would it reveal that Shaquille O'Neal is actually a Body Type One? As he continues to age, it will interesting to see how well he maintains his body shape physique/figure. 
---
---
---
Shaquille ONeal Physique – BT2
Four-time National Basketball Association (NBA) champion and legend Shaquille ONeal enjoys a working out in his Body Type Two physique. His professional basketball career began in college with the LSU Tigers.
Drafted by the Orlando Magic as the first overall pick in the 1992 NBA draft, he quickly became one of the best centers in the league. After four years with the Magic, he signed with the Los Angeles Lakers as a free agent, going on to win three consecutive championships (2000-2002). Tension with Kobe Bryant led to a trade with the Miami Heat in 2004 where he won his fourth NBA championship (2006).
He subsequently played for the Phoenix Suns (2007-2008), Cleveland Cavaliers (2009–2010), and Boston Celtics (2010–2011) before retiring. His career achievements include winning Rookie of the Year (1992–93), the Most Valuable Player (MVP) Award (1999–2000), 15 All-Star Game selections, three All-Star Game MVP awards, three Finals MVP awards, two scoring titles, 14 All-NBA team selections, three NBA All-Defensive Team selections, 1994 FIBA gold medalist, and 1996 Olympic US men's national team basketball gold medalist. Along with Willis Reed (1970) and Michael Jordan (1996 and 1998), he is one of only three players to win NBA MVP, All-Star Game MVP, and Finals MVP awards in the same year (2000). Moreover, he ranks 8th all-time in points scored, 6th in field goals, 15th in rebounds, and 8th in blocks.
Shaquille ONeal Body Type Two Shape
Widely regarded as one of the greatest basketball players and centers of all time (G.O.A.T), Shaquille O'Neal was named to the NBA's 50th Anniversary Team in 1996. As well, he was elected into the Naismith Memorial Basketball Hall of Fame in 2016. Not to mention a FIBA Hall of Fame selection in 2017, and in October 2021 he was named to the NBA 75th Anniversary Team. As an actor, over the years he has played diverse roles in many films as well as music videos and tv commercials.
His film credits include Blue Chips (1994), Kazaam (1996), Steel (1997), He Got Game (1998), Freddy Got Fingered (2001), and Uncle Drew (2018). Most recently, he has been in an array of diverse television ads for brands such as Papa John's (Shaq-a-roni), Pepsi, Buick, Icy Hot, Carnival Cruises, Epson Printers, and The General Car Insurance. He is also a sports analyst with Turner Sports on TNT's "Inside the NBA" as well as a contributor on NBA TV and NBA.com. Shaunie O'Neal is his ex-wife.
His net worth is $400 million. You can catch him on social media including Instagram, Facebook, and Twitter. See more television personality, sports analyst, and former star NBA basketball player Shaquille ONeal celebrity Body Type Two (BT2) photos on Google.
Review the Body Type Science Data or take the Scientific Body Type Quiz/Test for women and men.  
---