---
---
Celebrity Body Types: Tyson Fury (Tyson Luke Fury)
---
The Four Body Types Scientific Identification: Body Type Two, BT2
Male/Man
Genetically Underdeveloped Vertebrae (Muscles/Muscle Mass): 1 to 8; Lumbar (Possibly Thoracic)
Date of Birth: August 12, 1988
Age: 34 (as of 2022)
Unscientific/Nonsense Body Types Rough Correlations: Endomorph, Hormone/Liver
Learn How The Four Body Types Determines A Celebrity Body Type Like Tyson Fury
---
---
Celebrity Tyson Fury sporting his Body Type Two (BT2) shape physique/figure while on holiday
with his family and friends including his wife Paris Mulroy/Paris Fury. The fully developed vertebrae
(posture) and muscles/muscle mass are debatable. He is showing obvious signs of excess fat and skinny fat
(cellulite, thin fat, loose skin, saggy skin, crepey skin, normal weight obesity) on his stomach, love handles, and lower back, no less, indicating underdeveloped lumbar vertebrae and possibly a thoracic vertebra(e) or two.
One pound of muscle burns six calories per day, but one pound of skinny fat/fat only burns two to three calories. Which directly affects metabolism (the more skinny fat and fat, the slower the metabolism). The mostly developed vertebrae, muscles, and muscle mass across the majority of his BT2 is an advantage that Body Type Three (BT3) and Body Type Four (BT4) human bodies (male or female) generally lack.
Diet, exercise, lifestyle, metabolism, and BMI matter. But so do genes/genetics/DNA. As he continues to age, it will be interesting to see how well Tyson Fury successfully maintains his body shape physique/figure.
---
---
---
Tyson Fury Physique – BT2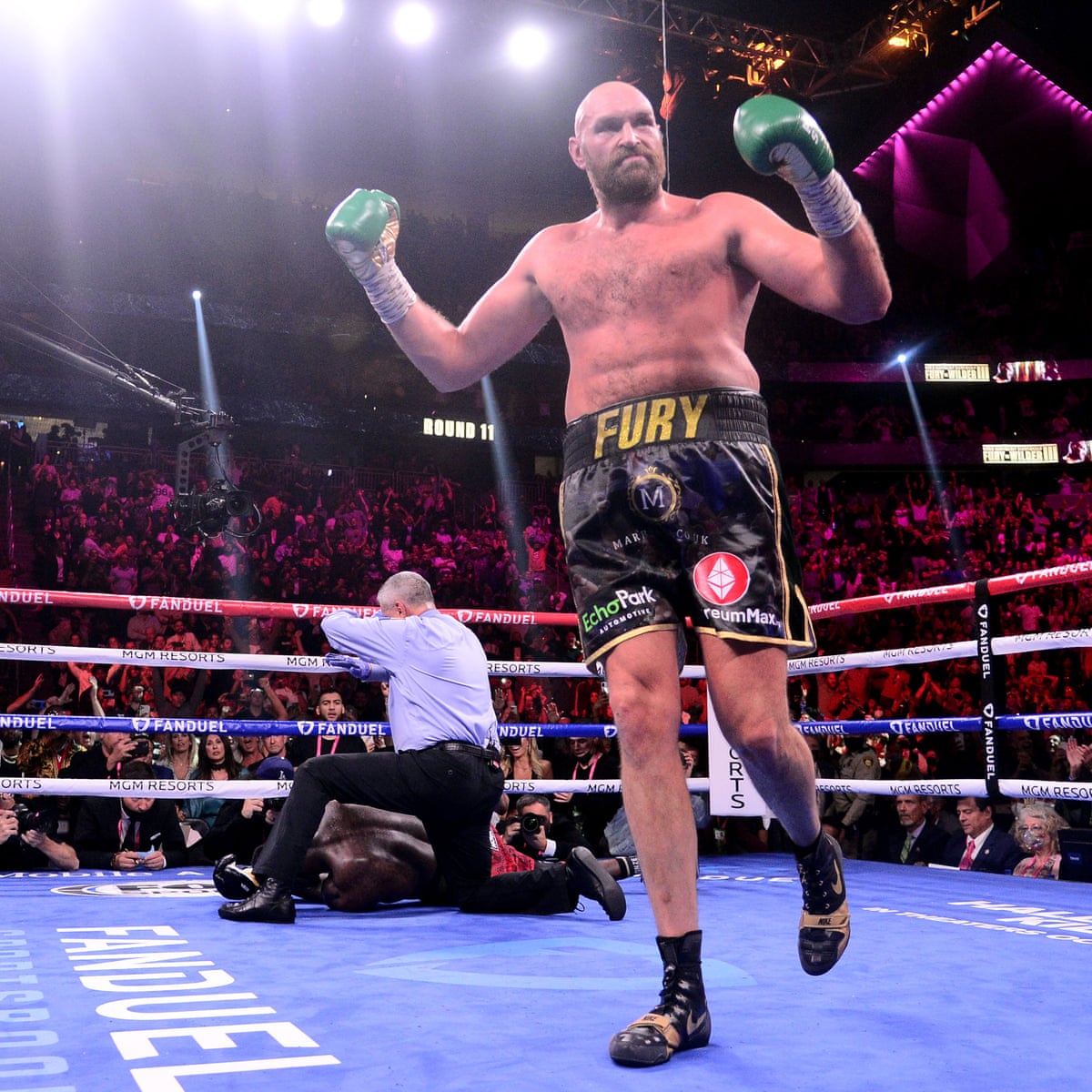 Two-time world heavyweight champion boxer Tyson Fury displays his Body Type Two physique
during boxing competitions. Born severely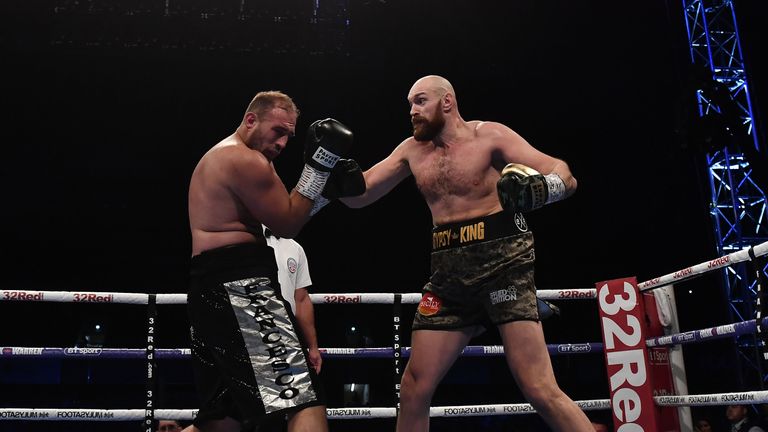 premature and named after Mike Tyson, his career began as an amateur boxer for both England and Ireland. He won the bronze medal at The International Boxing Association (AIBA) Youth World Boxing Championships (2006, Ireland), the EU Junior Championship (2007, England), and the silver at the European Junior Championship (2007, England).
Although he was ranked number three in the world behind the Russians Maxim Babanin and Andrey Volkov, he did not represent Great Britain at the 2008 Olympics because David Price was selected (each country is restricted to one boxer per weight division). He turned professional in 2008 after defeating Damien Campbell for the Amateur Boxing Association (ABA) of England super-heavyweight title. His stint as an amateur ended with a record of 31–4 (26 KOs). Making his professional debut at the age of 20 in Nottingham against Hungarian fighter Bela Gyongyosi, he emerged victorious with a TKO in the first round.  
Professional Boxer Tyson Fury Body Type Two
His professional heavyweight accomplishments include holding the World Boxing Council (WBC) title in 2020 after beating Deontay Wilder and The Ring magazine title in 2015 and from
2020 to August 2022 as well as
the unified World Boxing Association (WBA), International Boxing Federation (IBF), World Boxing Organization (WBO), and International Boxing Organization (IBO) titles. Upon defeating Wilder he became the third heavyweight after Floyd Patterson and Muhammad Ali to hold The Ring magazine title twice. He is widely considered by media outlets to be the lineal heavyweight champion.
After going from a washed-up fighter weighing in at 400 pounds, obesity, and dealing with a drug-and-alcohol-fuelled depression, he is now ranked as the world's best active heavyweight pugilist by ESPN as of August 2022. Pound for pound, overall he is ranked as the fourth best-active boxer by ESPN, sixth by the Transnational Boxing Rankings Board (TBRB), and seventh by the Boxing Writers Association of America. Staying in shape for his demanding, diverse boxing career helps increase his metabolic rate which encourages the burning of more calories keeping any excess fat weight at bay allowing Tyson Fury to maintain his muscular physique.
His net worth is $65 million. You can catch him on social media including Instagram, Facebook, and Twitter. See more heavyweight professional boxer Tyson Fury celebrity Body Type Two (BT2) photos on Google.
Review the Body Type Science Data or take the Scientific Body Type Quiz/Test for women and men.
---