---
---
Celebrity Body Types: Victoria Beckham (Victoria Caroline Beckham OBE, Victoria Caroline Adams, Victoria Adams)
---
The Four Body Types Scientific Identification: Body Type One, BT1 (Possible Body Type Two)
Female/Woman
Genetically Underdeveloped Vertebrae (Muscles/Muscle Mass): None/0 (Possibly Lumbar)
Date of Birth: April 17, 1974
Age: 49 (as of 2023)
Unscientific/Nonsense Body Types Rough Correlations: Mesomorph, Kibbe/Flamboyant Gamine, Hormone/Ovary
Learn How The Four Body Types Determines A Celebrity Body Type Like Victoria Beckham
---
---
\
Celebrity Victoria Beckham shows-off her Body Type One (BT1) shape figure/physique while on vacation at the ocean
with her family and friends including her husband David Beckham. Even after giving birth to four children, the candid images reveal no real signs of skinny fat
(cellulite, thin fat, loose skin, saggy skin, crepey skin, normal weight obesity) anywhere on her body. The full development of her
vertebra (posture) and muscles/muscle mass is currently not in debate.
Science recognizes that one pound of muscle burns six calories daily, but one pound of fat/skinny fat only burns two to three calories. Which directly affects metabolism (the more skinny fat and fat, the slower the metabolism). Having so many developed vertebrae, muscles, and muscle mass assists greatly in terms of metabolism/metabolic rate (BMR).
Genetics/genes/DNA are important, but diet, exercise, metabolism, BMI, and lifestyle also matter. It will be interesting to see how well Victoria Beckham maintains her body shape figure/physique as she continues to age. Is she really a Body Type Two (BT2) with an underdeveloped lumbar vertebra(e) or two?
---
---
---
Victoria Beckham

Figure/Shape – BT1
Fashion designer Victoria Beckham enjoys a concert performance in her Body Type One shape/figure. Her rise to fame began in 1994 as singer Posh Spice of the Spice Girls (Geri Halliwell/Ginger Spice, Emma Bunton/Baby Spice,
Melanie Brown/Mel B/Scary Spice, and Melanie Chisholm/Melanie C/Sporty Spice). The music group became the best-selling female group of all time with over 100 million records sold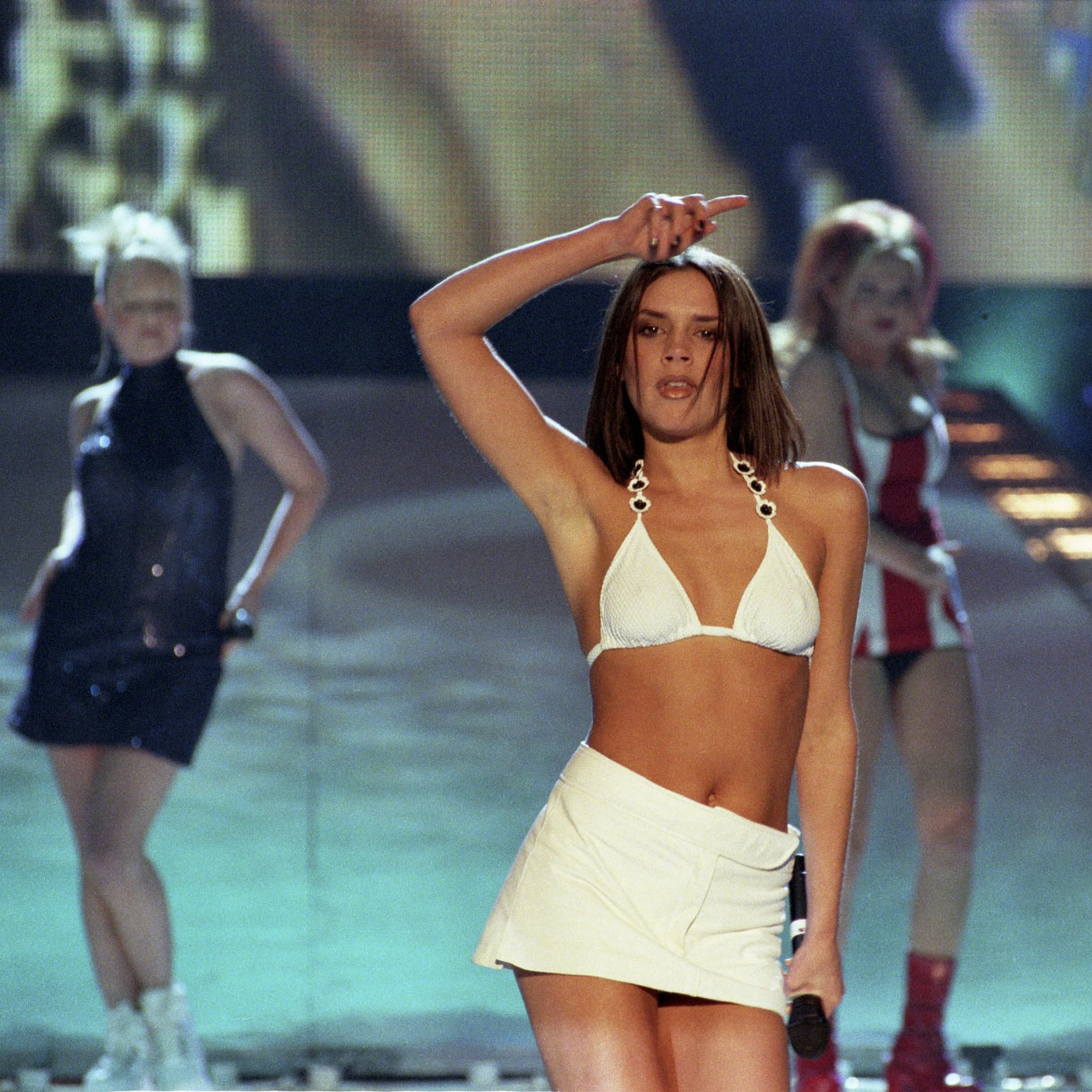 worldwide. Their first single Wannabe (1996) peaked at number one in the United Kingdom, the United States, and 35 other countries. Eight more number one singles followed from their albums Spice, Spiceworld, and Forever.
Upon splitting from the group in 2001, she signed with Virgin Records and released her self-titled debut solo album which produced two UK Top 10 singles. By 2004, her mild success led her to give up on music to focus on other opportunities. As a TV personality, her credits boast starring in five official documentaries and reality shows including Victoria's Secrets (2000), Being Victoria Beckham (2002), The Real Beckhams (2003), Victoria Beckham – A Mile In Their Shoes (2004), and Victoria Beckham: Coming to America (2007). She also made a cameo appearance in an episode of Ugly Betty (2007) as well as having been a guest judge on Project Runway (2008), Germany's Next Topmodel (2009), and American Idol (2010).  
Fashion Designer –

Victoria Beckham Body Type One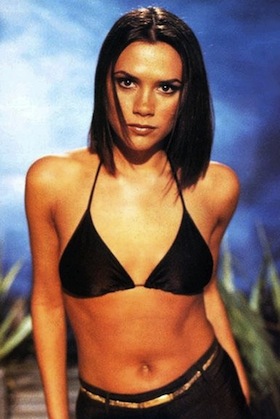 Her brief modeling work debuted at London Fashion Week with a guest appearance on the catwalk for Maria Grachvogel in 2000. She was also a British ambassador for Dolce and Gabbana along with
the face of Rocawear in 2003 for a short time. In 2006, she walked the runway for Roberto Cavalli at Milan Fashion Week while being exclusively dressed by him for red-carpet and social events. Moreover, she was the face of Marc Jacobs' Spring 2008 collection and has graced numerous fashion magazine covers such as I-D (2004), W (2007), Vogue (2008, British, India, Paris, German, Russian, Australian, Turkish, Taiwanese, Chinese, Spanish editions), Harper's Bazaar, and Elle. Eventually venturing into fashion design, she initially collaborated with high-profile brands like Rock & Republic (VB Rocks) and Harper's Bazaar, becoming internationally recognized as a style icon.
She launched her eponymous label in 2008 which involves her denim label DVB, perfume line Intimately Beckham, Women's Luxury Designer Sunglasses & Eyewear collection, cosmetics line V-Sculpt, and Reebok collaboration. She was named the designer brand of the year in the UK in 2011. Her diverse, demanding career schedule helps Victoria Beckham maintain her body shape figure by increasing her metabolic rate, which encourages the burning of more calories to keep any excess fat weight at bay.
Her net worth is estimated at $450 million. You can catch her on social media including Instagram, Facebook, and Twitter. See more former singer/musician, model, television personality, businesswoman, and fashion designer Victoria Beckham celebrity Body Type One (BT1) photos on Google. Review the Body Type Science Data or take the Scientific Body Type Quiz/Test for women and men.  
---