---
---
Celebrity Body Types: Will Smith (Willard Carroll Smith II)
---
The Four Body Types Scientific Identification: Body Type One, BT1
Male/Man
Genetically Underdeveloped Vertebrae (Muscles/Muscle Mass): None/0
Date of Birth: September 25, 1968
Age: 54 (as of 2022)
Unscientific/Nonsense Body Types Rough Correlations: Mesomorph, Hormone/Adrenal
Learn How 

The Four Body Types

Determines A Celebrity Body Type Like Will Smith
---
---
Celebrity Will Smith displays his Body Type One (BT1) shape physique/figure while on a movie set and
taking time off. The fully developed vertebrae (posture) and muscles/muscle mass are obvious, although he did go through a bout of
excess fat weight gain (but the muscles are still
quite clear under the fat). At age 54, he is showing no signs of skinny fat (cellulite, thin fat, loose skin, saggy skin, crepey skin, normal weight obesity) anywhere on his body.
One pound of muscle burns six calories per day, but one pound of skinny fat/fat only burns two to three. Which directly affects metabolism (the more skinny fat and fat, the slower the metabolism). Having a strong metabolism because of all that muscle and muscle mass, no less, is an advantage that a fully developed BT1 offers, including aging gracefully.
Diet, exercise, lifestyle, metabolism, and BMI matter. But so do genes/genetics/DNA. It will be interesting to see as the years continue to pass how well Will Smith successfully maintains his muscular body shape physique/figure.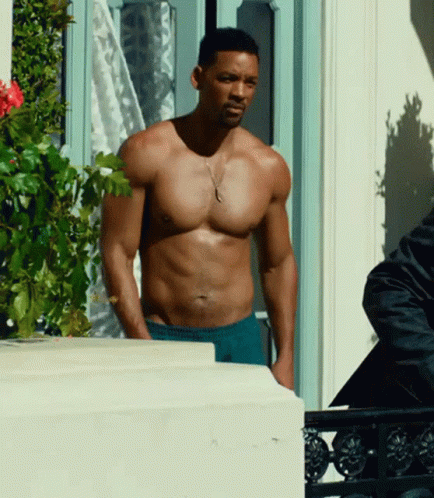 ---
---
---
Will Smith Physique – BT1
Grammy Award-winning rapper and Academy Award-winning superstar actor Will Smith shows off his Body Type One
shape/physique during a work out session to lose excess fat weight. The physically demanding requirements of his diverse music and blockbuster movies assist with further increasing his metabolic rate., helping him burn more calories to keep any excess fat at bay to maintain his body shape physique. He is an 8x Grammy Award-nominee, with 4 Grammy Award wins for "Parents Just Don't Understand" (1989, Best Rap Performance with DJ Jazzy Jeff), "Summertime" (1992, Best Rap Performance by a Duo or Group), "Men In Black" (1998, Best Rap Solo Performance), and "Gettin' Jiggy wit It" (1999, Best Rap Solo Performance).
His first Academy Award win for Best Actor in a Leading Role for King Richard (2022, Academy Award-nominee for Best Picture & Academy Award winner for Best Actor) was quickly tarnished that same night due to his infamous live TV face slap of Chris Rock that was heard around the world. After careful deliberation, the Academy of Motion Picture Arts and Sciences' punishment included a 10-year ban from all film academy events, with Will Smith accepting the consequences fully of cracking under pressure, resigning immediately from the Academy. With support from son Jaden Smith, his wife Jada Pinkett Smith encourages reconciliation, although Chris Rock does not seem obliged.
Celebrity Superstar Hollywood Actor Will Smith Body Type One Shape
His long list of successful films includes Bad Boys for Life (2020), Gemini Man (2019), Suicide Squad (2016), Concussion (2015), Anchorman
2: The Legend Continues (2013), Men in Black 3 (2012), Hancock (2008), I Am Legend (2007), The Pursuit of Happyness (2006, Academy Award-nominee, Best Actor), Hitch (2005), I, Robot (2004), Bad Boys II (2003), Men in Black II (2002), Ali (2001, Academy Award-nominee, Best Actor), Men in Black Alien Attack (2000),  The Legend of Bagger Vance (2000), Wild Wild West (1999), Welcome to Hollywood (1998), Men in Black (1997), Independence Day (1996), Bad Boys (1995), Six Degrees of Separation (1993), Made in America (1993), and Where the Day Takes You (1991). His next upcoming film is Emancipation due out in 2023.
He has an estimated net worth of $350 million. You can catch him on social media including Instagram, Facebook, and Twitter. See more musician and A-list Hollywood superstar actor Will Smith celebrity Body Type One (BT1) photos on Google.
Review the Body Type Science Data or take the Scientific Body Type Quiz/Test for women and men.  
---