---
---
Celebrity Body Types: Arnold Schwarzenegger (Arnold Alois Schwarzenegger, AKA "Austrian Oak", "Arnie" or "Schwarzy", and "the Governator")
---
The Four Body Types Scientific Identification: Body Type One, BT1
Male/Man
Genetically Underdeveloped Vertebrae (Muscles/Muscle Mass): None/0
Date of Birth: July 30, 1947
Age: 75 (as of 2022)
Unscientific/Nonsense Body Types Rough Correlations: Mesomorph, Hormone/Adrena
Learn How The Four Body Types Determines A Celebrity Body Type Like Arnold Schwarzenegger
---
---
Celebrity Arnold Schwarzenegger displays his Body Type One (BT1) shape physique/figure during his younger years. The fully developed vertebrae (posture) and muscles/muscle mass are obvious, although the definition has become fainter with age. He is showing no real signs of skinny fat (cellulite, thin fat, loose skin, saggy skin, crepey skin, normal weight obesity) anywhere on his body, but, perhaps some excess fat in his older photos.
One pound of muscle burns six calories per day, but one pound of skinny fat/fat only burns two to three calories. Which directly affects metabolism (the more skinny fat and fat, the slower the metabolism). Having a strong metabolism because of all that muscle and muscle mass, no less, is an advantage that a fully developed BT1 offers, including aging gracefully.
Diet, exercise, lifestyle, metabolism, and BMI matter. But so do genes/genetics/DNA. It will be interesting to see how well Arnold Schwarzenegger successfully maintains his thoroughly muscular body shape physique/figure as he continues to age.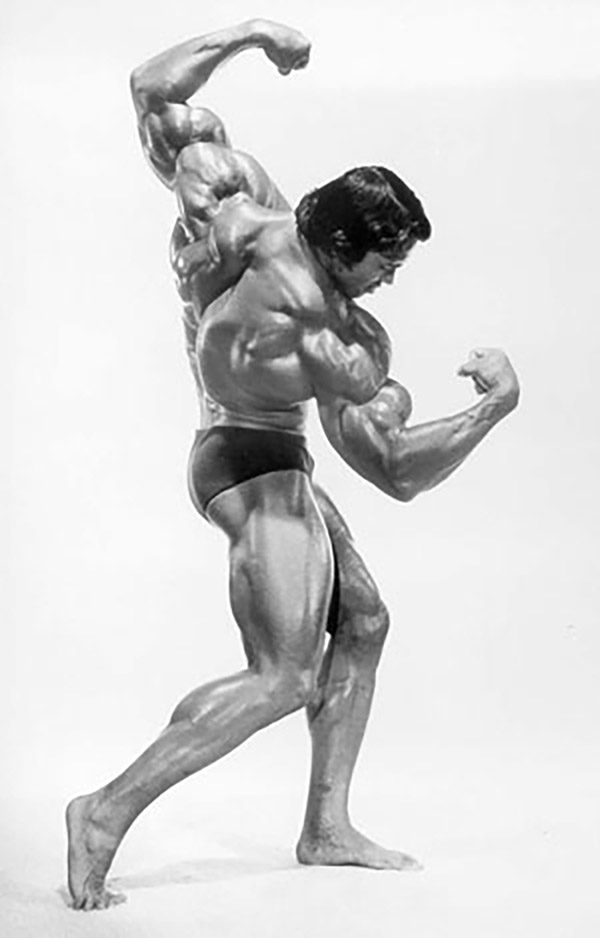 ---
---
Arnold Schwarzenegger Physique – BT1
Former seven-time Mr Olympia (1970-1975, 1980) and California governor (38th, 2003-2011), as well as Emmy Award-winning producer and superstar actor, Arnold Schwarzenegger shows off his Body Type One shape/physique during his time off. Born in Thal, Austria, he began lifting weights at the age of 15, immigrating to the United States in 1968 to pursue bodybuilding. Winning the Mr. Universe title at age 20 and subsequently winning his seven Mr. Olympia titles, he is considered one of the International Federation of Bodybuilding and Fitness (IFBB) Greatest of All Time (G.O.A.T) bodybuilders along with Ronnie Coleman. The Arnold Sports Festival, which is considered the second-most important bodybuilding event after Mr. Olympia, is named after him. 
Transitioning to being a Hollywood movie star, his breakout role was in the hit epic Conan the Barbarian (1982). He has starred in at least 48 films in his long career including The Terminator (1984), Conan the Destroyer (1984), Commando (1985), Raw Deal (1986), Predator (1987), The Running Man (1987), Red Heat (1988), Twins (1988), Total Recall (1990), Kindergarten Cop (1990), Terminator 2: Judgment Day (1991), Last Action Hero (1993), True Lies (1994), Junior (1994), Eraser (1996), Jingle All the Way (1996), Batman & Robin (1997), End of Days (1999), The 6th Day (2000), Collateral Damage (2002), Terminator 3: Rise of the Machines, The Expendables 2 (2012), Escape Plan (2013), The Last Stand (2013), The Expendables 3 (2014), Sabotage (2014), Terminator Genisys (2015), Aftermath (2017), The Game Changers (2018), and Terminator: Dark Fate (2019).  
Mr Olympia – Arnold Schwarzenegger Body Type One Shape
 When he was competing, at 6'2″ and approximately 235 pounds according to the Body Mass Index (BMI) chart he is obese. Obesity is defined as having too much fat on your body. He has minimal fat on his body and is clearly not obese. The failure to account for excess muscles/muscle mass is at least one way that the BMI weight scale is not accurate. BMI is body type Standard #2 relative to the three accepted mainstream scientists' and medical doctors' body type Standards (BT1, BMI, BMR).
Staying in shape for his diverse and demanding movie roles over the years has further helped increase his metabolic rate which encourages the burning of more calories, all of which assist with keeping any excess fat weight at bay. He is also the founder of the film production company Oak Productions, winning an Emmy for the climate change-based documentary television series Years of Living Dangerously in 2014 for Outstanding Documentary or Nonfiction Series. He was previously married to Maria Shriver, niece of President John F. Kennedy. His net worth is estimated at $450 million.
You can catch him on social media including Instagram, Facebook, and Twitter. See more former bodybuilder and politician, businessman, film producer, and superstar Hollywood actor Arnold Schwarzenegger celebrity Body Type One (BT1) photos on Google.
Review the Body Type Science Data or take the Scientific Body Type Quiz/Test for women and men.  
---