---
---
Celebrity Body Types: Blake Lively (Blake Ellender Lively)
---
The Four Body Types Scientific Identification: Body Type One, BT1 (Possible Body Type Two)
Female/Woman
Genetically Underdeveloped Vertebrae (Muscles/Muscle Mass): None/0 (Possibly Lumbar and Sacrum)
Date of Birth: August 25, 1987
Age: 35 (as of 2022)
Unscientific/Nonsense Body Types Rough Correlations: Ectomorph, Kibbe/Flamboyant Natural, Hormone/Ovary
Learn How 

The Four Body Types

Determines A Celebrity Body Type Like Blake Lively
---
---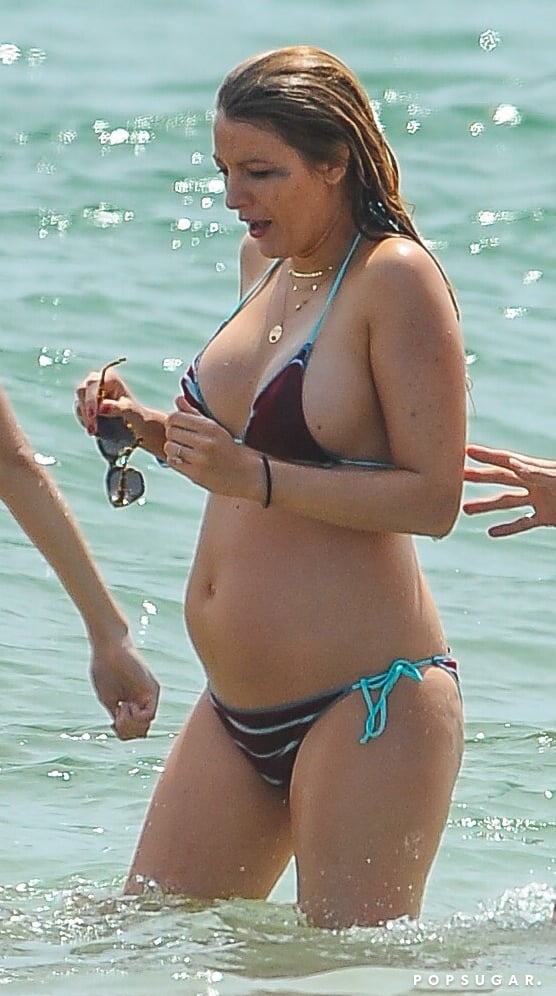 Celebrity Blake Lively shows offs her Body Type One (BT1) shape figure/physique while on vacation and at the ocean with her family and
friends including her husband Ryan Reynolds. The candid images reveal no real signs of skinny fat (cellulite, thin fat, loose skin, saggy skin, crepey skin, normal weight
obesity) anywhere on her body, although there are hints on her upper legs, buttocks, and lower back, no less. The full development of her vertebra (posture) and muscles/muscle mass has become more debatable as she has aged, especially after four births.
Science recognizes that one pound of muscle burns six calories daily, but one pound of fat/skinny fat only burns two to three calories. Which directly affects metabolism (the more skinny fat and fat, the slower the metabolism). Having so many developed vertebrae, muscles, and muscle mass assists greatly in terms of metabolism/metabolic rate (BMR).
Genetics/genes/DNA are important, but diet, exercise, metabolism, BMI, and lifestyle also matter. It will be interesting to see how well Blake Lively maintains her body shape figure/physique as she continues to age. Is she really a Body Type Two (BT2) with a slightly underdeveloped sacrum vertebra, and perhaps a lumbar vertebra(e) or two?
---
---
---
Blake Lively Figure/Shape – BT1
Actress Blake Lively enjoys time off at the beach in her Body Type One shape/figure. Starting her entertainment
career in her father's (Ernie Lively) directorial movie Sandman (1998), her rise to fame began with her starring role as Bridget Vreeland in the film The Sisterhood of the Traveling Pants (2005) as well as its sequel The Sisterhood of the Traveling Pants 2 (2008). Her breakthrough came as Serena van der Woodsen in The CW teen drama television series Gossip Girl (2007–2012).
Staying in shape for her diverse movie roles including Accepted (2006), Simon Says (2006), Elvis and Anabelle (2007), New York, I Love You (2008), The Private Lives of Pippa Lee (2009), The Town (2010), Green Lantern (2011), Hick (2011), Savages (2012), The Age of Adaline (2015), The Shallows (2016), All I See Is You (2016), Café Society (2016), A Simple Favor (2018), and The Rhythm Section (2020) have further helped increase her metabolic rate which encourages the burning of more calories. All of which assist with keeping any excess fat weight at bay.
Star Hollywood Actress Blake Lively Body Type One
Expanding her horizons in 2021, her first directorial project involved the Taylor Swift song I Bet You
Think About Me music video, receiving positive critical feedback and a nomination for an Academy of Country Music Award. She is making her feature-length motion picture directing debut in the Searchlight Pictures film Seconds, which is due out in 2023. Moreover, she has gradually found the silver lining in her husband Ryan Reynold's risky and initially shocking purchase of the Wrexham A.F.C. soccer (football/futbol) club without her knowledge or input. 
Her net worth is estimated at $30 million. You can catch her on social media including Instagram, Facebook, and Twitter. See more director and Hollywood star actress Blake Lively celebrity Body Type One (BT1) photos on Google.
Review the Body Type Science Data or take the Scientific Body Type Quiz/Test for women and men.  
---