---
---
Celebrity Body Types: Chris Evans (Christopher Robert Evans)
---
The Four Body Types Scientific Identification: Body Type One, BT1
Male/Man
Genetically Underdeveloped Vertebrae (Muscles/Muscle Mass): None/0
Date of Birth: June 13, 1981
Age: 42 (as of 2022)
Unscientific/Nonsense Body Types Rough Correlations: Mesomorph, Hormone/Adrenal
Learn How 

The Four Body Types

Determines A Celebrity Body Type Like Chris Evans
---
---
Celebrity Chris Evans displays his Body Type One (BT1) shape physique/figure while working on a movie set. The fully
developed vertebrae (posture) and muscles/muscle mass are
obvious. He is showing no real signs of skinny fat (cellulite,
thin fat, loose skin, saggy skin, crepey skin, normal weight obesity) anywhere on his body.
One pound of muscle burns six calories per day, but one pound of skinny fat/fat only burns two to three calories. Which directly affects metabolism (the more skinny fat and fat, the slower the metabolism). Having a strong metabolism because of all that muscle and muscle mass, no less, is an advantage that a fully developed BT1 offers, including aging gracefully.
Diet, exercise, lifestyle, metabolism, and BMI matter. But so do genes/genetics/DNA. It will be interesting to see as the years continue to pass how well Chris Evans successfully manages and maintains his muscular body shape physique/figure.
---
---
---
Chris Evans Physique – BT1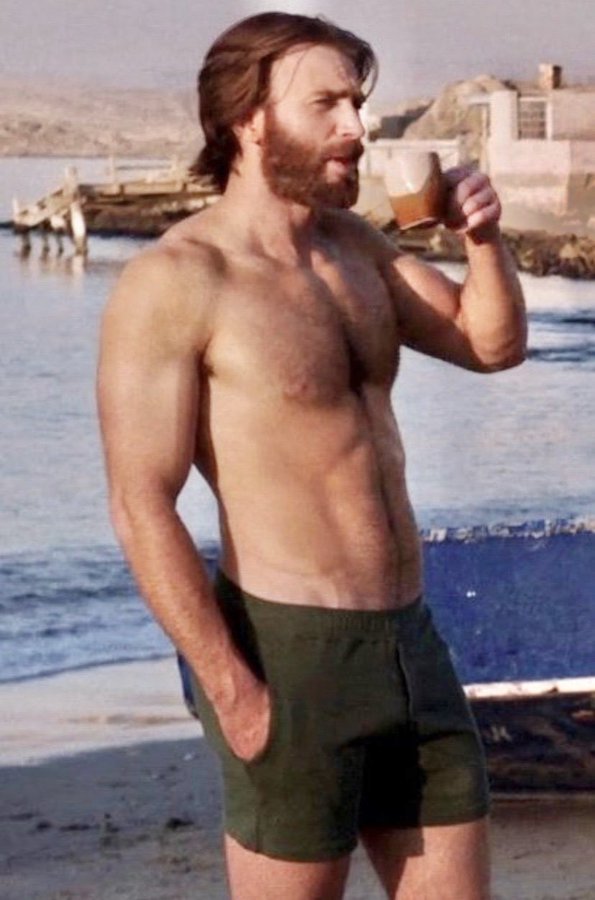 Actor Chris Evans shows off his Body Type One shape/physique while taking time off and at the beach with
friends and family including his current girlfriend Alba Baptista. His
entertainment career debuted in 2000 with a role in the television film The Newcomers. In 2005, he had his breakout role as Johnny Storm, the Human Torch, in the Marvel Comics superhero movie Fantastic Four.
His long list of diversely successful movie credits includes The Gray Man (2022), Lightyear (2022), Knives Out (2019), Avengers: Endgame (2019), Avengers: Infinity War (2018), Gifted (2017), Captain America: Civil War (2016), Avengers: Age of Ultron (2015), Captain America: The Winter Soldier (2014), Snowpiercer (2013), Marvel's the Avengers (2012), The Iceman (2012), Captain America: The First Avenger (2011), Puncture (2011), Scott Pilgrim vs. the World (2010), Push (2009), Street Kings (2008), The Loss of a Teardrop Diamond (2008), The Nanny Diaries (2007), Sunshine (2007), Fantastic Four: Rise of the Silver Surfer (2007), Fierce People (2005), London (2005), Cellular (2004), The Perfect Score (2004), and Not Another Teen Movie (2001).
Star Hollywood Actor Chris Evans Body Type One Shape
Over the years, the physically demanding nature of his diverse movie roles further assists with increasing his metabolic rate thus encouraging the burning of more calories. All of which help Chris Evans maintain his physique. His newest upcoming movie is Pain Hustlers due out in 2023.
He has an estimated net worth of $80 million. You can catch him on social media including Instagram and Twitter. See more actor and Hollywood star Chris Evans celebrity Body Type One (BT1) photos on Google.
Review the Body Type Science Data or take the Scientific Body Type Quiz/Test for women and men.  
---