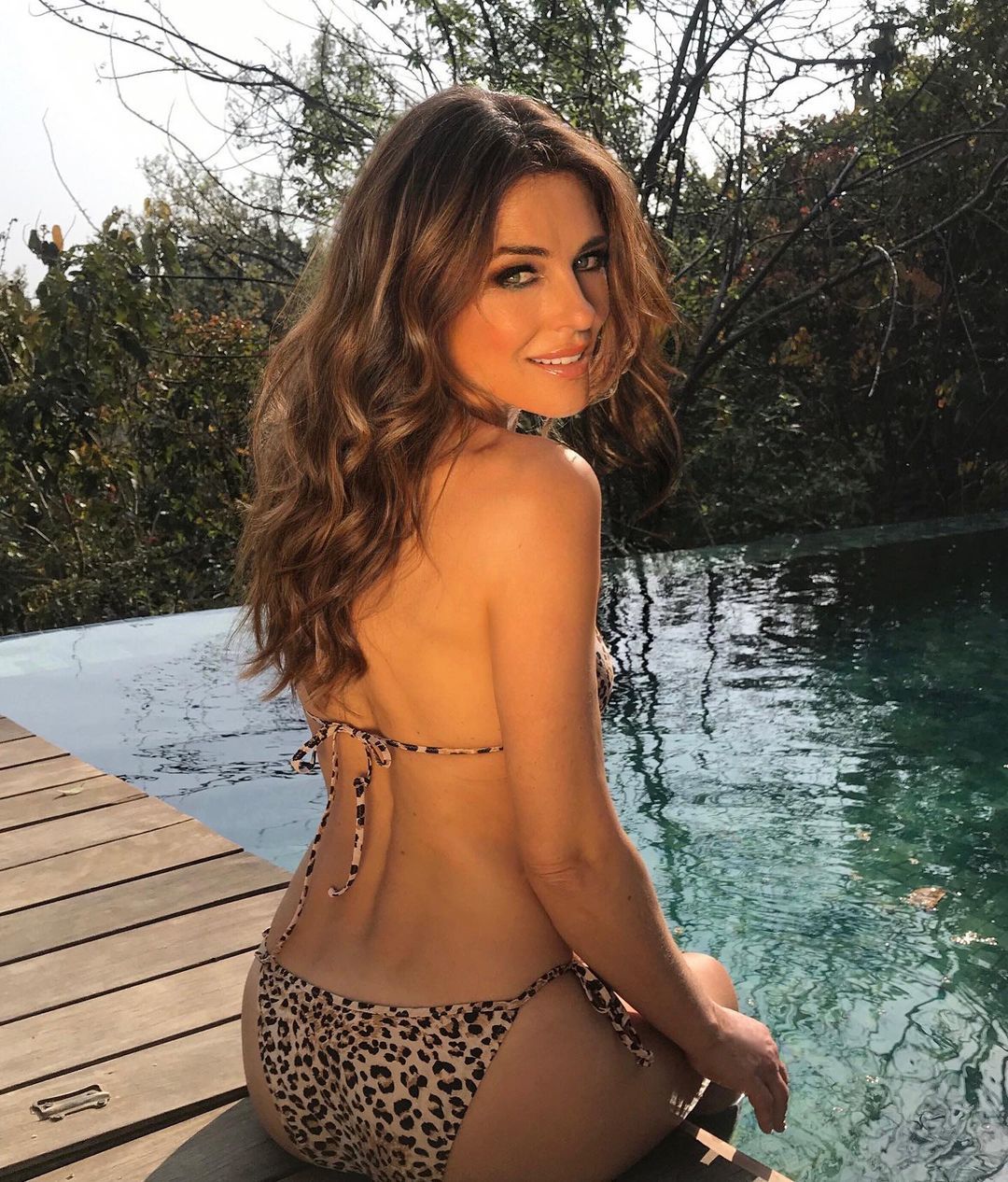 ---
---
Celebrity Body Types: Elizabeth Hurley (Elizabeth Jane Hurley)
---
The Four Body Types Scientific Identification: Body Type One, BT1
Female/Woman
Genetically Underdeveloped Vertebrae (Muscles/Muscle Mass): None/0
Date of Birth: June 10, 1965
Age: 57 (as of 2022)
Unscientific/Nonsense Body Types Rough Correlations: Mesomorph, Kibbe/Flamboyant Natural, Hormone/Ovary
Learn How The Four Body Types Determines A Celebrity Body Type Like Elizabeth Hurley
---
---
---
Celebrity Elizabeth Hurley shows off her Body Type One (BT1) shape figure/physique while on
holiday with her sister Kate. The fully developed vertebrae
(posture)
and muscles/muscle mass are not currently in debate. She has no real signs of skinny fat (cellulite, thin fat, loose skin, saggy skin, crepey skin, normal weight obesity) anywhere on her body. 
Science recognizes that one pound of muscle mass burns six calories daily, but one pound of fat/skinny fat only burns two to three calories daily. Which directly affects metabolism (the more skinny fat and fat, the slower the metabolism). Having a strong metabolism because of all of that muscle and muscle mass, no less, is an advantage that a fully developed Body Type One offers, along with aging very well.
Diet, exercise, lifestyle, metabolic rate (BMR), and BMI matter. But so do genes/genetics/DNA. It will be interesting to see how well Elizabeth Hurley continues to maintain her body shape figure/physique as she ages.
---
---
---
Elizabeth Hurley Figure/Shape – BT1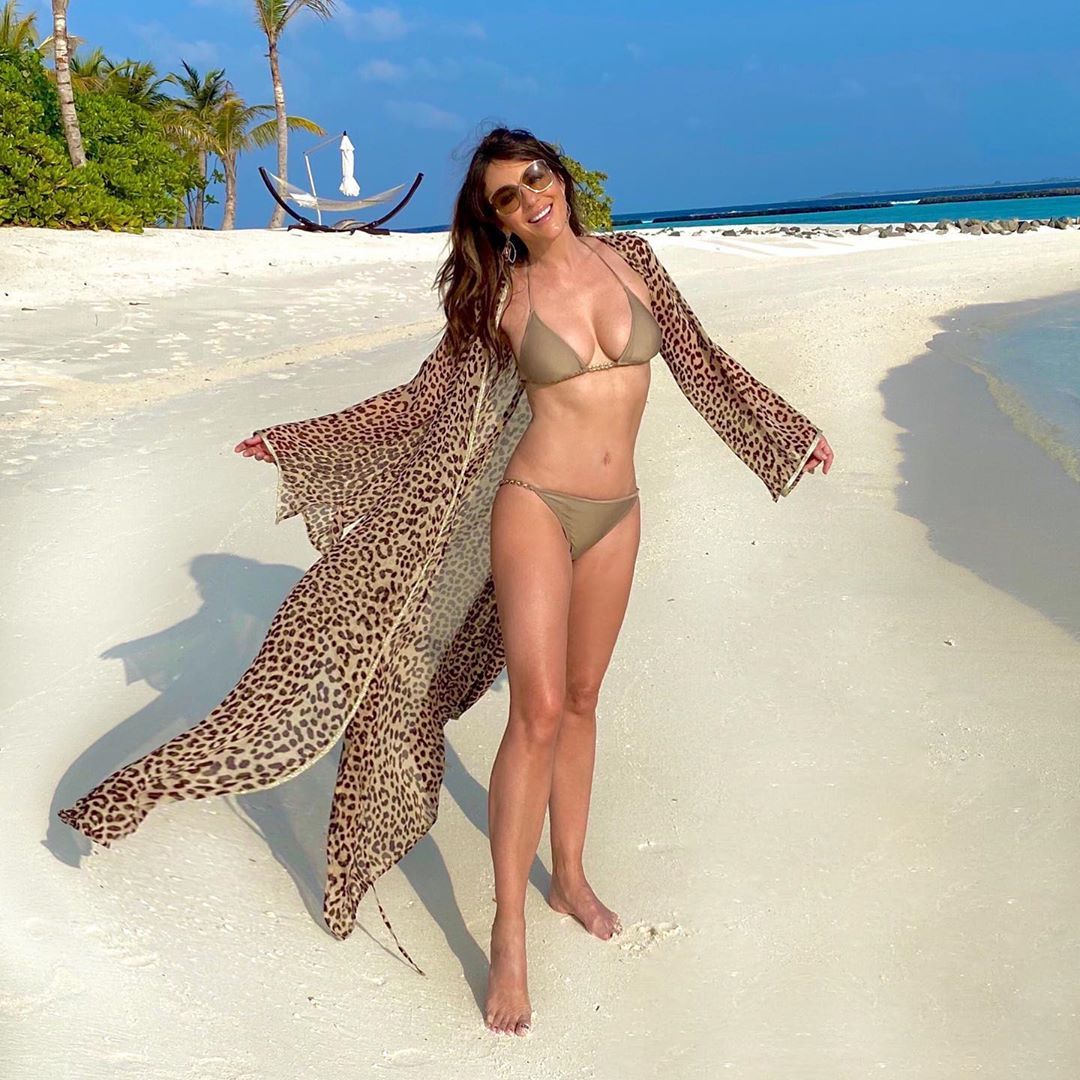 Elizabeth Hurley displays her Body Type One at the beach. Keeping in shape for all her star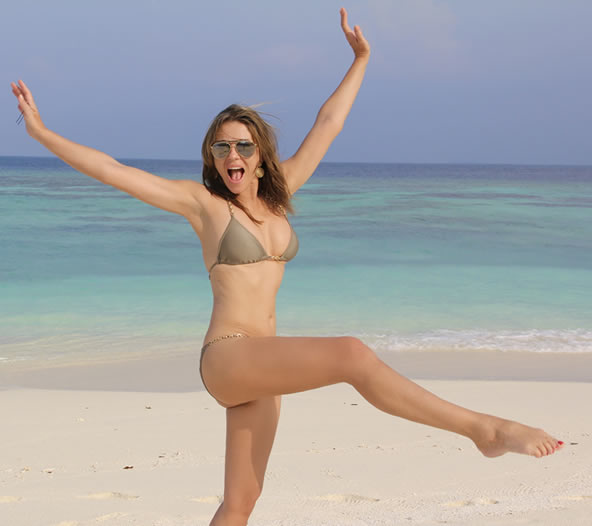 movie roles over the years likely has helped increase her metabolic rate helping her burn more calories and thus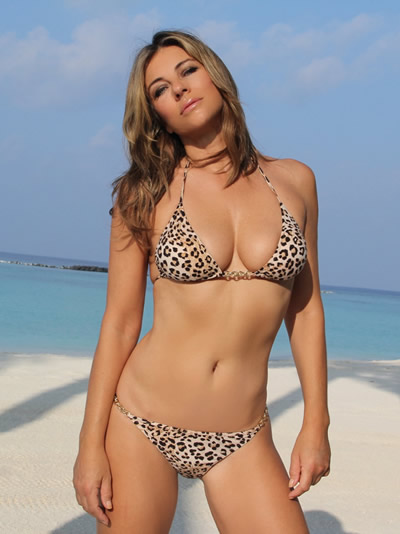 assisting with keeping any excess fat weight at bay. Although one has to ask, how much plastic surgery, Botox, and/or Scupltra has she done?
After breaking into Hollywood with a bit part in the movie Aria (1987), her first significant major motion picture part came in the 1992 film Passenger 57. That led to starring roles in Four Weddings and a Funeral (1994) alongside Hugh Grant, the Mike Myers hit Austin Powers: International Man of Mystery (1997), and as the devil in Bedazzled (2000). She has also appeared in Permanent Midnight (1998), EDtv (1999), Serving Sara (2002), Method (2004), Made in Romania (2010), Viktor (2014), Phoenix Wilder and the Great Elephant Adventure (2018), Then Came You (2020), Father Christmas Is Back (2021), Christmas in Paradise (2022), and Christmas in the Caribbean (2022). As well, her numerous television show credits include Gossip Girl (The CW).
Model & Businesswoman Elizabeth Hurley Body Type One
As a businesswoman and model, she has worked as an Estée Lauder spokesmodel on modeling campaigns since she was 29, along with other seasonal campaigns for Jordache, Shiatzy Chen, Got Milk?, Patrick Cox, MQ Clothiers of Sweden, Lancel, Monsoon, and Blackglama mink. Moreover, she has appeared on the cover of British Vogue three times. She has also been in the news a lot of late showcasing her swimsuit line. Her efforts are bringing more awareness to age discrimination, especially for women.
Her estimated net worth is $50 million. You catch her on social media including Instagram, Facebook, and Twitter. See more businesswoman, model, actress, and Hollywood star Elizabeth Hurley celebrity Body Type One (BT1) photos on Google.
Review the scientific Body Type Data or take the Body Type Quiz/Test for women and men.
---