---
---
Celebrity Body Types: Jonah Hill (Jonah Hill Feldstein)
---
The Four Body Types Scientific Identification: Body Type Three, BT3 (Possible weak Body Type Two, BT2)
Male/Man
Genetically Underdeveloped Vertebrae (Muscles/Muscle Mass): 9 to 17, Thoracic, Lumbar, Sacrum
Date of Birth: December 20, 1983
Age: 39 (as of 2022)
Unscientific/Nonsense Body Types Rough Correlations: Endomorph, Hormone/Liver
Learn How 

The Four Body Types

Determines A Celebrity Body Type Like Jonah Hill
---
---
Celebrity Jonah Hill displays Body Type Three (BT3) shape physique/figure during a beach outing. The full development of his
vertebrae (posture) and muscles/muscle mass is debatable. The excess fat and skinny fat
(cellulite, thin fat, loose skin, saggy skin, crepey skin, normal weight obesity) on no less than this
stomach, love handles, lower and mid back, and likely buttocks indicate underdeveloped mid-to-lower thoracic vertebrae, lumbar vertebrae, and probably his sacrum vertebra as well.
Science recognizes that one (1) pound of muscle mass burns six (6) calories per day, but one (1) pound of skinny fat/fat mass only burns two (2) to three (3) calories daily. Which directly affects metabolism (the more skinny fat and fat, the slower the metabolism). Being overweight and obese are common disadvantages of a BT3.
Diet, exercise, lifestyle, metabolic rate (BMR), and BMI matter. But so do genes/genetics/DNA. It will be interesting to see how well Jonah Hill manages his weight and body shape physique/figure as his metabolism slows as he ages.
---
---
---
Jonah Hill Physique – BT3
Academy Award-nominated A-list actor Jonah Hill shows off his Body Type Three physique while at the ocean with his girlfriend Sarah Brady. His acting career began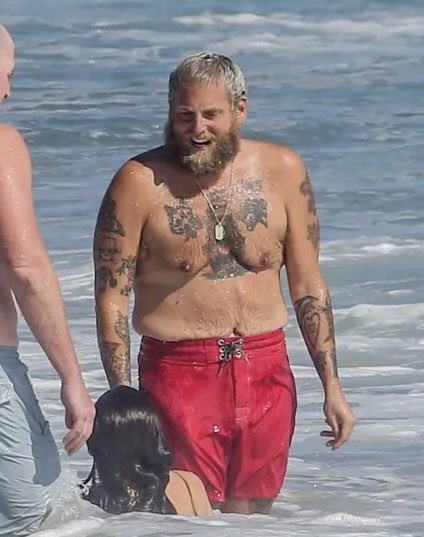 after befriending Dustin
Hoffman's children, Rebecca and Jake, who introduced him to their father, subsequently earning him an audition for a role in I Heart Huckabees (2004), his film debut. Paying his dues in The 40-Year-Old Virgin (2005), Grandma's Boy (2006), Accepted (2006), and Click (2006) led to his first major breakthrough role in Superbad (2007).
To date, his film credits include Knocked Up (2007), Moneyball (2011, Academy Award-nominated for Best Supporting Actor), 21 Jump Street (2012), This Is the End (2013), The Wolf of Wall Street (2013, Academy Award-nominated for Best Supporting Actor), 22 Jump Street (2014), War Dogs (2016), Batman Is Just Not That Into You (2017), Don't Worry, He Won't Get Far on Foot (2018), How to Train Your Dragon: The Hidden World (2019), The Beach Bum (2019), and Don't Look Up (2021). His next upcoming movie is You People (2023).  As a screenwriter, he contributed to 21 Jump Street, 22 Jump Street, Sausage Party, Why Him?, and You People.
A-List Star Hollywood Actor, Screenwriter, and Director Jonah Hill Body Type Three Shape
As a voice actor, he has contributed to the animated movies Horton Hears a Who! (2008), Megamind (2010), How to Train Your Dragon (2010–2019), The Lego Movie (2014) and The Lego Movie 2: The Second Part (2019). He made his directorial debut with the film Mid90s, also writing the screenplay. Moreover, he directed and produced the documentary Stutz (2022). The demanding nature of his acting responsibilities over the years has likely helped increase his metabolic rate to burn more calories, helping Jonah Hill maintain his body shape physique. 
His net worth is estimated at $70 million. You can catch him on social media including Instagram. See more screenwriter and A-list Hollywood star Jonah Hill Celebrity Body Type Three (BT3) photos on Google. Review the Body Type Science Data or take the Scientific Body Type Quiz/Test for women and men.  
---